Friday 24th July 2009
Brandy Snaps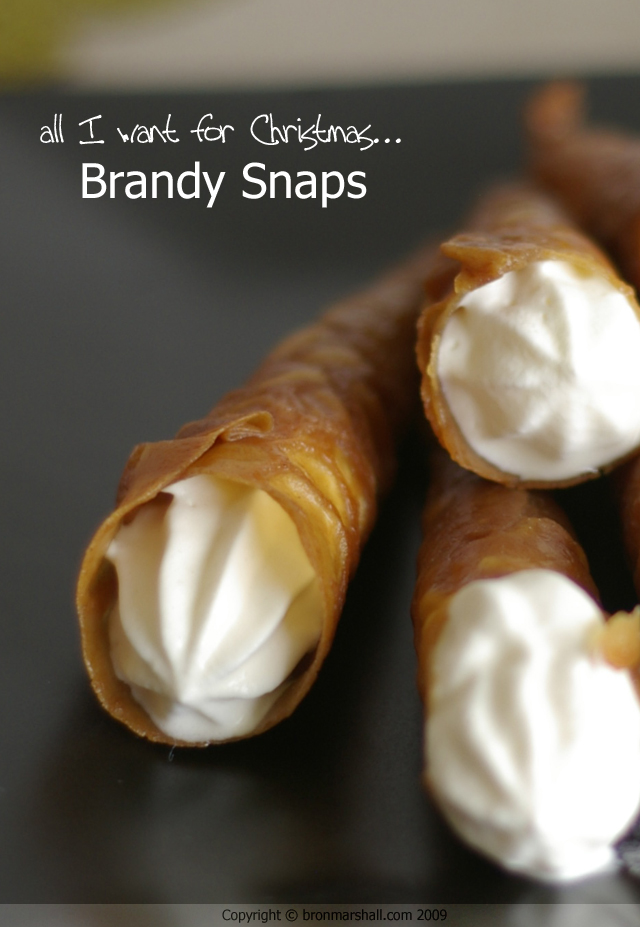 In one of my first jobs after highschool; as well as being the "dish pig" at a local steak and grill house, I often got the privilege of answering the phone and even better... rolling the ice cream sundaes, assembling the banana splits and Brandy Snaps on busy nights.

Now the fare at this particular place was anything but good, seriously... however strangely it was popular with very young families and elderly couples and for me? ...well it supplied me with enough dosh to buy my very first stereo.

During the beginning of my shift there would regularly be a phone call from an older lady named Dawn, or at least I think that was her name. She would often come in with her husband for a drink at the bar and a simple meal, followed by a sundae glass of fruit salad and Brandy Snaps. Her reason for calling was that she didn't like her Brandy Snaps freshly filled and crisp, but rather soft and chewy. Ringing at 3pm, the start of my shift ensured by 7pm her Brandy Snaps were delivered to her just the way she liked them.

Now although the Brandy Snaps were served year round at that particular establishment, (and thankfully came out of a packet!) I've always believed they're a Christmassy kind of dish.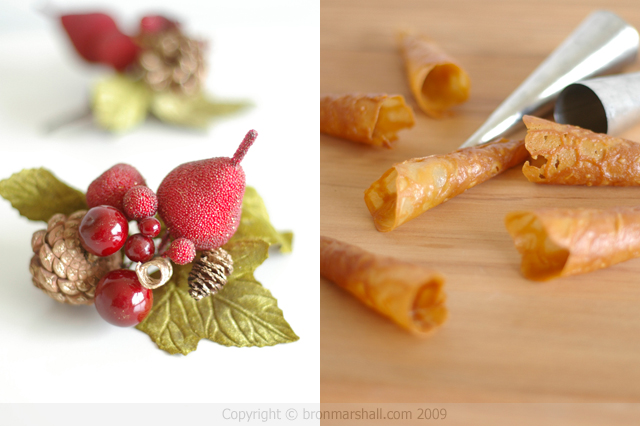 Maybe it's because the rest of the year Brandy doesn't enter my mind a lot, my Brandy bottle spends most of it's time at the back of the liqueur cabinet until about December July, when I easily drain more than half the bottle in fruit mince, puddings and cakes, hard Brandy sauce and all the other Brandied accompaniments in a traditional English Christmas.

All of this is a bit strange as you will notice Brandy Snaps don't actually have Brandy in the list of ingredients. In researching for this post I found that some folks do indeed add a little tipple to the sweetened whipped cream filling, however I've never had them that way myself.

That said. I do often like to tweak the fillings I create, and a Lemon mousse or flavoured mascarpone are a divine renditions.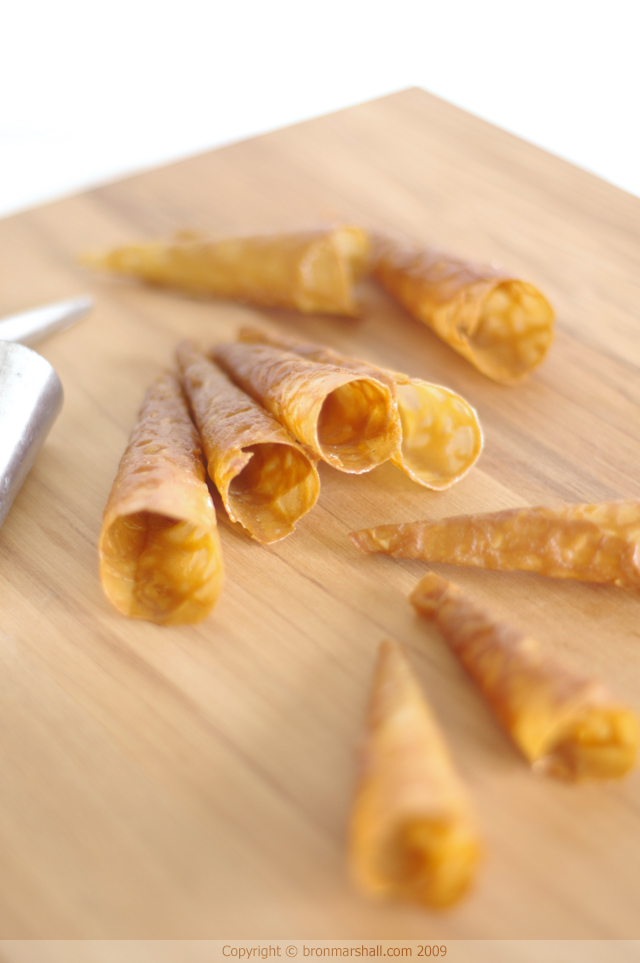 Then again, maybe it's that I think of Brandy Snaps as Christmassy because they are little pricks difficult and time consuming to make from scratch, rather than the easily filled, ready made ones that come out of a packet from the supermarket. Therefore I wouldn't normally go to the effort of making them.

A critical point I forgot when agreeing to make them with my fairies.

If making Brandy Snaps are stressful and challenging to make beautifully on ones own, imagine the theatre of making them with two fairies fluttering around with their fluffy wings flapping and squeals of delight in your ears. Hmmm... thankfully I'm able to report no wings were singed this time around.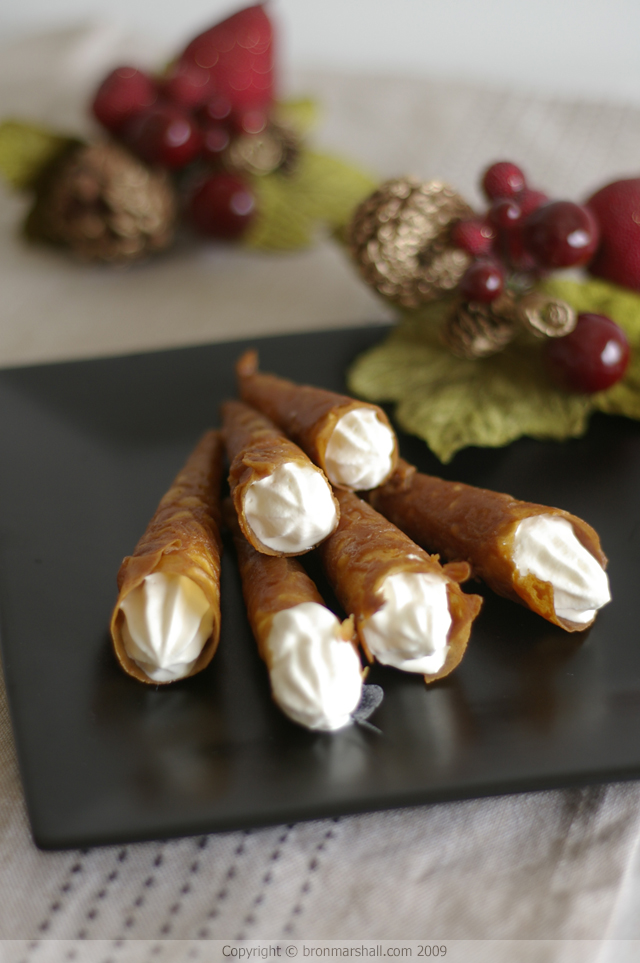 Brandy Snaps
2 rounded tablespoons of golden syrup, you could use a light molasses or honey
80 grams / 3 oz of butter
½ cup / 70 grams / 2½ oz of soft brown sugar
2 teaspoons of ground ginger
½ cup / 85 grams / 3¼ oz of plain all purpose flour
Sweetened whipped cream, mascarpone or mousse to serve
Preheat your oven to 180°C (360°F).
Line two baking sheets with silicon parchment cooking/baking paper.
In a small saucepan over a medium heat, melt the golden syrup, butter and soft brown sugar together.
Remove from the heat and mix in the sifted flour and ground ginger to form a smooth paste.
Take level teaspoonfuls of mixture to create smooth circles well spaced apart, I recommend only making 4 to 5 snaps at a time.
Bake for 5 minutes or until they are bubbling and have spread out to around 8 to 10cm in diameter.
Remove them from the oven and working quickly and whilst still hot; beginning to one side, roll a cream horn cone or wooden spoon handle over the circles collecting the toffee-like disc and wrapping it around to form a cylinder.
You can aid the start of the rolling with the use a palette knife to lift each one, if need be.
Leave the Brandy snaps to set for 1 minute then gently slip them off the cone or spoon handle and transfer to a cooling rack.
Tip: - wipe any excess butter grease off the moulds, baking paper sheets with paper towels, as this helps the next round of snaps adhere better and for rolling.
Continue and repeat the process with the remaining mixture.
Once cool and ready to serve, pipe sweetened whipped cream and or your desired filling into the crunchy golden cylinders to serve.
Makes approximately 30 Snaps
These and more treats were made for our Mid-Winter Christmas in July Celebrations Downunder

Enjoy!


Blog Recipes · Christmas Recipes · Desserts Recipes · Winter Recipes · Winter 09 Recipes
Home · About Bron · Portfolio · Recipe Index · Unit Converter
RSS Feed · Atom Feed · Twitter · Facebook · Flickr · Bron's Amazon Store