Sunday 17th February 2008
We Love - Fillets of Sole Meunière - Too Actually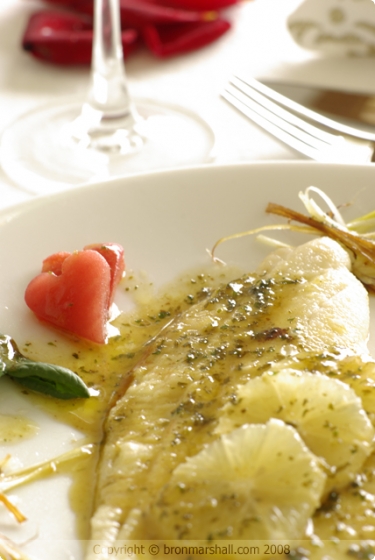 Fillets of Sole Meunière

And we are in good company - it was also a favourite of Julia Child's.

It was on Julia's first visit to France in 1948 with her husband Paul that she discovered the delights of French food. The tastes and textures that surrounded her on this visit were to change her life forever. The 37 year old was simply and utterly seduced by French Food - "I knew that French food was it for me. I couldn't get over how absolutely delicious it was."

They had stopped for lunch in Rouen the capital of the French Normandy region and decided to have lunch at the "Restaurant La Couronne" - this meal of Oysters, Sole Meunière and fine wines, was what she would later repeatedly refer to as her "culinary revelation."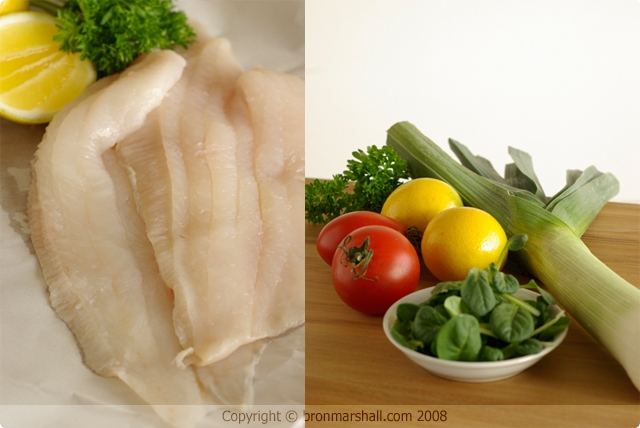 At this stage, in 1948, Julia and her husband spoke no French and they knew nothing of French food, so perhaps what they ordered could be considered somewhat of a miracle too. After these first tastes of Sole Meunière she was never the same again, calling it "a morsel of perfection".

So, what could be better to seduce your sweetheart on Valentine's Day?!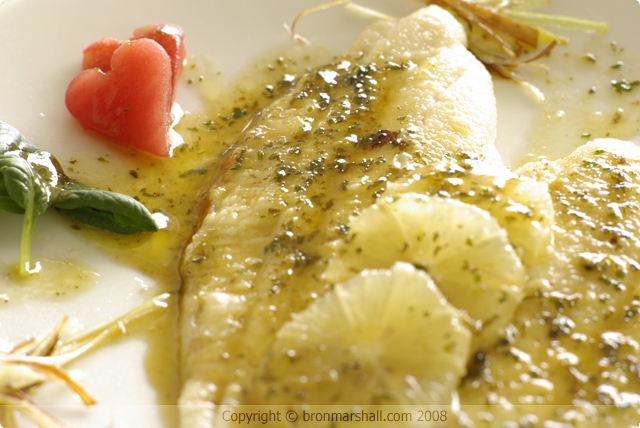 Fillets of Sole Meunière
2 double fillets of fresh Sole
40 to 50 grams of butter
2 small lemons
a handful of chopped parsley
seasoned flour to dredge
Take the lemons and peel one of them completely, removing all the white pith and any seeds and slice very thinly into rounds.
Squeeze the juice from the second lemon and put aside.
Chop the parsley very finely and set aside.
Pass the sole fillets through the seasoned flour shaking off any extra flour.
Place half the butter into a medium hot pan and pan fry each sole fillet, presentation sides first, for 2 to 3 minutes each side.
Remove the fillets to serving plates and top with a few of the thinly sliced lemon rounds.
Add the remaining butter to the hot pan, colour to reach a nut-brown (beurre noisette), add the chopped parsley and remove from the heat.
Add the lemon juice and swish it around the pan, spoon the sauce over the plated sole fillets and serve immediately.
I served my Sole Meunière with a simple tomato concasse, baby spinach and crispy fried leeks.
Serves 2
Tomato Concasse:
Remove the skin from two tomatoes by cutting an X in the bottom.
Place the tomatoes in boiling water for about one minute or until you see the skin coming away from the flesh.
After 1 minute place the tomatoes in iced water to stop the cooking process.
Remove the skin, cut in half and gently spoon out the seeds and core.
Chop into small, diced squares or love hearts if it's St. Valentine's Day.
Remember to pop in again soon for the 3rd instalment of our "Love Food Actually" - Dessert!!

Enjoy!


Blog Recipes · Fish Recipes
Home · About Bron · Portfolio · Recipe Index · Unit Converter
RSS Feed · Atom Feed · Twitter · Facebook · Flickr · Bron's Amazon Store