Thursday 21st February 2008
We Love - Crème brûlée and Chocolate Dulce de Leche Millie Feuille - Actually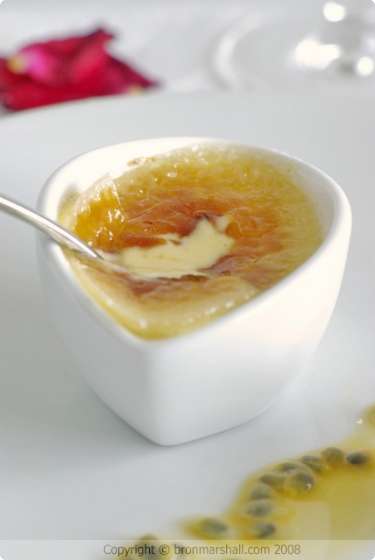 Crème brûlée

Crème brûlée in my opinion needs no introduction, it is royal among desserts!

A huge favourite of ours for sure, although sadly I don't make it very often - perhaps once a year, if that?!
I'm not sure why as it is yummy, it is also a heap of fun to make, nothing beats getting out the blow torch! hehe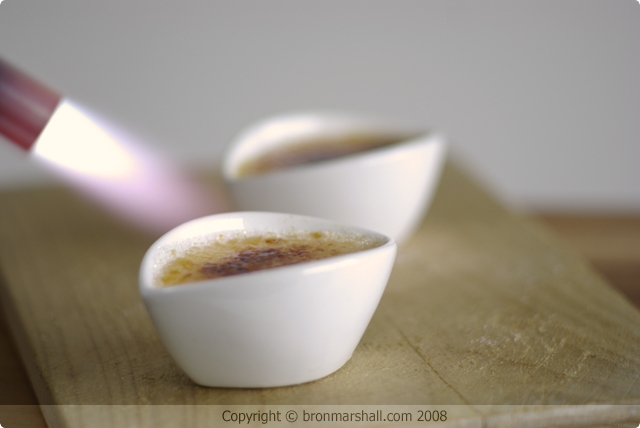 Although I realise it is now quite fashionable to serve different variations flavouring the Crème, I prefer to serve it traditionally in it's vanilla form. Favouring to serve other tastes along side, so one can combine these different flavours or not, as they desire.

Here I served my vanilla Crème brûlée with caramel and chocolate in the form of a Chocolate Dulce de Leche Millie Feuille. I recommend David Lebovitz's recipe for Dulce de Leche he gives you a complete step by step guide to get the perfect Dulce de Leche, and it's far safer than boiling a can of sweetened condensed milk (as some of us in previous lives have been known to do!)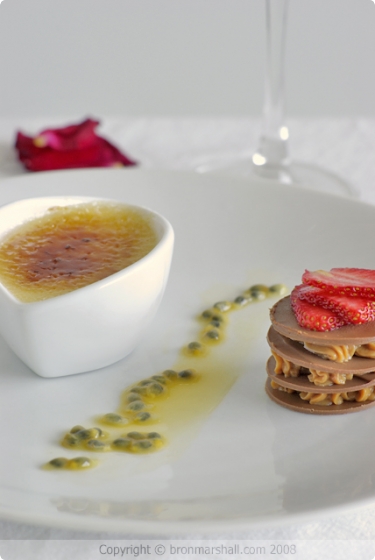 I used milk chocolate for the Millie Feuille layers, as my lover isn't keen on dark chocolate and I'm not so keen on white. Milk chocolate is a happy compromise for the both of us. Naturally you could use whichever you and your lover prefer.

Not content, I also finished my plate with some fresh passionfruit pulp and berries, for more flavour combining options and obviously they add colour and make the whole assembly a lot more attractive.

All I have left to say is this really is a plate of heaven - the perfect sweet indulgence.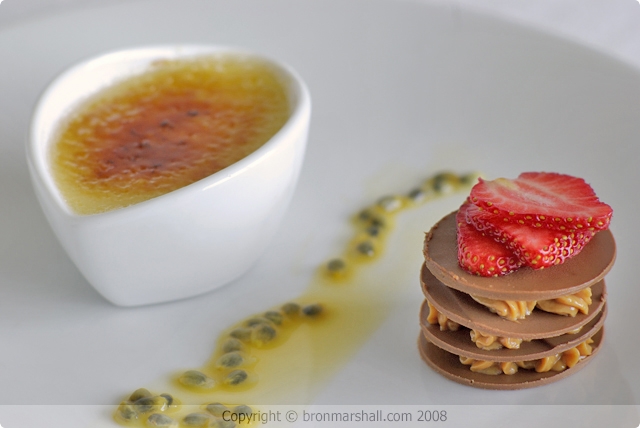 Crème Brûlée
400 mls of cream
1 vanilla pod, split and seeds scraped
3 tablespoons of castor sugar
6 egg yolks
3/4 cup of extra castor sugar, approximately to "brûlée"
In a saucepan heat the milk with the split vanilla pod and the scraped seeds.
In a separate bowl or large measuring jug, whisk the egg yolks with the first measure of castor sugar until thick.
Remove the vanilla bean from the milk and almost bring the milk to the boil.
Slowly pour the hot milk into the egg mixture whisking quickly and continuously to prevent the egg scrambling.
Strain the custard back into a clean saucepan and gently heat the custard stirring with a wooden spoon until it is fairly thick.
You may prefer to do this over a double boiler (bain marie) if you are not confident in preventing some scrambling...hehe
Pour the custard into 4 x 180ml (6 fl oz) ramekins cover and refrigerate for several hours or preferably overnight.
Just before serving sprinkle a good layer of castor sugar over the top of each custard.
Using either a blow torch or your oven's grill setting caramelise the tops of each custard.
Do try to get some good colour without really burning the sugar as the darker the caramel the more bitter the taste will be.
Serves 4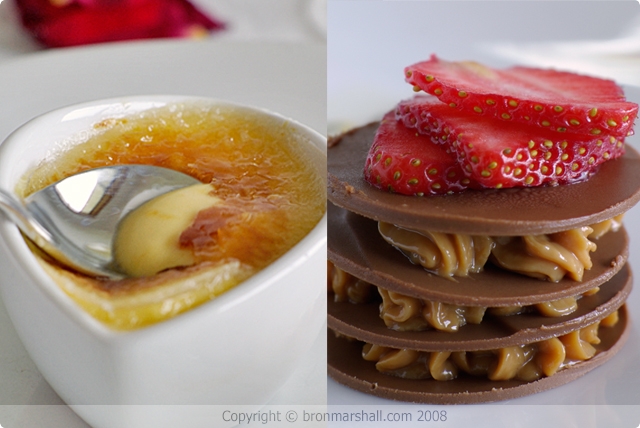 Chocolate Dulce de Leche Millie Feuille
150 grams of Chocolate
1/2 cup of Dulce de Leche - caramelised sweetened condensed milk.
Sliced fruit e.g strawberries to serve
Line a baking sheet or tray with a plastic liner (transparent overhead projector sheets work well for this) or foil.Break the chocolate up and gently melt it over a double boiler (bain-marie).
Remove the bowl from the heat and stir the melted chocolate thoroughly, making sure there are no lumps.
Using a spatula spread a thin even layer of chocolate over the lined sheet.Place the chocolate sheet into the freezer to set for 6 to 10 minutes.
Remove the sheet from the freezer and rest for approximately 30 seconds to 1 minute, no more!. This is important as you don't want the chocolate rock hard or the shapes will crack and you don't want it too soft because then it will be hard to remove the shapes from the liner!
Using a cookie cutter, cut shapes from the set chocolate.
With an offset palate knife carefully lift them to another lined sheet and place them back into the freezer to harden again.If any of your shapes are too thin or break up, simply return them to the bowl of melted chocolate and repeat the steps until you get the required number of perfect shapes.
Just before serving neatly pipe the Dulce de Leche on several of the chocolate shapes and stack them on top of each other.
Handle the chocolate shapes as little as possible, so not to melt them with your hands.
Transfer your Chocolate Dulce de Leche Millie Feuille to a serving plate and garnish with fresh fruit.
Remember: if you need help converting any of my recipes to imperial you can bookmark my handy unit converter here!

Standby for the last post in my Valentine's Love Food Actually series - A duo of Chocolate truffles!

Enjoy!


Blog Recipes · Chocolate Recipes · Desserts Recipes
Home · About Bron · Portfolio · Recipe Index · Unit Converter
RSS Feed · Atom Feed · Twitter · Facebook · Flickr · Bron's Amazon Store