Sunday 27th July 2008
Tiny Tiramisu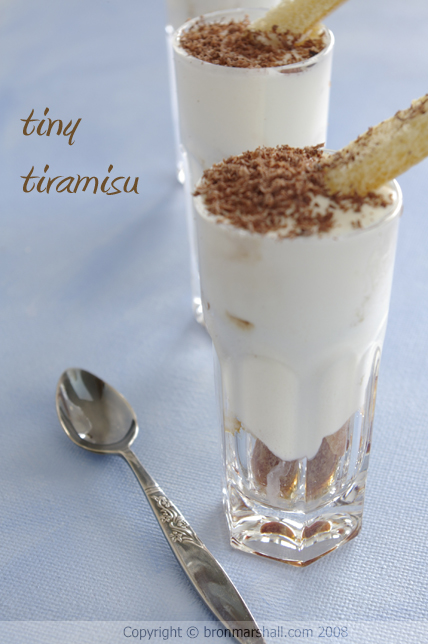 Here I am again, briefly emerging from my blogging coma... to sneak in my HHDD entry just before the deadline tomorrow.

Alexandra from Addicted Sweet Tooth is our most splendid and delightful host this time around, having chosen a Tiramisù recipe of Donna Hay's to lead the festivities... oh yes - festivities! How we Marshalls have indulged this last week, having had "like the BEST Christmas EVER Mum!" However I will save all the details - on how it almost snowed, the cat and the gingerbread decorations, the delicious melt in your mouth Venison with Blackberry Jus... en all for another post or two.

For now it's back to these Tiny Tiramisù you see before you.
As I'm the only one keen on coffee and this kind of dessert in my house, I kept my entry teeny and tiny making just 3 shot glasses for an after dinner treat just for me. Now I could/should? say I enjoyed them over 3 nights, but that would be a lie... enjoyed them over 3 hours, yes - that is a little closer to the truth.
There is no real recipe for these, you really don't need one, for it's just a couple of sponge finger biscuits broken up, layered in shot glasses with your usual Tiramisù ingredients, a little mascarpone and sweetened whipped cream folded together. A dribble of espresso and liqueur - I used Kahlua, and finally topped with a dusting of shaved dark chocolate.
It really is that simple!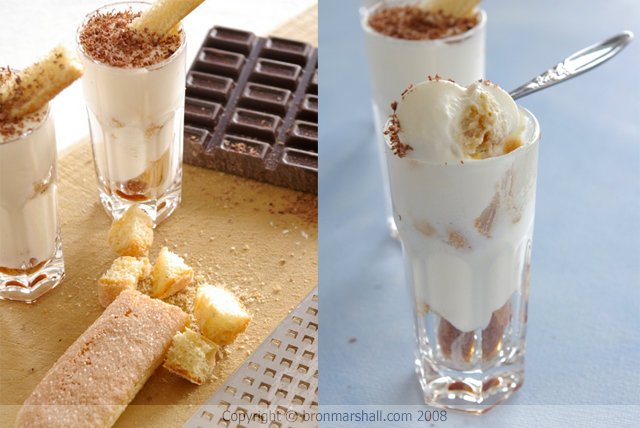 When it came to photographing this entry though, I struck little problem, arghhh.
See I haven't been taking many photos lately and therefore the spare room where I normally set up to take my shots has been over run with two large easels, several file boxes full of acrylic paint tubes, a sewing machine and piles of materials for painting, sewing and wrapping Christmas presents, you can imagine the mess, yes?!
Anyway thankfully I did manage to tidy enough away and find a little space before the sun set for these quick few shots.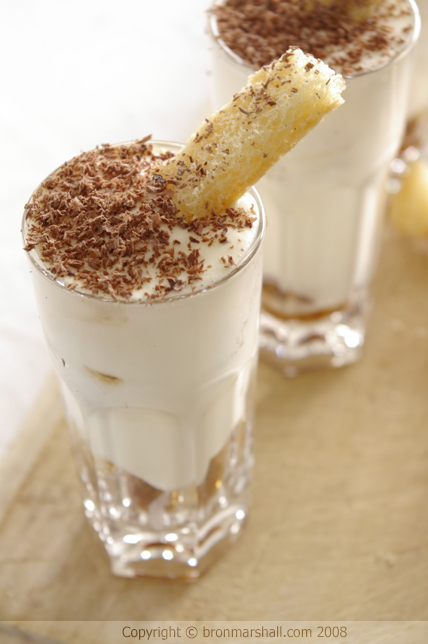 I hope you enjoy them, I sure did and they were terrifically TINY after a week of indulgence!
Back soon


Home · About Bron · Portfolio · Recipe Index · Unit Converter
RSS Feed · Atom Feed · Twitter · Facebook · Flickr · Bron's Amazon Store