Thursday 31st January 2008
Shaping B.R.E.A.D
My first experience of Salzbrezeln, Brezel or German Pretzels was while walking around a Weinnacthmarkt in Dortmund on a very cold and snowy night. I distinctly remember the first salty taste and while others were happily having them with mustard, beer and weisswurst! - the traditional accompaniments or a glass of seasonal Glüwein... I was much happier with my preferred hot mug of coffee.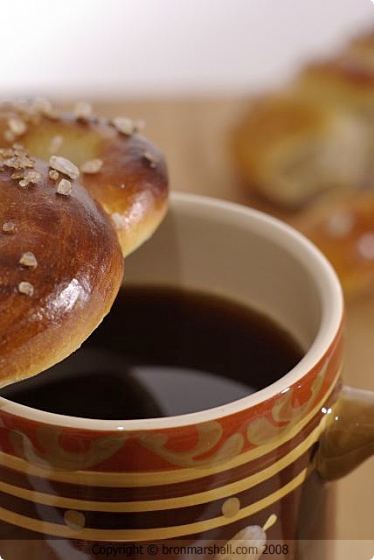 Things haven't changed, I still prefer a mug of coffee over a pint of beer and I don't think it would be the same eating pretzels without one, isn't it funny how you create your own new traditions with memories of past experiences?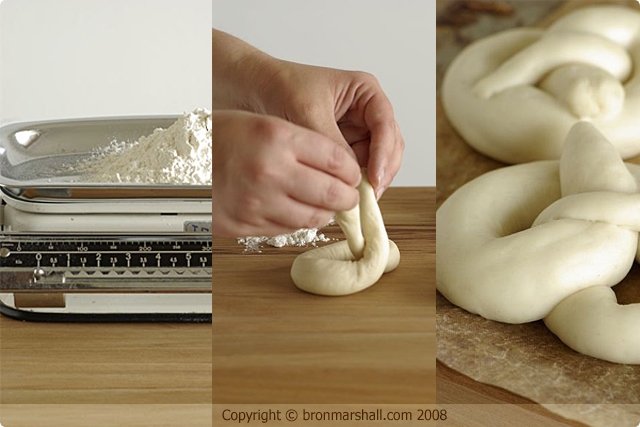 Now yes most of you will notice and you will have to excuse me for this, but as this is only my second attempt at making them, I haven't quite mastered the technique of twisting the dough so my pretzels prove into a classic open holed pretzel shape rather than a closed hole knot!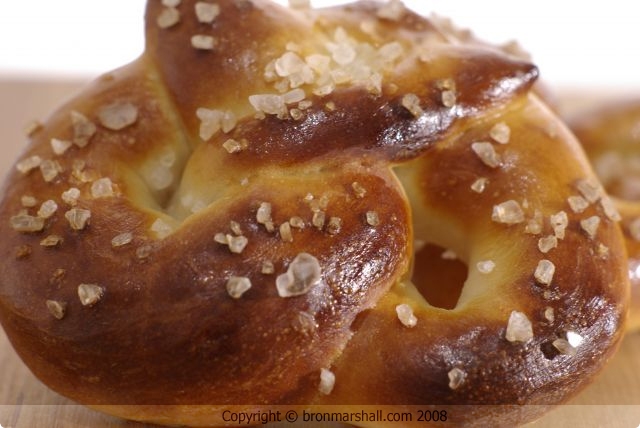 After attempting to shape a few 'pretzels' I got a little intimidated, frustrated and so carried away thinking about the event Bread Baking Day #6 and Eva's theme of shaping B.R.E.A.D! I took the theme quite literally!!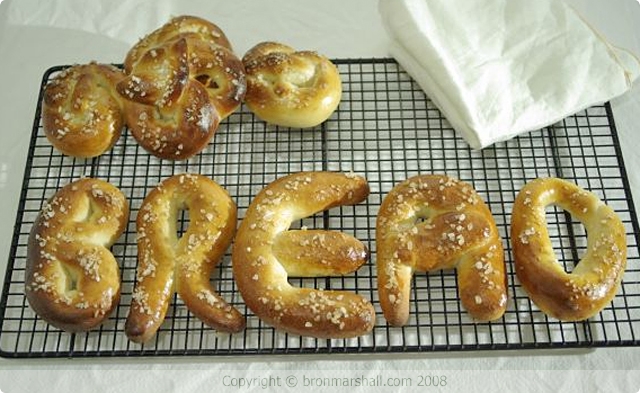 I simply glazed my pretzels with a beaten egg, however they are also often submerged in a salt or sodium bicarbonate solution before baking to get the dark crusty exterior they are known for. As with most bread these pretzels are best eaten the day they're made, better still warm from the oven.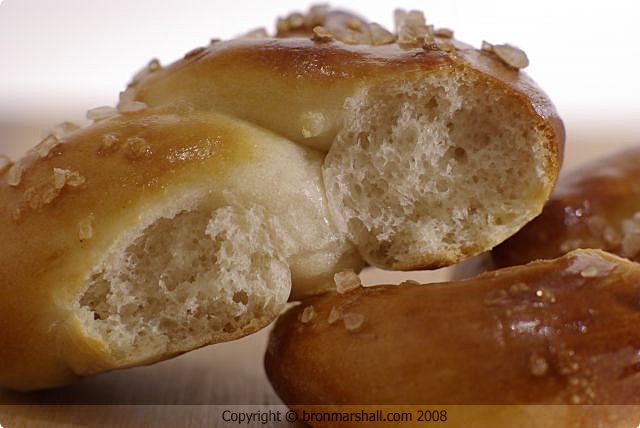 My Shaped B.R.E.A.D
100 mls of tepid water
2 teaspoons of dry active yeast
500 grams / 1 lb of strong white bakers flour
1 teaspoon of salt
250 mls of extra water, approximately
1 beaten egg, to glaze
Sea rock salt, to sprinkle
In a small bowl with 100 ml of tepid water sprinkle the yeast, leave for 5 minutes.
Mix the flour and salt together in a large bowl and make a well in the centre.
Stir yeast mixture to dissolve and pour into the flour well.
Stir a little of the flour into the yeast water to make a wet paste (sponge) and cover with a clean plastic bag / wrap or wet tea towel.
Leave the sponge to rise for 30 minutes.
After that time mix in the rest of the flour and enough of the second measure of water to form a firm and sticky dough.
Knead the dough for 8 minutes with the palm of your hands, until it's beautifully smooth and elastic.
Return to the bowl, cover and leave to rise for 2 hours or until it has at least doubled in size.
Take the dough and divide it into 12 pieces.
Shape each piece into a pretzel or letter of the alphabet if that sparks your interest.
Place on to a baking tray and cover to prove for 40 minutes or until again double in size.
Preheat your oven to 220°C (430°F)
Brush your shaped pretzels with beaten egg and sprinkle with rock salt.
Bake for 10 to 15 minutes or until dark golden and hollow sounding when tapped on their bottoms.
Slide on to cookie rack to cool and eat!
Makes 12
Enjoy!

Blog Recipes · Bread Recipes · Culture & Tradition Recipes · Food Blog Events Recipes
Home · About Bron · Portfolio · Recipe Index · Unit Converter
RSS Feed · Atom Feed · Twitter · Facebook · Flickr · Bron's Amazon Store