Monday 4th February 2008
Potato, Swede Rösti with Roasted Feta, Roma Tomatoes and Olives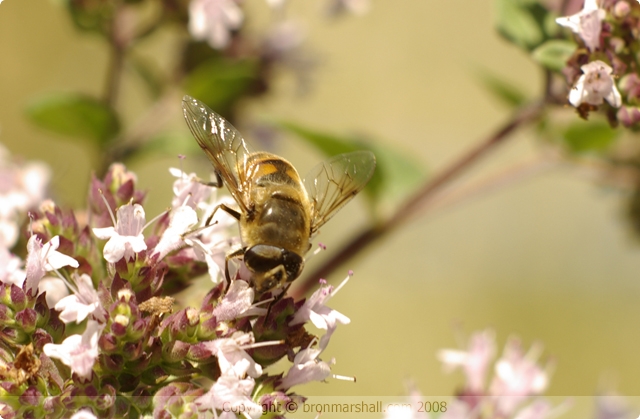 One Very Cool Bee

Check out the shades on this little fella! We don't just have bees at our place we have "cool bees!" All my oregano is running to seed and flowering gorgeously and I'm not the only one who thinks so, the honey bees are all over it!

I couldn't resist getting a photo when was out collecting some herbs for my entry in "The Return of Paperchef - Number #26″ now run by the lovely Ilva @ Lucullian Delights

The Food Blogging event Paperchef is my favourite of all the food blogging events, as I am one who prefers to create rather than follow others ideas. In this event four random ingredients are drawn from a list of nominated ideas, one must then create a new dish/recipe combining and utilizing each of the four randomly chosen ingredients. It's a bit like the blogging equivalent to "Ready Steady Cook" (or "Iron Chef" if you hail from the Americas).

The ingredients for this round were...


potatoes
bacon
swede aka rutabaga
and plum tomatoes!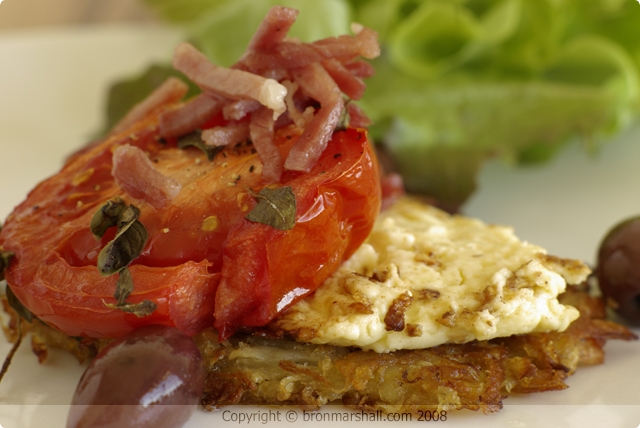 I knew quickly how I would combine the chosen four; the first idea was to definitely combine the swede and potato, and how? A crispy rösti would be perfect and topping it with roasted tomatoes and cheese seemed like a wonderful Sunday brunch idea, then finally the bacon I would julienne for a crispy and salty garnish. I used feta, however haloumi cheese would be wonderful also.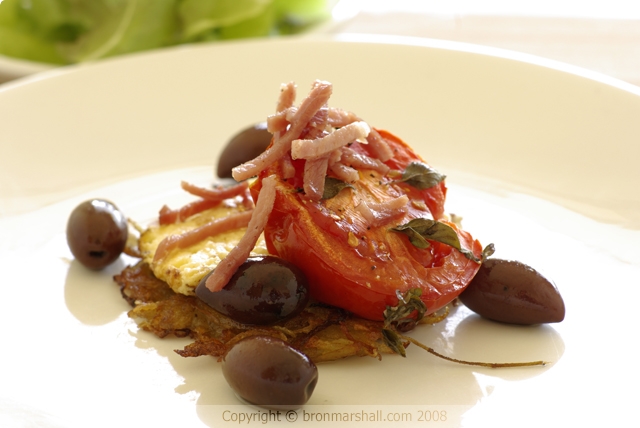 Potato and Swede Rösti with Roasted Feta, Roma Tomatoes and Olives
Rösti and crispy julienne bacon lardons
1 large floury potato, peeled (I used Desiree)
A piece of Swede/Rutabaga the same size as your potato
Clarified butter, 30 grams approximately
Sea salt
1 rasher of middle bacon, sliced julienne
Grate the potato and swede into a teatowel, (don't use your favourite one for this!) squeeze the vegetables in the towel to ring out and remove the liquid.
Heat a frypan over a hot flame adding a good knob of clarified butter.
Drop handfuls of the grated vegetables into the hot sizzling butter, pressing down and shaping each very lightly - do not flatten heavily!
Flip the rösti over when golden, adding more butter if necessary.
Drain rösti on absorbent paper and sprinkle lightly with sea salt.
Repeat with any remaining vegetables.
Makes 4 ish - depending on the size of your rosti.
In the same pan quickly sauté the thin bacon strips until golden, remove to drain on absorbent paper.
Roasted Roma Tomatoes with Kalamata Olives
2 Roma tomatoes, halved
Small pick of fresh oregano
1 tablespoon extra virgin olive oil
Sea salt and black pepper
8 to 10 Kalamata Olives
Preheat oven to 200°C (390°F).
Clean and halve the tomatoes, removing the core.
Place into a roasting dish and sprinkle with oregano leaves, olive oil and salt and pepper.
Bake for 10 minutes, add the Kalamata olives to warm through and return to the oven for 2 to 5 minutes until the tomatoes are beginning to ooze deliciously!
Roasted Feta
200 grams of feta, sliced in four
2 teaspoons of extra virgin olive oil
black pepper
Place the Feta slices into a roasting dish, drizzle with olive oil and sprinkle with black pepper.
Place in the oven along side the tomatoes and bake for 7 minutes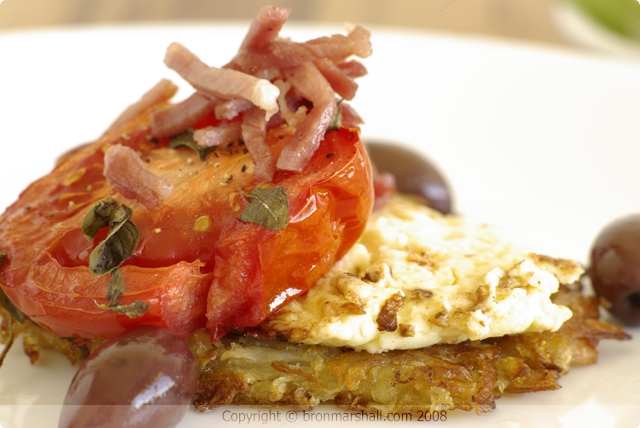 To plate up:
Place a warm rösti into the middle of the plate, add a slice of the roasted feta and a roasted roma tomato half, complete with the herbs.
Sprinkle several of the olives around the plate and top with the crispy bacon lardons.
Serve with a fresh, crisp green salad.
Serves 2 to 4 for brunch.
Update: I was delighted to receive "The Peoples Choice Award" for my entry in this round of PaperChef, thank you to all of you who voted for me, you can view the other entries here and thank you again!

Enjoy!


Blog Recipes · Breakfast Recipes · Food Blog Events Recipes · Fruit & Veges Recipes
Home · About Bron · Portfolio · Recipe Index · Unit Converter
RSS Feed · Atom Feed · Twitter · Facebook · Flickr · Bron's Amazon Store