Thursday 16th October 2008
The Omnivore's One Hundred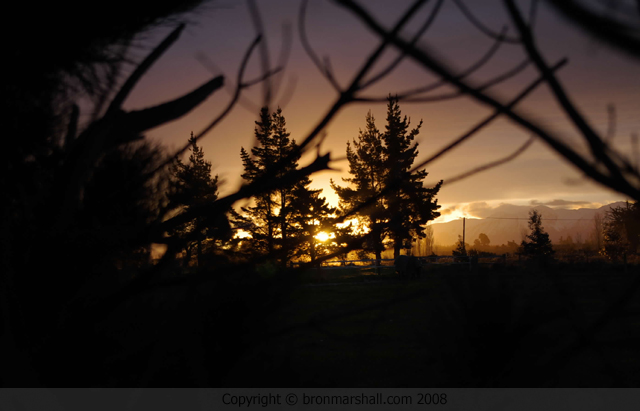 A Recent Sunset here at Home

I've been watching this meme/challenge do the rounds for a while, friends Jeanne and Johanna but it was Scott who finally had me think I should give it a go too. So what is it all about?

In the beginning:
Very Good Taste created a list of 100 food items that they feel every person should try at least once in their life. Many bloggers from around the world have now copied that same list, marking off the things they've eaten and/or would never eat!

Here's what you do if you also want to join in:


1) Copy this list into your blog or journal, including these instructions.
2) Bold all the items you've eaten.
3) Cross out any items that you would never consider eating.
4) Optional extra: Post a comment here at www.verygoodtaste.co.uk linking to your results.

You will notice I have used a traffic light system for my experiences...


Green

= happy to

GO

there again!

Orange

= been there, but didn't particularly enjoy the experience

Red

=

STOP

- not going there!

Blue

= been there - neutral to the experience
My normal Grey = have not been there yet
The VGT Omnivore's Hundred:
1.

Venison

- yeah I LOVE it!
2.

Nettle tea

- yes, helps improve the flow of breast milk when nursing.
3. Huevos rancheros - not yet
4. Steak tartare - not yet
5.

Crocodile

- yes, but only enough "to taste", it's like fatty, fishy chicken, I'm undecided about it.
6. Black pudding
7.

Cheese fondue

yum, perfect way to pass a Winters evening, as is Raclette
8. Carp
9.

Borscht

homemade
10.

Baba ghanoush

- lots, last time was with focaccia while eating out
11.

Calamari

- a favourite of J's especially as salad
12. Pho - not yet, been meaning to
13.

PB&J sandwich

- but prefer peanut butter and clover honey
14. Aloo gobi - nope
15.

Hot dog from a street cart

well not an American hot dog in a bread roll, but many NZ Hot dogs (battered sausage on a stick) or another Kiwi favourite: a sausage in a slice of God awful white bread and lots of tomato sauce.
16. Epoisses -
17. Black truffle -
18.

Fruit wine made from something other than grapes

- many
19.

Steamed pork buns

- only homemade
20.

Pistachio ice cream

- a teeny tasting of Pistachio Gelato from a street vendor
21.

Heirloom tomatoes

- grow them!
22.

Fresh wild berries

- of course HEAPS
23. Foie gras - sadly no, want to send me some?
24.

Rice and beans

- only homemade, but rarely together honestly
25.

Brawn, or head cheese

- kinda depends how hungry, may try it if I'm starving, but probably not!
26.

Raw Scotch Bonnet pepper

- er no, kinda think my eyeballs look better when the stay in my sockets
27.

Dulce de leche

- only homemade
28.

Oysters

- New Zealand's Bluff - but of course!
29.

Baklava

- only homemade, not commonly found in NZ
30. Bagna cauda -
31.

Wasabi peas

- have a packet in the pantry
32. Clam chowder in a sourdough bowl -
33. Salted lassi -
34.

Sauerkraut

- yes lots and even in Essen, Deutschland
35.

Root beer float

- well not "Root beer" - however plenty of what we Kiwi call "Spiders" in various flavours
36. Cognac with a fat cigar - neither, love to try the Cognac, not so keen on the fat cigar
37.

Clotted cream tea

- only homemade
38. Vodka jelly/Jell-O - neither, am still to have my wild youth phase... maybe when I turn 40?!
39. Gumbo - nah not really I don't think, send me your best recipe and I'll see!
40.

Oxtail

- yep, favourite featured dish in one of the first restaurants I worked - Braised Oxtail, served in a Brioche bowl with a Honey Mustard dressing...yum!
41. Curried goat - no
42.

Whole insects

- yep in chocolate chip cookies on homeschooling field trip with my girls, couldn't taste the bugs, as for this cookie... I make better! ;-)
43. Phaal - probably not, although I like curries generally
44.

Goat's milk

- yep
45. Malt whisky from a bottle worth £60/$120 or more - haven't the desire or the dollars
46.

Fugu

- probably not, value my life and quite like being in the land of the living and guess I'm just not that "trusting" !
47.

Chicken tikka masala

- yum!
48.

Eel

- smoked, a long time ago on a sleepover I had as a child
49. Krispy Kreme original glazed doughnut - never likely to, no Krispy Kreme here, never bought a glazed doughnut
50. Sea urchin - nope
51. Prickly pear - nope
52. Umeboshi - not too sure, have eaten some pretty weird Japanese food though!
53.

Abalone

- we call it Paua (Pah-Wa)
54. Paneer - not yet
55.

McDonald's Big Mac Meal

- long time ago, only once / never to be repeated!
56.

Spaetzle

yum!
57. Dirty gin martini - is that like a Shirley Temple?
58.

Beer above 8% ABV

- actually I wouldn't know, to tell you the truth, but I'm assuming so, wild nights in Berlin
59.

Poutine

- A favourite thing to help me through night of waiting in a quiet restaurant, not sure if it was "authentic Canadian" though? Fries, gravy and cheese = yum!
60.

Carob chips

used to be big fan of carob, but haven't had any in years
61.

S'mores

kinda, the NZ alternative anyway, but we just call them toasted marshmallows and traditionally had them with a couple of Griffins malt as no chocolate involved back then - But now I like them with a couple of Griffins Thins which are basically malts with thin choc layer.
62.

Sweetbreads

- sadly yes, while serving them while working in restaurants, not a fan!
63. Kaolin - first one I had to find through Wikipedia and I'm still not sure I'm any the wiser? However no I try to limit my intake of dirt/clay and such, but no doubt experimented with it as a very young child.
64. Currywurst -
65. Durian -
66. Frogs' legs -
67.

Beignets,

churros, elephant ears or funnel cake - homemade beignets yes!
68. Haggis - nope, however my ancestors probably ate enough for me... so I'll stick to the Lourne Sausage!
69. Fried plantain -
70. Chitterlings, or andouillette -
71.

Gazpacho

- homemade
72. Caviar and blini - nope, don't think so anyway?
73. Louche absinthe -
74. Gjetost, or brunost -
75.

Roadkill

- but again maybe if I'm starving
76. Baijiu -
77. Hostess

Fruit Pie

- no idea what the "Hostess" Fruit Pie is but I make some mean pies with various fruit in them
78. Snail -
79. Lapsang souchong -
80. Bellini -
81. Tom yum -
82.

Eggs Benedict

homemade
83. Pocky -
84. Tasting menu at a three-Michelin-star restaurant - haha yeah... actually no!
85. Kobe beef -
86. Hare -
87.

Goulash

- homemade
88.

Flowers

- yes plenty... zuchinni blossoms, nasturtiums, violets, rose to name a few....
89. Horse -
90. Criollo chocolate -
91.

Spam

92. Soft shell crab
93. Rose harissa
94. Catfish
95. Mole poblano
96.

Bagel and lox

- does a bagel with Gravlax count?
97.

Lobster Thermidor

98.

Polenta

99. Jamaican Blue Mountain coffee
100. Snake
Making my score 45ish... out of the possible 100

...and however like Jeanne, if the list were mine, I would have included less.. to no drinks, (they could have a list of their own!) and these favourites instead...


- Fresh buffalo mozzarella

- Aged Parmigiano cheese
- Vegemite
- Whitebait
- Blue cod
- Ceviche
- Free range organic dry cured traditional bacon, ham etc.
- An organic free range egg, cracked while still holding the warmth of the hen's lay and poached - had one of these this morning!
P.S: I apologise if you are not informed on some of these foods.
Truthfully I was going to add links to wikipedia, however I was already getting cross-eyed with all the html code for colours and such and I felt I would never get it posted if I worked on it any longer, hope you'll forgive me?!



Home · About Bron · Portfolio · Recipe Index · Unit Converter
RSS Feed · Atom Feed · Twitter · Facebook · Flickr · Bron's Amazon Store