Sunday 19th October 2008
Spring Asparagus, Lemon and Olive Cottage Tart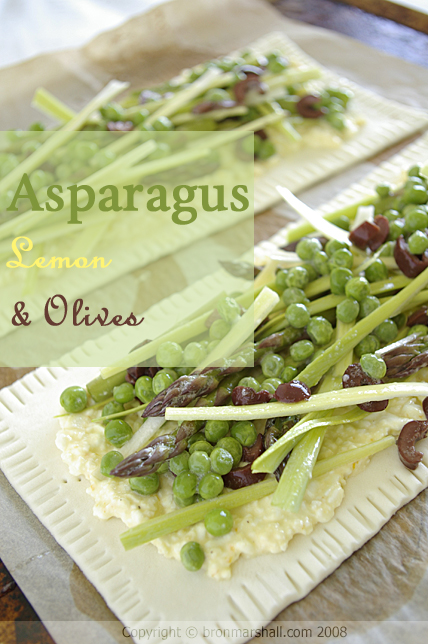 Looking around the garden it is easy to understand why the Northern hemisphere chose Spring to celebrate new life and the Christian holiday of Easter. Seeds are pushing forth, fresh vibrant greens and more beautiful colours appear every which way. And even while I sit and write here I'm able to enjoy watching a flurry of dickie birds, racing back and forth from the lawn to the trees, finding grubs and worms to feed their newborn young. Even if I couldn't see them, I would still know what was going on from the chorus of twittering and the short bursts of silence when the Mama and Papa bird return with their tucker.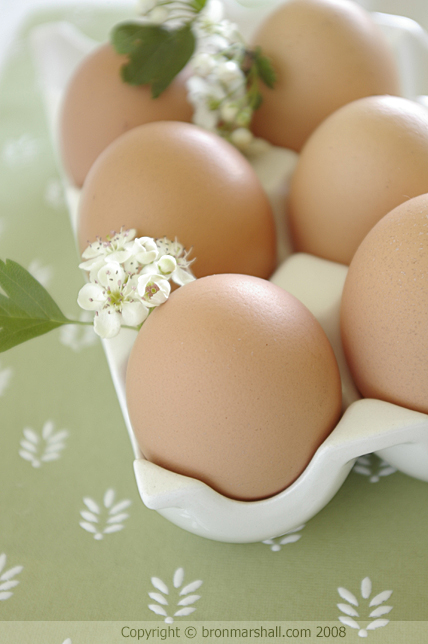 We are so fortunate to see many creatures come and go about their busyness here on our wee 5 acres. There are not many days we aren't visited by some wild hares, bunnies, Pukeko, Paradise Ducks or simple mallards. The feathered couples we've seen dedicately foraging for food over Winter, now come and show off their cute little babies. We count them 1, 2, 3,... 7 little ducklings. Sadly often by the time I get my camera ready, they've moved on over to the neighbours - which is probably just as well with our two black panthers on the loose. Besides that, the fact is I'm not too happy about them thinking my vegetable garden is an all you can eat buffet!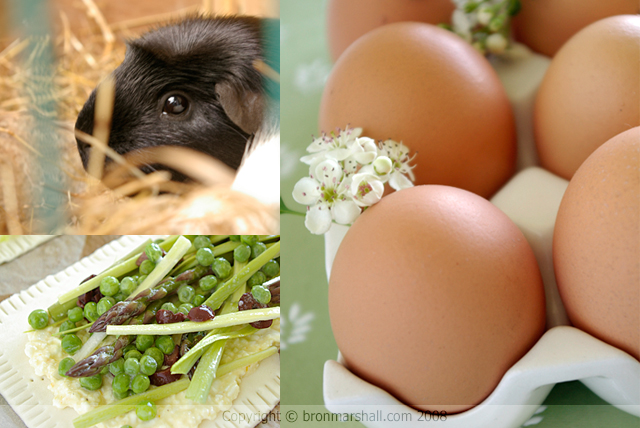 This "buffet table" is also under threat by our own hens at times, however they are fun to watch too and are supplying us abundantly with super-sized fresh eggs each and every day, especially now the days are longer, whereas through Winter we would only get 2 or 3 a day.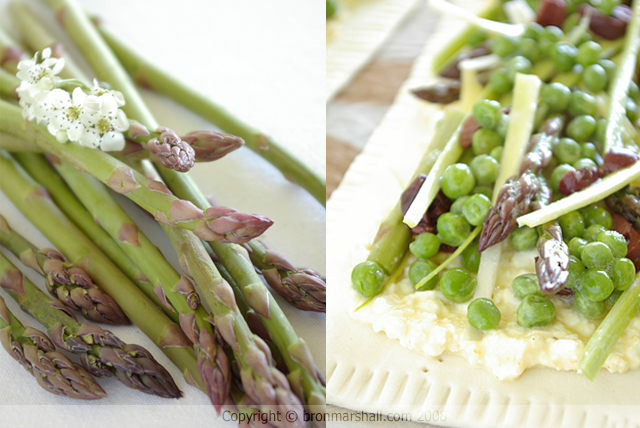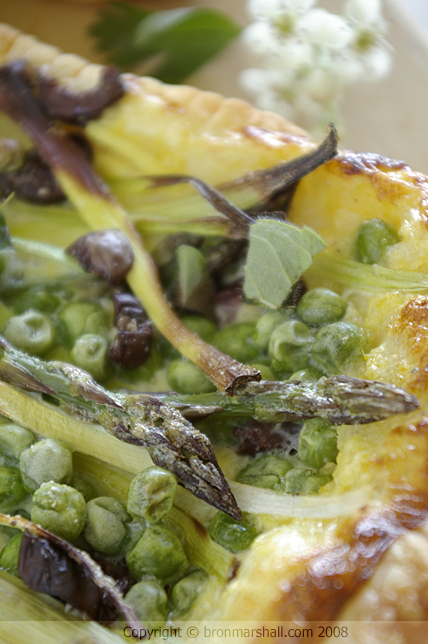 Armed with a gorgeously fresh bunch of asparagus last Monday, I knew I wanted to make a tart. Yet, I wasn't feeling like the rich cream and many egg laden tart you often find enveloping asparagus. That's when I was reminded of images past, images of La Tartine Gourmande's Spring Legume Tarts. I looked through the Spring months (that's March, April, May in the Northern Hemisphere) of Bea's blog, and sure enough there were the images I had remembered - I'm sure you'll agree Bea's photos are hard to forget?!

I knew at once this was the kind of tart I wanted to make.

The lemons in my fruit bowl were beckoning me too, so I knew I had to incorporate them in some way. Actually I welcomed their zesty flavour to the mix. Some Kalamata olives and oregano would finish my Spring tarts nicely.

Spring Tarts inspired by Béa - so imagine my surprise when later in the week when I returned to Béa's blog, to see she had posted the most exciting news, perfectly timed for our Spring - the season of New Life!

Congratulations Béa and Phillip - these are for you!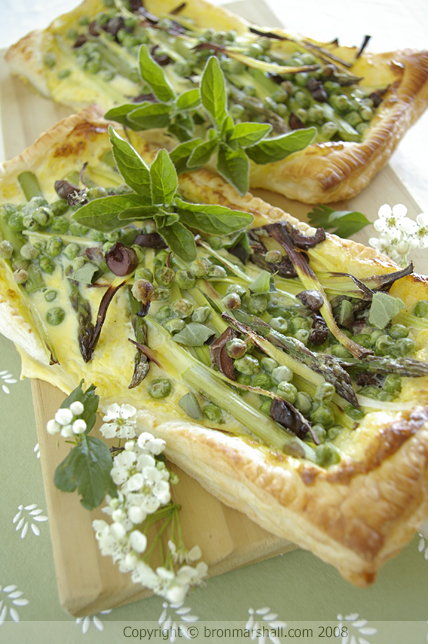 Spring Asparagus, Lemon and Olive Cottage Tart
400 grams / 14 oz Puff pastry
1 bunch of thin fresh Asparagus
1 small leek
½ cup of fresh or frozen Baby Spring Peas
6 to 8 black olives, sliced - I used Kalamata
1 free range organic egg, separated
150 grams / 5oz of cottage cheese
4 tablespoons of grated parmesan cheese
Grated zest of one spray/wax free lemon
Salt and Pepper
Fresh Oregano
Preheat the oven to 210°C (410°F).
On a lightly floured board roll out your puff pastry to make 2 rectangles 25cm by 12cm (10 inches by 5 inches).
Place the rectangles on a lined baking sheet/tray and using a fork dock little holes in the dough.
Rinse and trim the asparagus and leek, halve any thick asparagus spears lengthwise and slice the white part of the leek lengthwise too.
In a medium sized bowl whip the egg white until frothy.
Toss the asparagus, leek, peas and sliced olives through the frothy egg white - this helps the vegetables from turning to brown and drying out.
In another bowl mix together the cottage cheese, parmesan, egg yolk, lemon zest and a little salt and pepper.
Evenly spread half of the cottage cheese mixture on each pastry rectangle, leaving a 2cm (1 inch) edge.
Create a border by gently pressing and crimping the edge with a fork.
Place and layer the coated vegetables over the cheese mixture.
Bake for 20 to 25 minutes or until the pastry is lovely and golden.
Leave to cool slightly and before serving tear over a few fresh oregano leaves.
Enjoy!


Blog Recipes · Eggs Recipes · Fruit & Veges Recipes · Picnics Recipes · Spring Recipes · Spring 2008 Recipes · Vegetables Recipes
Home · About Bron · Portfolio · Recipe Index · Unit Converter
RSS Feed · Atom Feed · Twitter · Facebook · Flickr · Bron's Amazon Store