Friday 10th October 2008
My Pink Bosom - Paris Bre(a)sts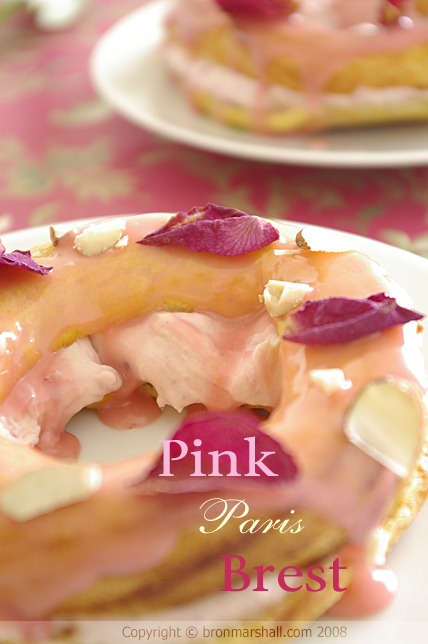 Sweet, Pink & Seductive

I've had this idea for a couple of years now, yet somehow I've never got around to sharing it in time for October - so I'd shelve the idea for the next coming year, and then the next. When I started back blogging this week I thought to myself... "It's now or never, yes I'm determined to do it, I so have to this time!"

Why? Ok - sorry I have to say it... "I LOVE my idea!" - "Bron? - yeah, she's an ideas gal. That's why we call her the Ideas Gal. She has lots of ideas!"

Today, Friday is the Pink Ribbon Appeal Day in New Zealand and October or Pink October is the month dedicated to Breast Cancer Awareness.

I know, you're probably all aware of this by now, and how on Tuesday First Lady Laura Bush flooded the Presidential "White House" in Pink Light to join with over 200 International landmarks around the globe.

I'm personally so very fortunate not to have known anyone close who has been affected by this particular type of cancer. My German teacher in highschool was, but no one else that I know of. However I've seen cancer, I've lost family and friends to other forms and I know several who continue to fight and conquer it's horrible effects.

Pink October isn't (just) about raising money, it's more about raising awareness - encouraging people to educate themselves about the issues relating to Breast Cancer. Reminding everyone - (remember men DO get breast cancers too!) to examine themselves regularly, arrange mammograms and take the knowledge from your experiences and spread the word to others. Early detection is the most helpful tool in overcoming this disease. For my contribution in spreading the word - spreading Breast Cancer Awareness, I've created what I believe to be The Ultimate in Food Porn.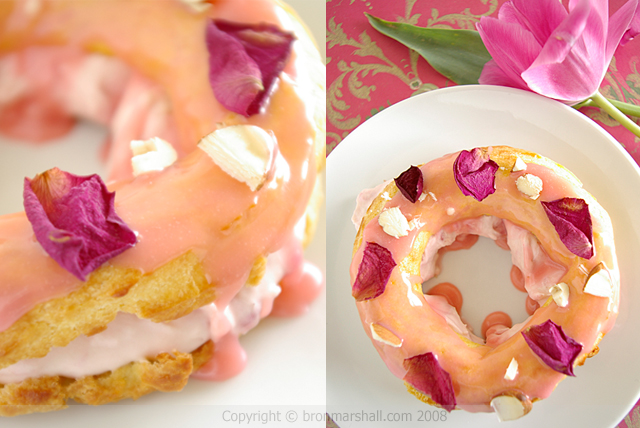 Traditionally a French Choux Pastry, Paris Brest was created in 1891 in honour of the Paris-Brest-Paris bicycle race, the precursor to the Tour de France - the circular ring shape resembling a bicycle wheel, of course!

However today I'm playing on this famous pastry's name, but to be honest I'm also playing on my own name! My readers from Wales may know, and the mean girls in my class at school certainly enjoyed reminding me(!) that Bron/Bronwyn/Bronwen is a Welsh name meaning "white bosomed, fair blessed breast"... Yay! Thanks for that Mum and Dad!

So, for the month of October only, these circular ring shapes of choux now represent BREASTS, and here is an example of my set. "Hey! What are you looking at? They're called bre(a)sts and everybody has them!".
As traditionally I'm "white bosomed" I've illuminated them with Pink Ganache and filled them with a Pink Raspberry Mascarpone Cream for Pink October.

If you would like to join me in raising Breast Cancer Awareness - through this powerful medium of Food Blogging by also creating some Pink Paris Bre(a)sts this October, I'd be only too happy to create a round up early in November.

You can send your links to me here




The only rules being that your Pink Paris Bre(a)st must be...
Round circular rings / Pink in some way / Choux pastry based / Edible / and link back to this post!
They can be of any size, AAA, B, C, DD - F and you can make them Pink in any way you choose, just be gentle!

Go on then... show us your Bre(a)sts!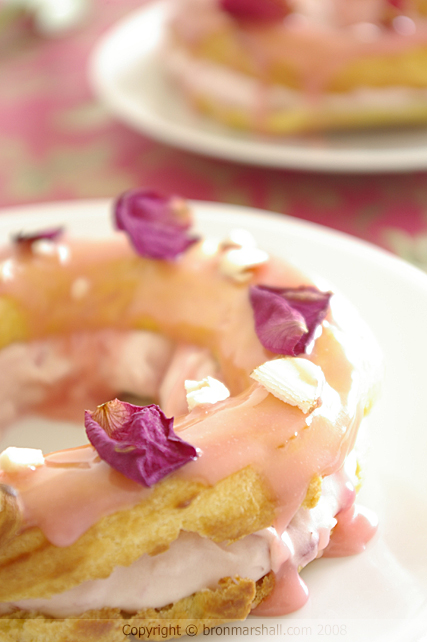 Pink Paris Brest
For the Choux:
250ml / 1 cup of cold water
100 grams / 3½ oz of unsalted butter
a pinch of salt
1 cup of strong / high grade white bread flour, sifted
3-4 eggs, (220 grams /7¾ oz) lightly beaten
For the Pink Ganache:
100 ml / 3½ floz cream
250 grams / 8½ oz of white chocolate, chopped
Red food colouring or a little seedless raspberry jam, to tint pink
Toasted, flaked almonds, however I was thinking chopped sugared almonds would be cool!
Edible dried rose petals (optional)
For the Mascarpone and Raspberry Filling:
1 cup of fresh or frozen/thawed raspberries
250 grams / 8½ oz of mascarpone
150ml / 5 fl oz of whipped cream
1 to 2 tablespoons of caster sugar, to taste
dash of Crème de Cassis or another liqueur (optional)
Make 12 x 10cm (4″) circular templates on baking parchment, paper and turn it over so pencil marks are on the bottom before placing on a baking sheet or tray.
Place the water and butter in a saucepan over high heat and bring to a rolling boil.
Add the flour and salt all at once and beat with a wooden spoon until the mixture forms a ball.
Remove from the heat and add the beaten eggs a little at a time in approximately 6 portion stages.
Beat in each portion well to reach a dropping consistency.
Preheat the oven to 190°C (370°F).
Using a piping bag fitted with a 16mm (¾") plain nozzle, pipe 2 x 2 cm (¾ in) wide rings on the previously drawn templates.
Sprinkle a little water about the tray and bake for 20 to 25 minutes or until puffed, dry and golden.
As soon as you remove them from the oven pierce each ring in a couple of places with the tip of a small knife to allow steam to escape and reduce the deflating possibilities.
Remove from the tray and cool on a wire cookie rack.
Choux Pastry Troubleshooting Tips!
Collapsed Rings - Could be removing from the oven too soon - Underbaked; Using too soft flour; Oven too hot; Too much water; Too much egg.
Lack of Volume in Rings (Tough and Doughy) - Could be too much flour; Not enough egg; Using too soft flour.
Melt the chocolate in a double boiler (bain-marie).
Warm the cream in a saucepan or microwave being careful not to scald.
Add the warm cream to the chocolate (still in the double boiler) and mix together until evenly combined.
Add a little red food colouring and beat the mixture until the ganache is a smooth glossy pink. Remove from the heat and cool slightly.
In a large bowl combine the raspberries, mascarpone, whipped cream and sugar
Adding the liqueur if desired.
When ready to serve, slit the choux rings in half and fill inside of the bottom ring with a generous amount of the raspberry macarpone cream.
Return their top halves and spread a little of the ganache attractively so it runs down the sides, sprinkle with toasted flaked almonds and rose petals.
Makes 8.
Enjoy!


Blog Recipes · Chocolate Recipes · Desserts Recipes · Spring Recipes · Spring 2008 Recipes · Sunday Afternoon Teas Recipes
Home · About Bron · Portfolio · Recipe Index · Unit Converter
RSS Feed · Atom Feed · Twitter · Facebook · Flickr · Bron's Amazon Store