Sunday 26th October 2008
Mixed Up Seasons - Spiced Manuka Oaties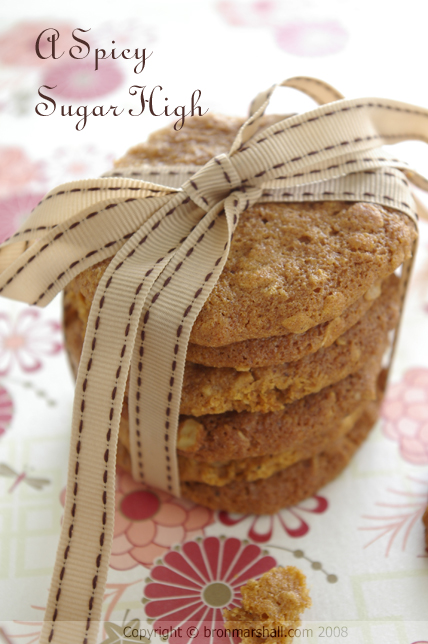 One could be forgiven for thinking after seeing these photos that I've become mixed up within the seasons, besides if the weather yesterday and today was anything to go by, we are certainly having a break off Spring.
Anita's more Autumnal theme for Sugar High Friday of Spices was just the warming up we needed this afternoon after a cold night and morning of heavy rain and sleet! (My poor vegetables!)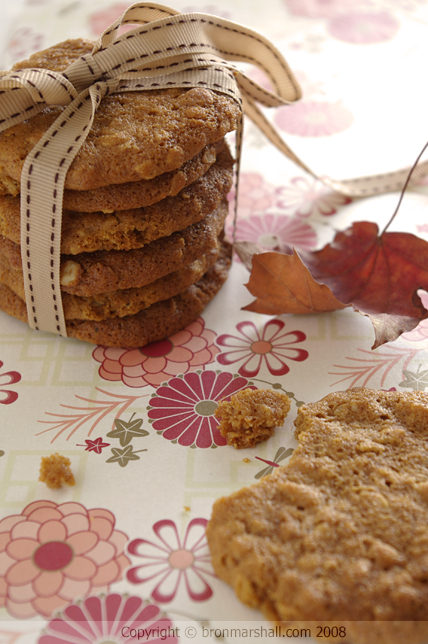 I invented these little spicy delights over Winter and we've enjoyed them several times since; so it was about time I shared them you too! Manuka honey is a gorgeously spicy honey native to New Zealand, you may have heard of it for it's amazing health benefits, it sure is the best tasting medicine. When I sense a bug coming on I like to whip up some crêpes with lashings of our Manuka honey to stop the nasties in their tracks, and it works 99% of the time too... I'm sure!

These cookies also have the added kick of ginger, cinnamon and cloves, so it's not surprising the aroma coming from the oven lures everyone into the kitchen.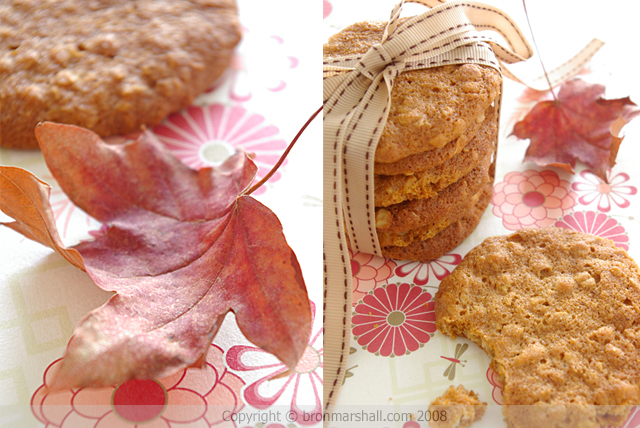 Spiced Manuka Oaties
1 cup of plain white flour
¾ cup of rolled oats
2 teaspoons of ground cinnamon
2 teaspoons of ground ginger
¼ teaspoon of ground cloves
½ cup of plain white sugar
100 grams / 3¾ oz of butter
3 tablespoons of Manuka Honey or similar "spicy" honey
1 teaspoon of baking soda
Preheat your oven to 160°C (320°F).
Sift the flour and spices into a large bowl, add in rolled oats and mix to combine.
In a small saucepan melt the sugar, butter and honey together by stirring over a low heat until it is all melted and smooth.
Set the mixture aside to cool slightly.
Mix the baking soda into the honey, butter, sugar mixture.
Continue stirring until there are no lumps of baking soda and the mixture resembles a thick foam.
Fold the foam into the dry ingredients and combine well.
Roll good teaspoons of mixture into balls and place lined baking trays and flatten with a fork.
Bake for 8 to 10 minutes and continue to cool the cookies on the baking tray for at least 5 minutes before transferring to a cooling rack.
Makes 26
Enjoy!


Autumn Recipes · Blog Recipes · Food Blog Events Recipes · Sunday Afternoon Teas Recipes · The Baking Tins Recipes
Home · About Bron · Portfolio · Recipe Index · Unit Converter
RSS Feed · Atom Feed · Twitter · Facebook · Flickr · Bron's Amazon Store