Monday 27th October 2008
Hay Hay it's Pumpkin Pie Flavoured Yoghurt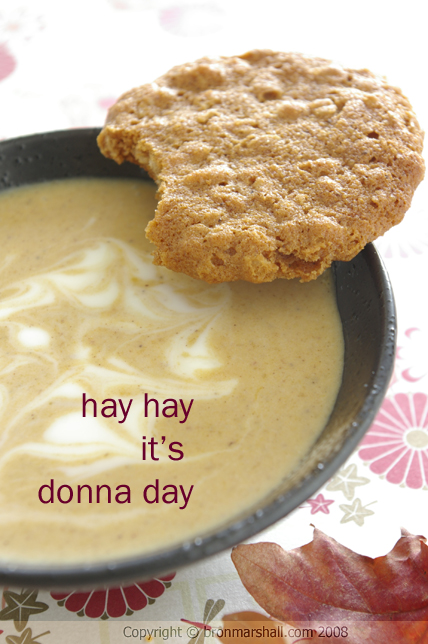 Continuing on my Autumnal theme just once more as the super Spring sunny-shine is back and I can't wait to head outdoors and check on how my vegetables weathered the storm!

However when brainstorming ideas to flavour my yoghurt for this months HHDD hosted by Bordeaux over at Marita Says. I kept thinking of the lovely recipes I'd seen on food blogs this past week, the preparations being made for Halloween this coming Friday. Pumpkin was everywhere and I couldn't avoid it, it had wedge it's way into my brain and there was no way around it.




That's when my Pumpkin Pie flavoured yoghurt was born, I was imagining how super it would be for breakfast on Halloween. Served in little 'minikins' / cute teeny pumpkins or gourds it would be too adorable, but sadly there are none to be found here at this time of year. Halloween is another holiday I'll have to move to make more sense in my Southern Hemisphere world!

As you can see I teamed my Pumpkin Pie Yoghurt with a couple of my Spiced Manuka Oaties... for double the yum!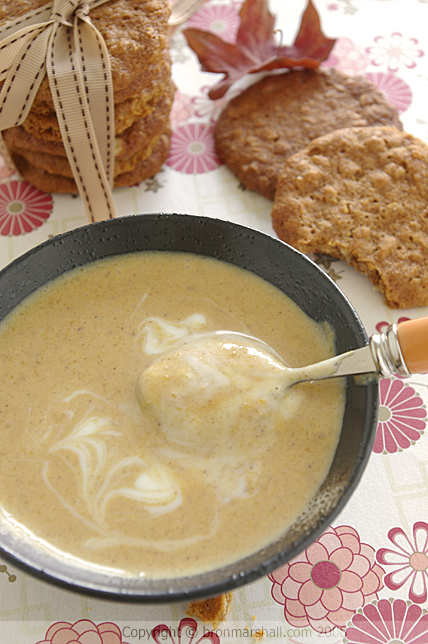 Pumpkin Pie Yoghurt
Adapted from Donna Hay's recipe, on Marita Says
½ cup cooked pumpkin purée
2 tablespoons of soft brown sugar (to taste, adding a little more/less depending on how sweet your pumpkin is)
a pinch of salt
1 teaspoon of ground cinnamon
½ teaspoon of ground ginger
a little freshly grated nutmeg
1 cup of chilled plain unsweetened yoghurt
1 cup of chilled cream
Maple syrup to taste
Prepare and cook the pumpkin if necessary, canned pumpkin would be fine also.
Mix the pumpkin purée, brown sugar, salt and spices together, taste and add more sugar as necessary.
Mix the flavoured pumpkin through the yoghurt and cream and beat until light and creamy.
Serve with Maple syrup to taste and Spiced Manuka Oaties if desired.
Serves 4
Enjoy!


Autumn Recipes · Blog Recipes · Breakfast Recipes · Food Blog Events Recipes · Fruit & Veges Recipes · Hay Hay It's Donna Day Recipes
Home · About Bron · Portfolio · Recipe Index · Unit Converter
RSS Feed · Atom Feed · Twitter · Facebook · Flickr · Bron's Amazon Store