Sunday 1st July 2007
Horopito Lamb Chops with Tutaekuri Wedges and Yams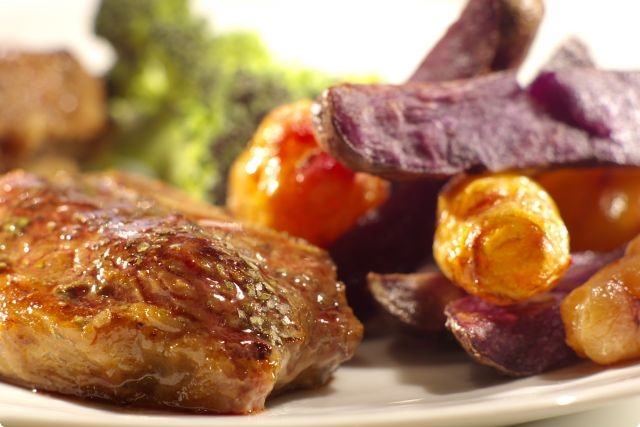 Horopito (Pseudowintera Colorata) is native NZ Bush Pepper, and my chosen "Wild Weed", even though it did come conveniently packaged from Kinaki, Wild Herbs. Horopito makes a "peppy" (hehe, do you like that?!) addition to marinades, spice rubs and sauces for meats, fish or vegetables. It is also traditionally used as an internal or external tonic, as it has anti-oxidant properties.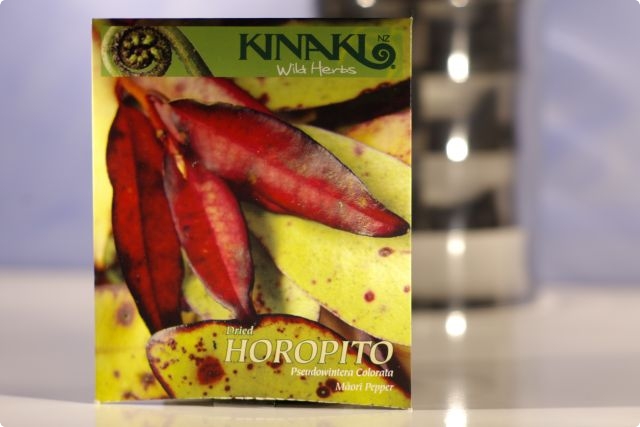 Tutaekuri, or Maori Potatoes are pretty WILD too! They are exceptionally floury potatoes and dark purple in colour, however more wildly "Tutaekuri" apparently translated to English (citation needed!) means dog poo! Now you would have to be rather fearless and WILD to eat dog poo, wouldn't you agree?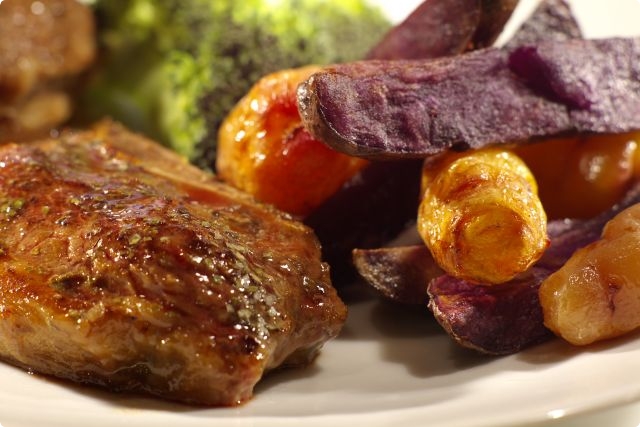 Yams, New Zealand Yams (better known as Oca in most parts of the world) as anyone who has grown them will know, are notoriously weedy! Basically once planted you'll have them in that part of the garden forever, only the smallest teeny part of the tuber left behind will continue to multiply and regenerate, year after year, after year!

So without further ado, here is my contribution to WILDFOOD #2 Wild Weeds!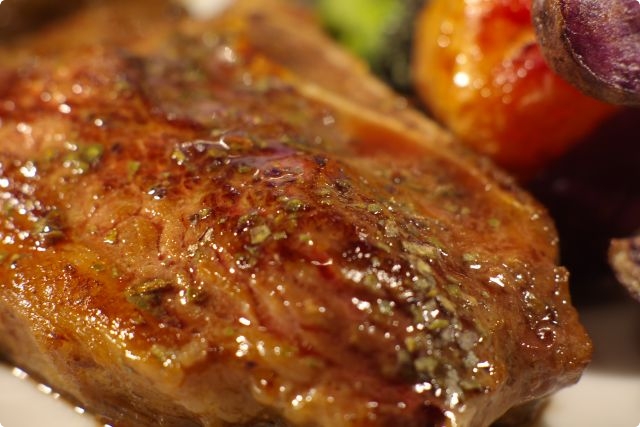 Horopito Lamb Chops with Tutaekuri Wedges and Yams
4 to 8 lamb leg or loin chops, approximately 750 grams
3 tablespoons of Lea and Perrins Worcestershire sauce
1 teaspoon of Dijon mustard
2 tablespoons olive oil
3 tablespoons of freshly squeezed lemon juice
2 tablespoons dried Horopito (can substitute with ground black pepper!)
8 to 10 small Tutaekuri purple potatoes, cut into wedges
16 or so New Zealand Yams (aka Oca)olive oil
salt and pepper
Place the Worcestershire sauce, mustard, olive oil, lemon juice in a small bowl and mix to combine.Pour this marinade over the lamb chops and cover to marinate for 20 to 30 minutes.
Meanwhile prepare the potato wedges and yams for roasting.
Preheat your oven to 190°C (370°F), place the vegetables into a roasting/baking dish and drizzle with olive oil.
Bake the vegetables for 30 minutes, turning frequently to ensure uniform crunchiness, sprinkle with salt and pepper to serve.
Preheat a frying pan or grill and sprinkle the Horopito flakes liberally over the lamb chops and grill for 4 to 5 minutes each side, or until done to your liking.
Rest the chops in a warm place for a couple of minutes before serving with the Tutaekuri wedges and yams, with perhaps some steamed greens on the side, I served my favourite broccoli!
Serves 4 to 6.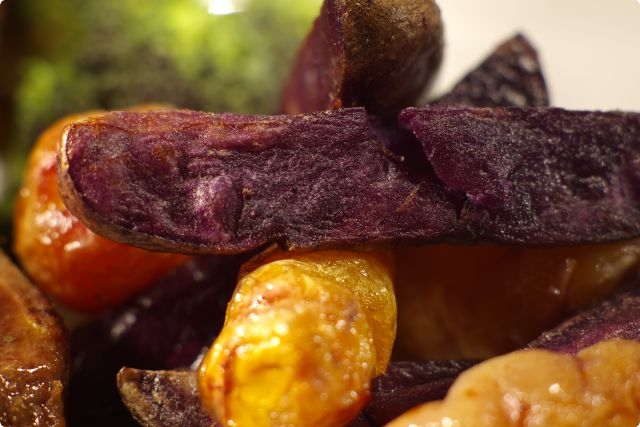 For more on WILDFOOD stay tuned for the WILD WEEDS roundup to be posted in the next few days and see what wonderful WILD and WEEDY delicious fun some my friends have been up to!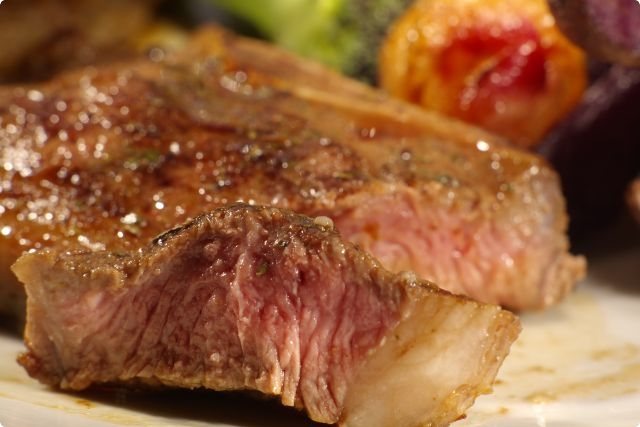 Enjoy!


Blog Recipes · Fruit & Veges Recipes · Meat Recipes · New Zealand Recipes · Wild Food Recipes
Home · About Bron · Portfolio · Recipe Index · Unit Converter
RSS Feed · Atom Feed · Twitter · Facebook · Flickr · Bron's Amazon Store