Monday 16th October 2006
Spinach and Cheese filled Pumpkin Tortelloni with a Blueberry, Orange and Pinot Noir Sauce
When Owen of Tomatilla announced the ingredients for this 22nd round of Paper Chef, I had to giggle a little, I nominated spinach as a bit of a joke, knowing full well the crisis and spinach shortage in the States. Naughty eh!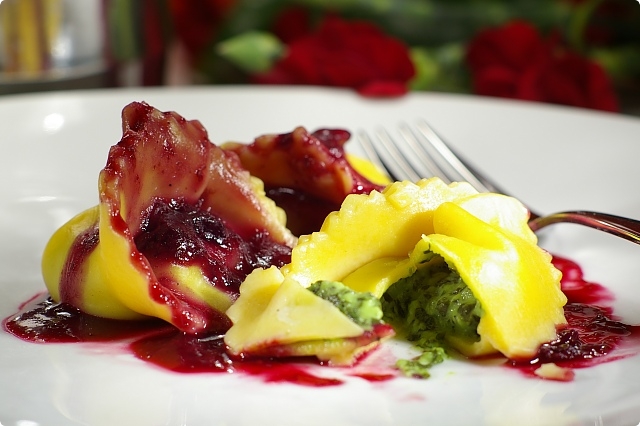 However in my defence, I didn't really expect it to make the final list!

Barberries
Pumpkin
Spinach
Slow
The list had me stumped momentarily, firstly I had know idea what barberries were, so I was a little relieved when Owen suggested they would be hard to locate for most people and he would accept any berries.
Also how was I to combine the 3 ingredients in a most delicious way, not to mention give them a slow theme. With berries and spinach at least, I always find less is more, less cooking, less fuss.

Anyway after quite the brainstorm I came up with the following...

Barberries were to be substituted with the more familiar berry beginning with B - Blueberries.
Pumpkins are getting on at this time of year downunder, however I steamed a couple of small pieces, and blended them to a firm purée.
Spinach was great, there's plenty of beautiful young spring tender leaves to be had.
Finally fresh homemade pasta made from some of the pumpkin purée, and shaping the individual tortelloni was to be my take to the 'slow' element.

I think with the unsual combination of flavours and 'fiddliness' of shaping the tortelloni, my dish would be best suited to the "Paper Chef Haute" category, although arguably could fit both Home and Haute.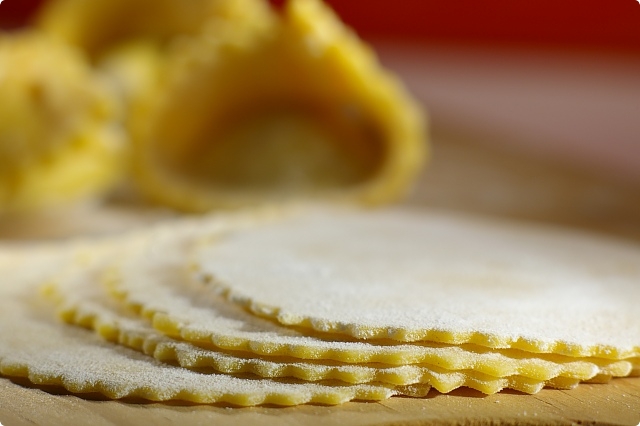 Spinach and Cheese filled Pumpkin Tortelloni with a Blueberry, Orange and Pinot Noir Sauce
Fresh Pumpkin Pasta
300 grams of strong / pasta flour
2 heaped tablespoons of pumpkin purée
1 egg yolk (keep the egg white for sealing the tortelloni later)
1 tablespooon of olive oil
1 teaspoon of salt
freshly grated nutmeg
1 whole egg, beaten
Put the flour, pumpkin, salt, nutmeg, olive oil and 1 egg yolk into a large bowl or food processor.
Mix or process the mixture together, adding enough of the whole beaten egg as necessary to form a ball.
Kneed the dough until smooth and elastic.
Cover and rest the dough for one hour.
(The pasta dough can be covered with plastic wrap and refrigerated overnight if necessary.)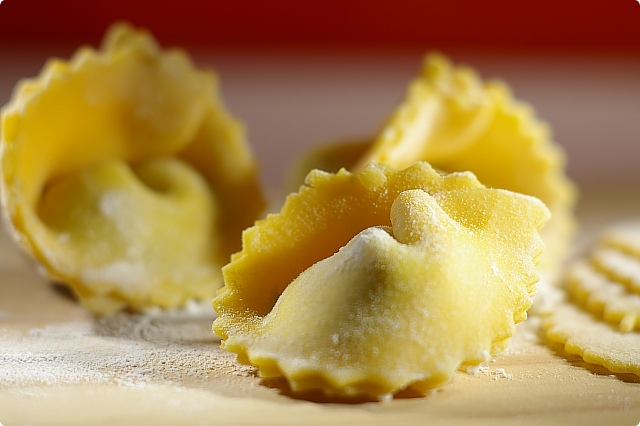 Spinach and Cheese Filling
¾ cup of finely chopped fresh spinach leaves
200 grams of fresh soft cheese, ricotta, cream cheese, mascarpone or similar (I used a soft goat cheese)
salt and pepper
Mix together to form a firm paste.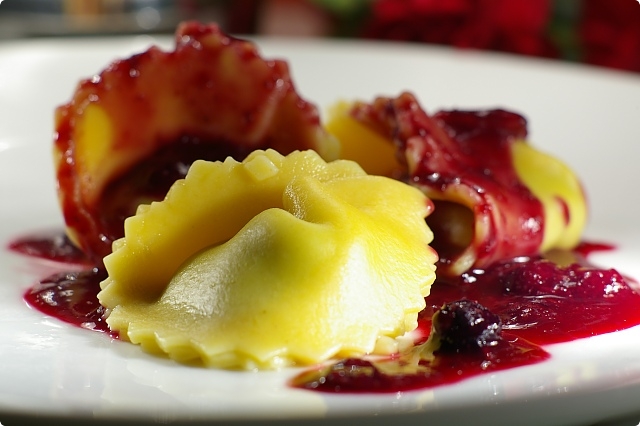 Blueberry, Orange and Pinot Noir Sauce
1 cup blueberries, fresh or frozen
¼ cup of red wine, i.e Pinot Noir!
½ cup of freshly squeezed orange juice, approximately
zest of an orange
salt and pepper
sugar to taste (optional!)
1 tablespoon cornflour mixed with a little water (if required!)
In a small saucepan heat the blueberries and wine together.
Mush a few of the berries to form a well textured sauce and add the orange juice and zest.
Reduce to a simmer and taste.
Add salt, pepper and sugar if desired.
If necessary thicken the sauce with cornflour and water, and bring to the boil for one minute then set aside.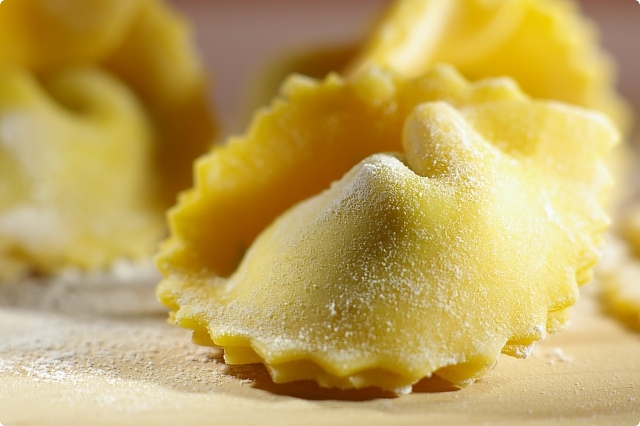 Assembly
Extra strong or pasta flour
Remaining egg white
Divide the pumpkin pasta dough into four pieces.
Dust each piece with a little extra flour to keep from sticking and using a rolling pin or pasta machine, roll the dough out very thin.
(On my "Atlas" pasta machine I go to the 6th setting.)
Place the four sheets on a lightly floured surface.
Use a pastry cutter to cut the sheets into circles, 10cm in diameter.
Place a tablespoon of the Spinach and Cheese filling in center of each circle.
Brush the edges lightly with a little egg white.
Fold in half and seal, trying to avoid having any air inside.
Pull the two points together, sealing again with a little egg white.
Dust the finish tortelloni with more extra flour, cover and set aside until ready to serve.
Bring a large saucepan of water to the boil, salt.
Brush off any excess flour from the tortelloni with a dry brush.
Cook the tortelloni in rapid boiling water for 4-5 minutes and then remove each with a slotted spoon to drain.
Nappe over a little of the warm Blueberry, Orange and Pinot Noir Sauce and serve.
Serves 4 to 6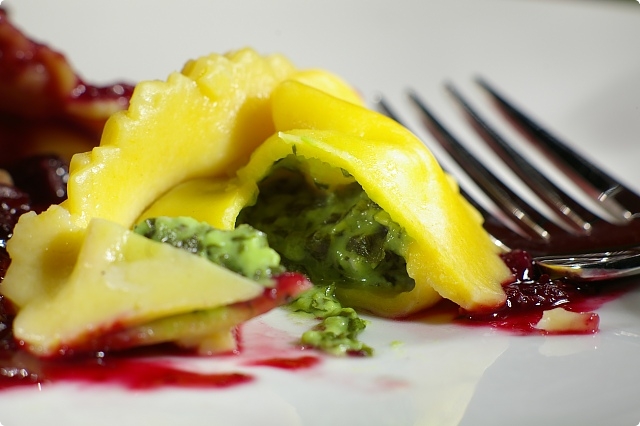 Enjoy!


Blog Recipes · Food Blog Events Recipes · Fruit & Veges Recipes · Pasta Recipes
Home · About Bron · Portfolio · Recipe Index · Unit Converter
RSS Feed · Atom Feed · Twitter · Facebook · Flickr · Bron's Amazon Store