Monday 16th October 2006
Bron's Baguette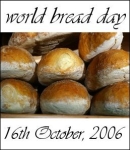 After a quick flick around the regular food blogs, one is quickly aware that today is World Bread Day!
Zorra from Kochtopf has thankfully been encouraging all food bloggers to bake and blog bread in support and celebration of the "The International Union of Bakers and Bakers-Confectioners" declaration that today, the 16th of October is just that "World Bread Day".

I try to make most of the bread we as a family consume, our daily standard being a simple wholemeal tin loaf. I also enjoy making more specialty breads, such as Pita, Naan, Brioche, Chelsea buns, Ciabatta, Sourdough... to name a few.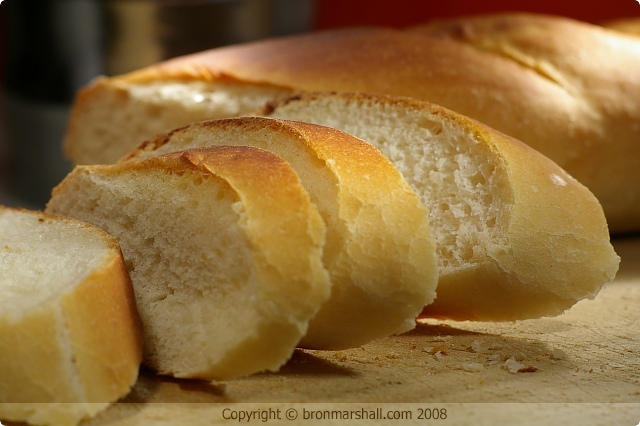 However, I also make a lot of Baguette and we especially like to treat ourselves with a couple of fresh homemade Baguette with a selection of cheeses from Canterbury Cheesemongers now and again on lazy Saturday evenings.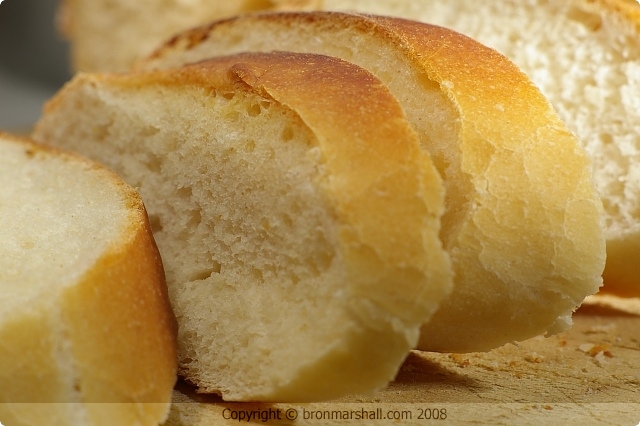 Baguette
2½ teaspoons of dried yeast (or 20 grams fresh yeast)
300 ml of tepid water
500 grams of strong white bread flour
1 teaspoon of natural salt
12 ice cubes
Sprinkle the yeast over the 300 mls of warm water in a small bowl and leave to froth for 5 minutes.
Measure flour and salt in to a large bowl
Mix to combine and make a well in the centre.
Stir yeast mixture to dissolve and pour into the flour well.
Stir a little of the flour into the yeast water to make a wet paste (sponge) and cover with a clean plastic bag / wrap or wet tea towel.
Leave the sponge to rise for 30 minutes.
After that time mix in the rest of the flour to form a soft dough, adding a little more warm water if required.
Knead the dough for 8 minutes with the palm of your hands, until it's beautifully smooth and elastic.
Return to the bowl, cover and leave to rise for 2 hours or until it has at least doubled in size.
Knock the dough back and again cover and leave it to rise for a further hour.
Take the dough and equally divide it into 2 by weight.
Shape each piece into a baguette shape about 40cm long.
Place on to a lightly floured baking tray and cover to prove for 40 minutes or until again double in size.
Preheat your oven to 240°C (460°F), or as high as it will go!
While preheating your oven place a shallow dish of a dozen or so ice cubes on the bottom rack, this will create steam.
Slice several slashes down the length of each baguette and bake for 10 minutes, after which time quickly turn the tray around 180 degrees, so that the ends which were at the back of the oven are now at the front.
Continue to bake for a further 10 to 15 minutes or until golden and hollow sounding when tapped on their bottoms.
Slide on to cookie rack to cool
Makes 2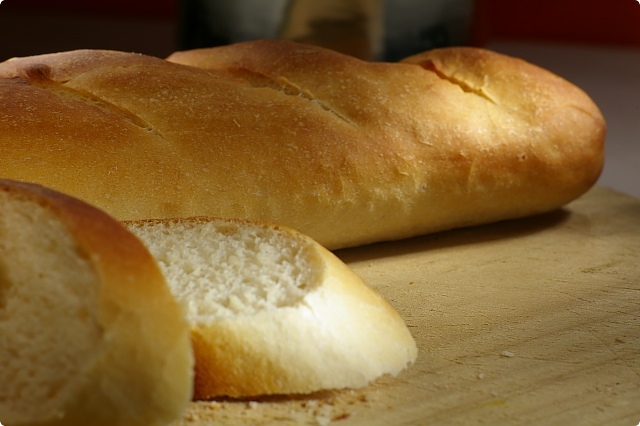 Enjoy!


Blog Recipes · Bread Recipes
Home · About Bron · Portfolio · Recipe Index · Unit Converter
RSS Feed · Atom Feed · Twitter · Facebook · Flickr · Bron's Amazon Store