Monday 5th June 2006
Pan Fried Beef Escalopes (Scallopini) stuffed with Lemon and Rocket Risotto
This post marks my first entry for the prestigious Paper Chef food blogging event, originally hosted by Owen from Tomatilla, however while Owen is taking a slight hiatus, thankfully Kevin from Seriously Good has offered to continue hosting the event.

This weekend's Paper Chef #18 ingredient list included:

Veal Escalopes / Scallopini
Rocket or Arugula
Simple Syrup
and Strawberries
Being as it's not Spring nor early Summer here Downunder I had difficulty getting my hands on some veal at the last minute and strawberries were a whopping NZ$8 for a very manky and unfriendly looking punnet… so therefore unfortunately substitution become necessity. Although I did make the dish in mind of perhaps making it again in the future with Veal and Strawberries.

Naturally I substituted Veal with Beef, and the strawberries became kiwifruit, the green and golden variety. Which together helped produce …

Panfried Beef Scallopini stuffed with Lemon and Rocket Risotto, served with a fresh sweet relish duo of golden and green kiwifruit with lemon and finally topped with tempura Rocket leaves.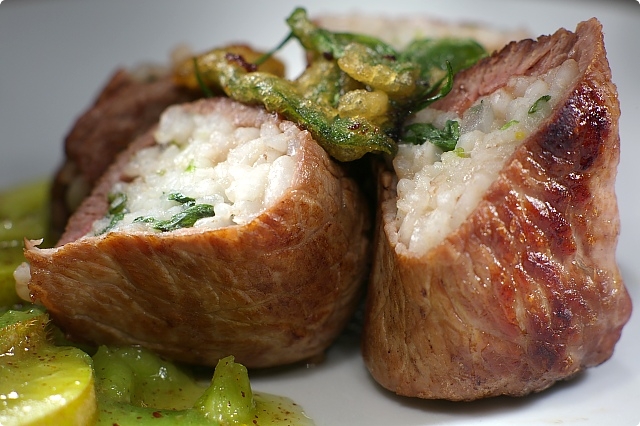 Now you'll have to bear with me here I'm afraid as I haven't as yet put together a 'proper' recipe. It's more a set of notes, with no numbers or ratio to follow, although I promise to work on it!

Firstly I made the Lemon and Rocket Risotto. Just a simple risotto with alborio rice, finely diced onion, a splash of white wine, vegetable stock or water, zest of a lemon, bay leaf, salt and pepper. I finished the risotto by folding in a little butter, lemon juice, parmesan and finally some fresh baby rocket leaves. I was meaning to make it a more sweet risotto by adding a little of the simple syrup too, but I forgot with all the excitement of it being my first Paper Chef!

The simple syrup, is purely equal quantities of sugar and water, heated until, (wait for it) yep, until it's syrupy! Mixed with a duo of diced and sliced kiwifruits, some lemon juice and zest, salt and pepper to taste.

Stuff the Beef escalopes / scallopini with the risotto mixture and roll into tight little parcels. Secure with string or toothpicks, if desired, and brush with olive oil, season and pan fry. Rest well, before slicing in two.

Mix a simple tempura batter with iced soda water and equal parts of cornflour and plain flour. Dip larger rocket leaves in the batter and deep fry only very briefly. Drain on paper towels and assemble dish to serve.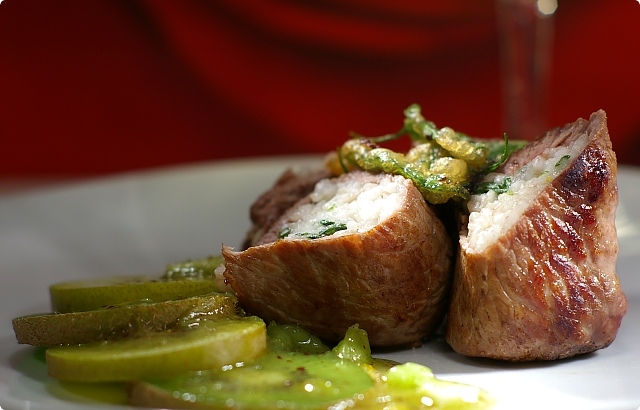 Now I have to be honest here - the kiwifruit were a bit too sweet for me and a bit too cold! Especially since it was almost snowing outside! However the risotto stuffed scallopini were delish and I imagine they would have been even better with the strawberries perhaps drizzled with a little balsamic.

And that concludes my first ever Paper Chef contribution! I am looking forward to participating in many more and will endeavor to write a 'proper recipe' in the next few days.

Many thanks to Owen, Kevin and Haalo (this weekend's judge!) for making it all possible.



Home · About Bron · Portfolio · Recipe Index · Unit Converter
RSS Feed · Atom Feed · Twitter · Facebook · Flickr · Bron's Amazon Store