Tuesday 21st March 2006
Mango Tango
Here are a couple ideas for Mangoes, which are fairly cheap and readily available just now in New Zealand.

Firstly this salad would have to be one of my favourites for lunch at the moment, although no doubt with the cooler weather coming my preference will migrate more towards hot soups, risotto or pasta.

I used 'streaky bacon' in this recipe although any dry cured pork would be perfect - pancetta, prosciutto. The toasted almonds add a wonderful crunchy texture and they're a tad cheaper and therefore more accessible to me than pinenuts.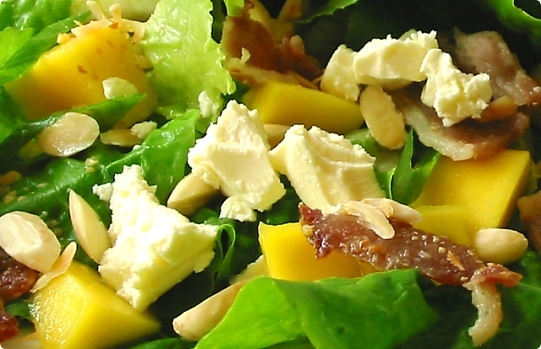 Mango, Feta and Streaky Bacon Salad
¼ cup of blanched almonds, chopped
A selection of salad greens, (I used buttercrunch, baby cos, and iceberg lettuces in the photo)
1 mango, peeled and diced
70 to 80 grams of feta, crumbled
4 rashers of streaky bacon
1 lemon
2 spring onions, finely sliced
Freshly ground black pepper
In a dry pan, toast the chopped almonds briefly until golden and remove from the heat.
In the same pan fry the bacon rashers until crispy, drain on absorbent paper.
Assemble the salad greens onto two plates, sharing the diced mango, feta and sliced spring onions between each plate.
Chop or rip the warm bacon into bite sized pieces and scatter over the greens with the toasted almonds.
Dress the salads with a squeeze of lemon juice and a little black pepper to taste.
Serve immediately.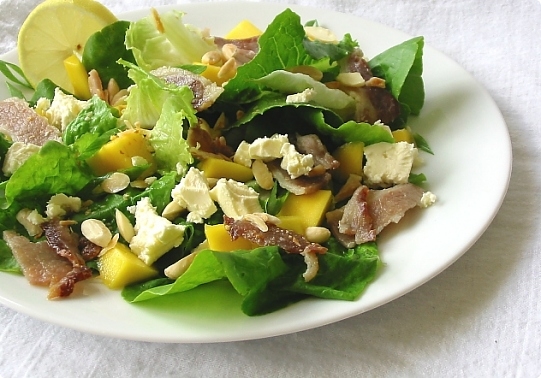 The second idea is one from the ever inspiring and amiable Béa at La Tartine Gourmande

Tartelettes Tatin à la mangue - Mango Tatin Tartlets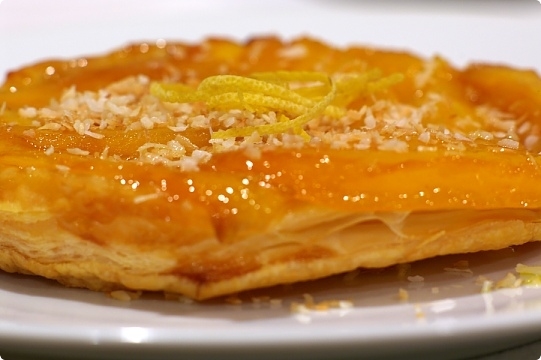 Her delicious and nectareous recipe is located here. Béa finished her tartlets with lime zest and natural grated coconut, where as I used lemon zest and toasted grated coconut.

Enjoy


Appetizer Recipes · Autumn Recipes · Blog Recipes · Desserts Recipes · Fruit Recipes · Fruit & Veges Recipes · Ingredient Inspirations Recipes · Salads Recipes · Vegetables Recipes
Home · About Bron · Portfolio · Recipe Index · Unit Converter
RSS Feed · Atom Feed · Twitter · Facebook · Flickr · Bron's Amazon Store