Friday 11th August 2006
Hay Hay it's Donna Day #4 Voting has closed and the winner is...
Voting closed today for Hay Hay it's Donna Day, round #4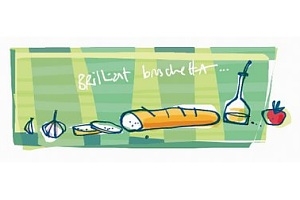 First Place

Congratulations to Tami from Running with Tweezers for her romantic duo of Smoked Salmon, Fennel, and Goat Cheese Bruschetta and Bruschetta with Honey Ricotta and Strawberries. for taking out first place!!
Barbara and I will be in touch very soon! (We have some Donna Hay Goodies arriving for you!)


Second Place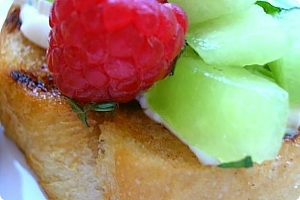 Congratulations to Peabody from Culinary Concoctions by Peabody. and her gorgeous contributions of Drunken Melon and Raspberry Bruschetta with Chive Scented Cream Cheese and Marinated Cauliflower, Celery and Red Onion Bruschetta.


Third Place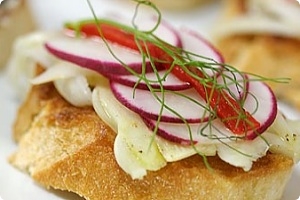 Congratulations to Béa from La tartine gourmande with her four delighful tartines Broiled Eggplant with Baked Tomatoes on a Bed of Ricotta Cheese ~ Piquillo Pepper and Avocado Slices on a Bed of Ricotta Cheese ~ Marinated Fennel with Radishes, with a Slice of Piquillo Pepper ~ Bruschetta with Pink Lady Apple and Blueberries.


The total number of votes received was 129
The final results are as follows...


Tami - Running with Tweezers 29½% with 38 votes
Peabody - Culinary Concoctions by Peabody 24% with 31 votes
Bea - La tartine gourmande 9.3% with 12 votes
Emma (aka Little M) - Gustoso 7% with 9 votes
Andrew - SpittoonExtra 3.9% with 5 votes
Lara - Cookbook 411 3.9% with 5 votes
Josh - The Day of the Expanding Man 3.1% with 4 votes
Amanda - What We're Eating 3.1% with 4 votes
Dolores - Chronicles in Culinary Curiosity 2.3% with 3 votes
Daniela - Calme et Cacao 2.3% with 3 votes
Paul - EatNZ 2.3% with 3 votes
Stephanie - Dispensing Happiness 1.6% with 2 votes
Barbara - Winos and Foodies 1.6% with 2 votes
Sam - Becks n Posh 1.6% with 2 votes
Haalo - Cook (almost) Anything at Least Once 1.6% with 2 votes
Ximena - Lobstersquad 1.6% with 2 votes
Anni - Life Is a Banquet 0.8% with 1 vote
Jennifer - Taste Everything Once 0.8% with 1 vote
If you haven't already done so, please take some time to look at all the Brilliant Bruschetta and Crostini entries.


Bruschetta graphic courtesy of Ximena at Lobstersquad

Many thanks


Home · About Bron · Portfolio · Recipe Index · Unit Converter
RSS Feed · Atom Feed · Twitter · Facebook · Flickr · Bron's Amazon Store