Friday 15th September 2006
Caramelized Onion, Fig and Goat Cheese Tarts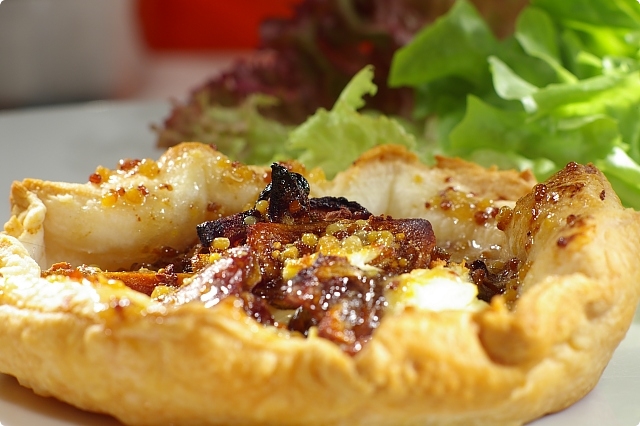 Here finally, my complete entry for the 5th round of Hay Hay it's Donna Day hosted by the lovely Tami from Running with Tweezers. This month's theme is Savoury Tarts, although I guess you could call my entry a bit of a sweet take on savoury!


Caramelized Onion, Fig and Goat Cheese Tarts with a Manuka Honey Mustard Glaze.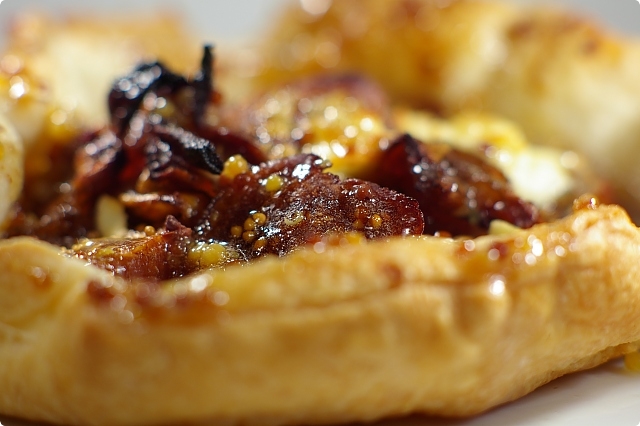 To make 4 Caramelized Onion, Fig and Goat Cheese Tarts you'll need...


Pastry
1 cup high grade flour
½ teaspoon of salt
½ teaspoon of baking powder
100 grams of butter, cut into small cubes and then frozen
¼ cup of iced water approximately
(or if you prefer 250 grams of store bought puff pastry!)
Place flour, salt and baking powder in to a food processor, pulse to mix.
Add the small frozen butter cubes and very briefly pulse again to mix and break up the butter a little more.
Add enough of the iced water just to bring the pastry together in a few short pulses and form a soft dough.
On a lightly floured board roll the pastry out to a ½ cm thickness and cut 4 disks about 16cm in diameter.
Chill the pastry disks for 20 minutes or until you're ready to assemble the tarts.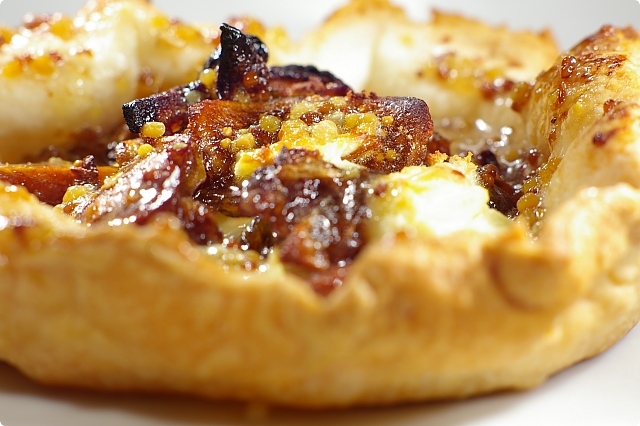 Caramelized Onions
3 medium onions
tablespoon of olive oil
2 to 3 tablespoons of brown sugar
1 tablespoon of balsamic vinegar
Peel and slice the onions thinly.
Heat a large sauté pan and add the olive oil and onions over a low heat.
Gently cook the onions without colour for 10 minutes or until they're very soft.
Add the brown sugar and balsamic vinegar and continue to cook over a low heat and stirring frequently for 20 to 30 minutes.
Once the onions are beautifully soft, 'caramelized' sticky and jam like, set aside to cool.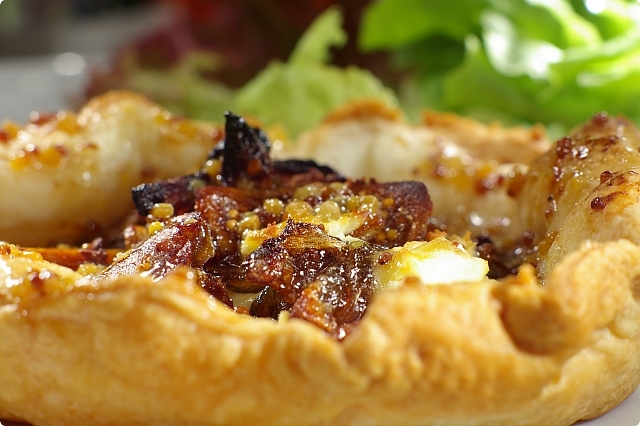 To assemble the tarts
The 4 pastry disks
The cooled caramelized onions
80 grams of Goats Cheese, crumbled
8 dried figs, sliced
Preheat your oven to 190°C (370°F).
Divided the onion mixture between the four pastry disks, top with the sliced figs and crumbled goats cheese.
Turn each tart's edge in over the filling slightly to form a free form shape, crimping in about 8 places and place on a baking sheet.
Bake for 20 to 25 minutes or until golden and crisp.
Brush with the following glaze if desired and serve warm with a handful of fresh baby salad leaves.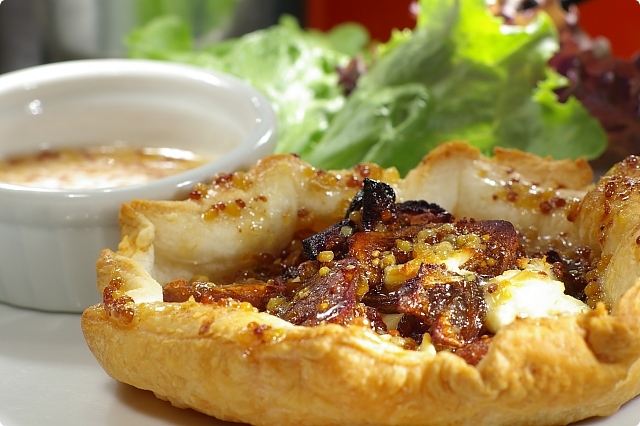 Manuka Honey and Mustard Glaze
½ cup of Manuka honey, warmed a little
½ cup of whole grain mustard
Mix together well and brush over the tarts while they're still hot from the oven.
Enjoy!


Blog Recipes · Food Blog Events Recipes
Home · About Bron · Portfolio · Recipe Index · Unit Converter
RSS Feed · Atom Feed · Twitter · Facebook · Flickr · Bron's Amazon Store