Saturday 3rd December 2011
Sweet December Beginning with Rhubarb Berry Buckle
Phew! December is here and so is Summer for us lucky folk Downunder, if the last couple of days are anything to go by it's going to be a cracker one at that!
December not only announces the arrival of Summer for us Kiwis, but it is also the end of year and holiday centric with lots of entertaining, dining out and Christmas parties for most too, just as it is up on top.
Yes, December is looking very Sweet!
In fact it's my honour to be hosting
"Sweet New Zealand"
a monthly blogging event for Kiwis, created by talented blogger, author and sweet loving
Alessandra Zecchini.
Having had
Mairi pass the baton after all November's Sweetness.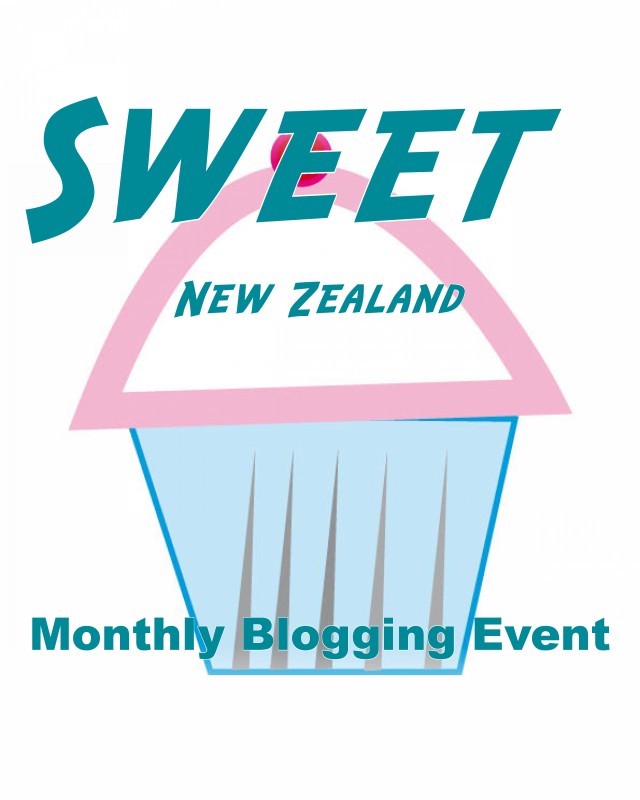 1. This event is open to all bloggers living in New Zealand (even if you are not a Kiwi), as well as all Kiwi bloggers living and blogging overseas.
2. You can enter anything sweet: cakes, biscuits, slices, desserts, even drinks, and you may submit as many entries as you like, including old posts if you like.
3. Your entry must contain the phrase "Sweet New Zealand" and include the Sweet New Zealand badge (choose your own size), a link to the host, and to this post - so if you are submitting an older post remember to update it accordingly.
4. To submit your entry email me at bron@bronmarshall.com before New Years Eve, 31st December, providing your name, your blog name and URL, your post URL, and a photo (500 by 500 pixels if possible.)
I shall continually create a roundup of all the entries here as I receive them and post a final Sweet New Zealand extravaganza to see us into 2012!
There is no doubt you will be enjoying something Sweet this month so I urge you to join in the fun.
It needn't be a lengthly post or include the recipe. Short and Sweet, Small and Sweet - Just make it Sweet!
As we all know how frantic this month can be.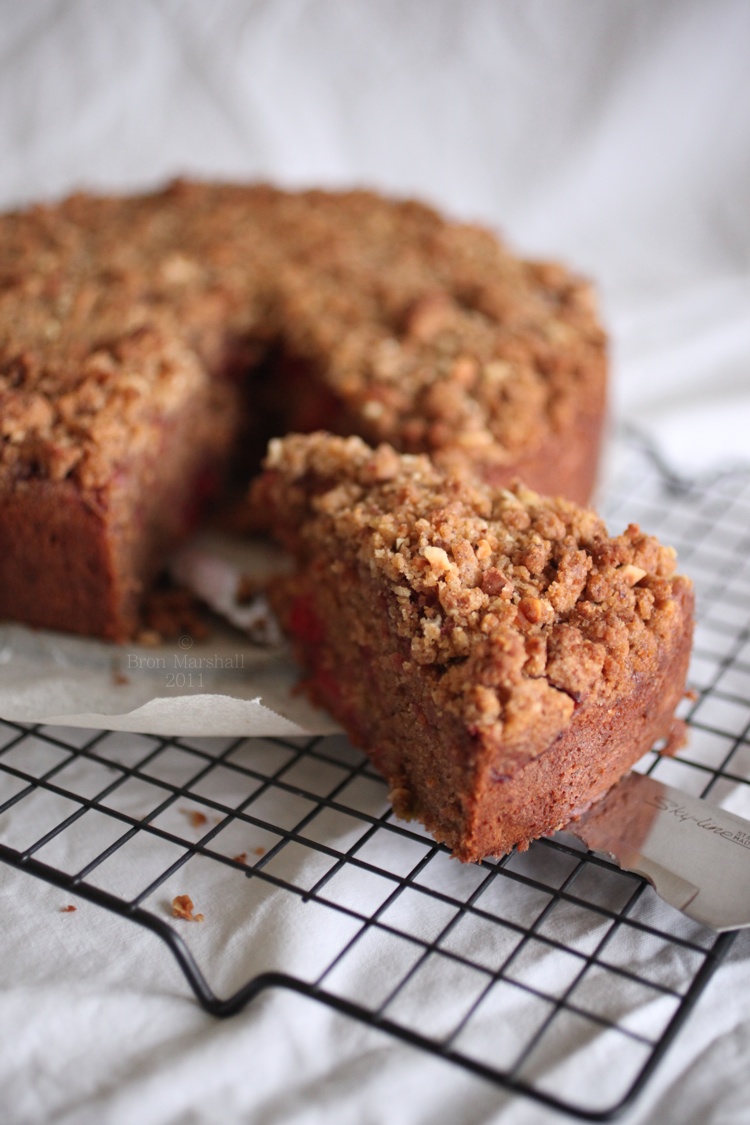 In the meantime perhaps I can tempt you with this Rhubarb and Berry Buckle cake I made last weekend.
Inspired and loosely adapted from this one in Gourmet Traveller Magazine it is much like a crumble or streusel topped cake.
I added some thawed frozen raspberries as I didn't have quite enough rhubarb and strawberries in the garden to harvest.

I ditched the fancy "rapadura" sugar for what I had in the pantry, frankly I'm not sure how easy it would be to find "rapadura" here in Quakey Canterbury anyway. I also believe and am keen to convert the recipe into a Gluten Free version in the future by increasing the ground hazelnuts, replacing the all purpose wheat flour with buckwheat flour. I'm sure it will work well as it's a lovely moist cake and hazelnuts are just divine with berries.
Let me know if you give it a whirl and don't forget my Kiwi friends to send through your Sweet/s!





Rhubarb and Berry Buckle
For the Buckle Topping:
50 grams of raw sugar
50 grams of plain flour
50 gram of hazelnuts
40 grams of butter, melted
For the Cake Batter
200 grams of strawberries, roughly chopped
200 grams of rhubarb, roughly chopped
200 grams of raspberries
100 grams (½ cup) of caster sugar
100 grams (½ cup) of soft brown sugar
150 grams of butter, softened
2 large eggs
200 grams of plain flour
50 grams of ground hazelnuts / meal
1 teaspoon of baking powder
½ teaspoon of bicarbonate of soda
2 teaspoons of ground ginger
2 teaspoons of ground cinnamon
165 ml of milk
½ teaspoon of white wine vinegar
Combine the raw sugar, flour and hazelnuts in a food processor and whiz to form rough crumbs.
Add the melted butter and pulse again until all the ingredients and coated and some clumps form.
Place the mixture into a bowl and freeze for several hours until required - freezing the Buckle topping prevents the crumbs melting into the cake as it bakes.
Preheat your oven to 170°C (340°F)
Grease and line a 24cm round cake tin.
In a large bowl gently combine the chopped rhubarb, strawberries and raspberries. Sprinkle over a few tablespoons of the caster sugar and set aside.
In another large bowl or the bowl of your stand mixer beat the soft butter and remaining caster and soft brown sugar for 4 to 6 minutes until light and fluffy.
Add the eggs one at a time, beating well after each addition.
In a separate bowl or measuring jug, mix the milk and vinegar together.
Combine the dry ingredients and gently fold the them into the batter, alternating with the milk mixture.
Fold through two-thirds of the rhubarb and berries and spoon into the previously prepared cake tin.
Spoon over remaining rhubarb and berry mixture and sprinkle with the frozen Buckle topping.
Bake for 1 to 1½ hours or until a skewer inserted comes out clean.
Cool slightly in the tin before removing to cool to room temperature on a wire rack.
Serve with extra berries and crème fraiche if desired, but it's equally moreish on it's own.
Berries Recipes · Blog Recipes · Cake Recipes · Dessert Recipes · Summer Recipes
Home · About Bron · Portfolio · Recipe Index · Unit Converter
RSS Feed · Atom Feed · Twitter · Facebook · Flickr · Bron's Amazon Store