Monday 26th September 2011
A Morning with Jonny Schwass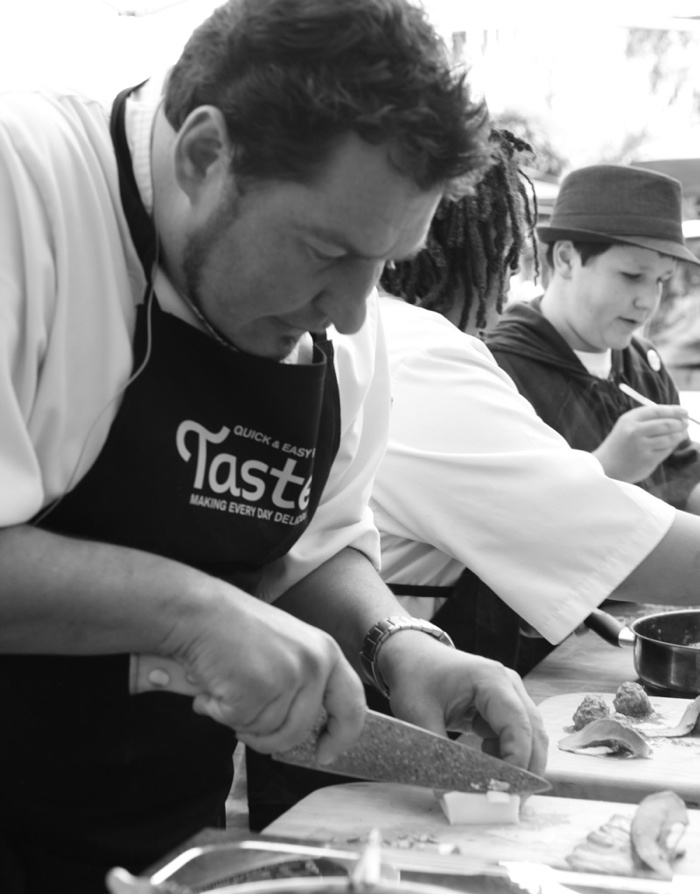 You can't help but enjoy spending a morning with a guy who salivates over salty pig almost as much as you do.
Jonny Schwass
is one such guy. As he lifts the spoon of lardo to the pan, it only narrowly misses a detour into his mouth.
Naturally I was delighted when invited to spend a recent Saturday morning with Jonny and fellow food blogger
Zo Zhou
at the Christchurch farmers market in Riccarton's Deans Bush as part of the
Out Standing in their Fields series.
After following Jonny around the market stalls as he purchased or rather was gifted and showered with local tasty products, we cosied around the purpose built trailer kitchen to watch him and his two young assistants work their magic on minced pig shoulder, pig tongue poached in apple juice, old fashioned lemonade cordial, a tomato sauce made with someone's Nana's recipe and some munchy seeds and herbs for texture.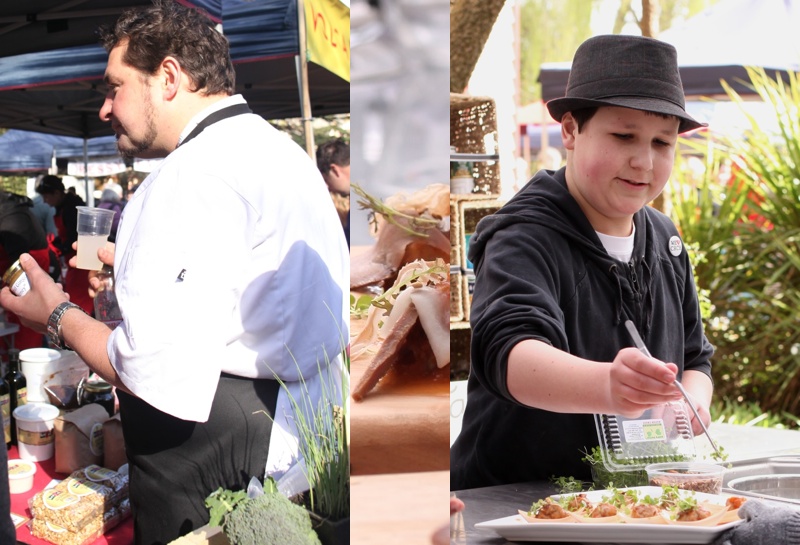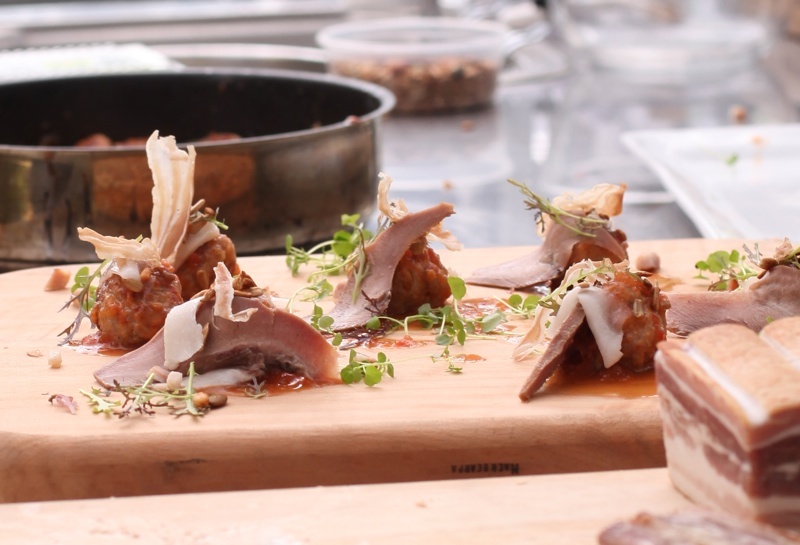 Like, we presume, most visitors to the
market,
Jonny doesn't think supermarkets are all that "super". I guess that is one of the good things that has come about since our recent series of earthquakes, the increasing number of markets popping up over the region, artisan, farmers, craft, they're here and unlike the bumps in the roads, they are here to stay!
Jonny believes we shouldn't come to the markets with a shopping list, as he came to the demonstration with no preconceived recipe. We should explore and use our senses, let our baskets and therefore our weeks cooking evolve with the flavours of the season in our own region. As he explains, in Russia they have many and varied recipes for beetroot and potatoes. They will find a way to make vodka out of anything. Our food doesn't need to duplicate French, Spanish or Italian cuisine, we don't need to be able to grow large bushes of basil year round to create a scrumptious pesto. There are plenty of cooler climate herbs and plants and even our own natives that will make terrific pesto. As New Zealanders we should be proud and hunger over our local flavours, not continually send all the best away overseas.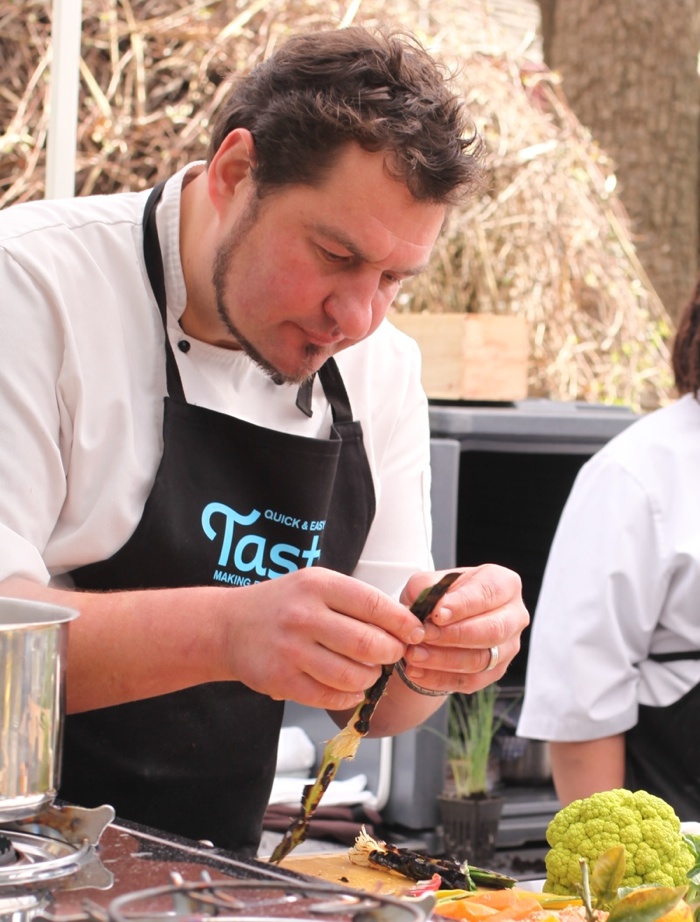 Jonny tells us he gets as inspired over a newly cut cauliflower or freshly pulled radish as he does one of
Gareth Renowden's
Waipara truffles.
(Sorry Gareth! And come to think of it Gareth, how come Jonny gets one before me? hmm?)
I find Jonny's inspiration for cauliflower utterly contagious as he grates the raw florets over the "Wombled board of Spring" he has prepared before us, which includes the very first of the season's tender asparagus, leeks in their teeny tiny baby, teenage and big daddy forms,
Meadowcroft's
goats cheese, sweet pickled figs and red walnuts.
All in all a fabulous way to spend a Saturday morning and I hope it's not too long before I get to enjoy Jonny's cooking again. While I am saddened I didn't get the opportunity to dine at Restaurant Schwass before the earthquakes took the old building from us. I'm thankful Jonny, Alex and new baby Roma haven't cut and run and are determined to stay in Christchurch, feed us well, mindfully, emotionally as well as literally .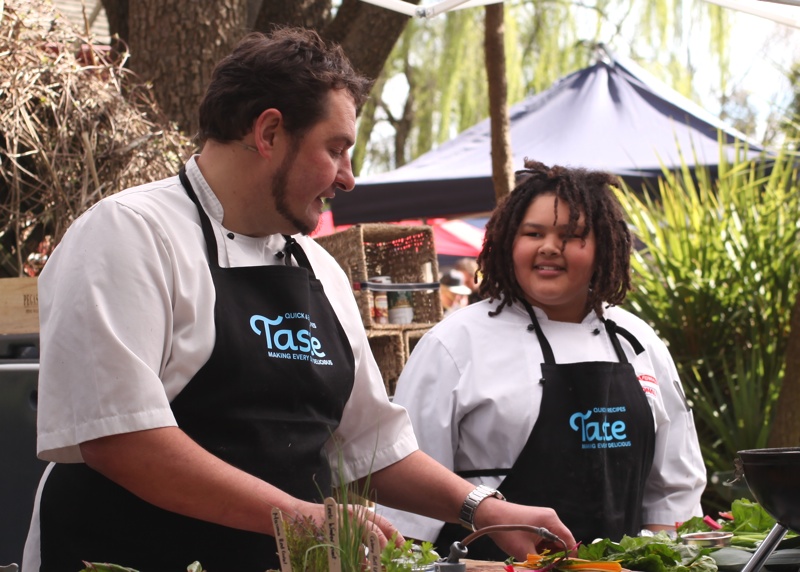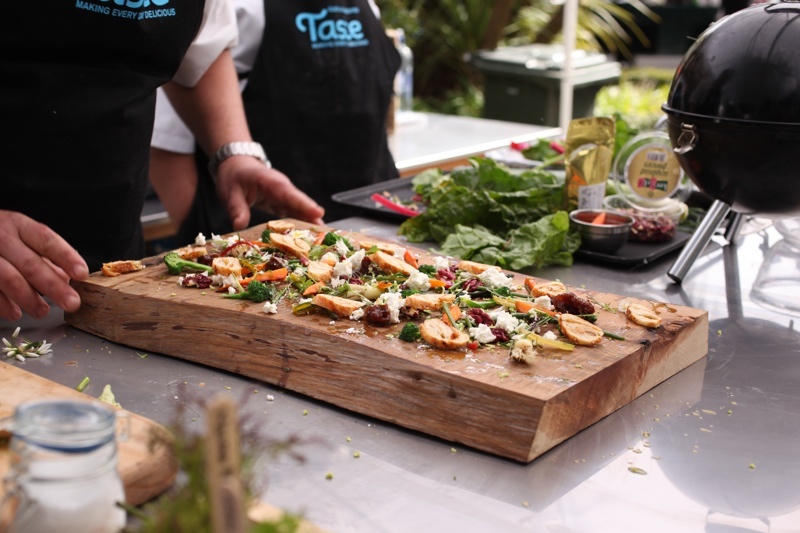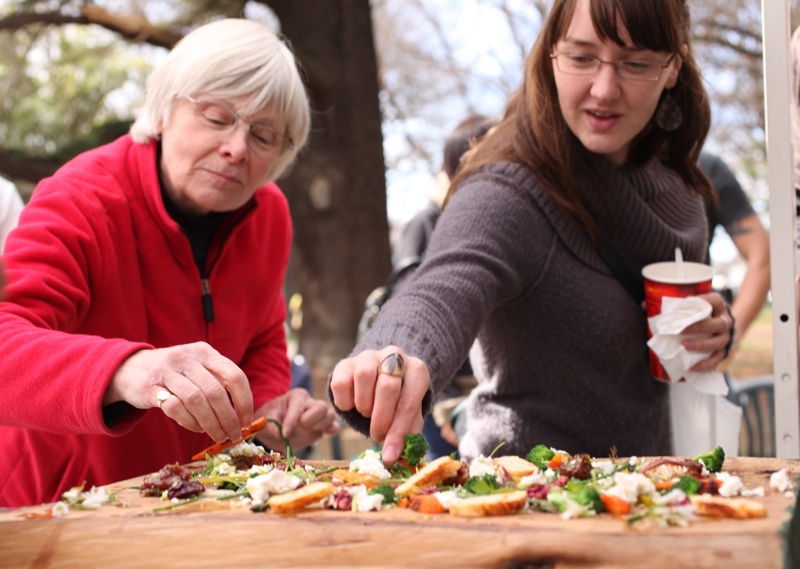 P.S You can see
Zo's account of our morning with Jonny Schwass here
&
more photos here on my flickr account.
Home · About Bron · Portfolio · Recipe Index · Unit Converter
RSS Feed · Atom Feed · Twitter · Facebook · Flickr · Bron's Amazon Store