Thursday 17th September 2009
Vanilla Passionfruit and Eggs
"What are you making Mum?"

"Oeufs à la neige, vanille et des fruits de la passion!"

"Aaaaw Mum - what is it?"

"I'm making something for my blog, A Taste of Yellow, for Barbara, remember Barbara?"

"Yeah, is she the lady we had a picnic with and got to play in their campervan that time, she was lovely. Can we meet her again some day?"

"I sure hope so, remember she lives in Australia now"

"Oh yeah, I remember. What are you making?"


This is how our conversation went one morning last week with my eldest fairy, and in my mind our dessert was to be and started out as "Oeufs à la neige, vanille et des fruits de la passion" or "Snow Eggs with Vanilla and Passionfruit".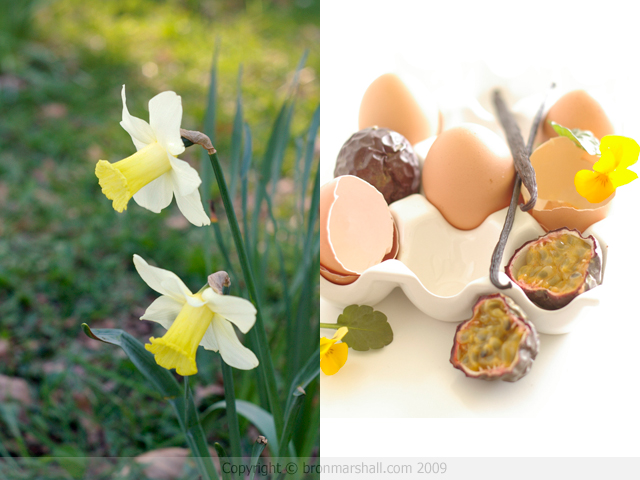 As I was not content with the initial presentation of my Snow Eggs at first, I returned once more to the kitchen.


"What are you making now Mummy?"


Enquired my second little fairy, as she peered into the saucepan. One look and her eyes glistened with excitement.


CARAMEL!
Mmm I love the smell of caramel. Can I lick the spoon afterwards? Can I? Pleaseeee? Mum?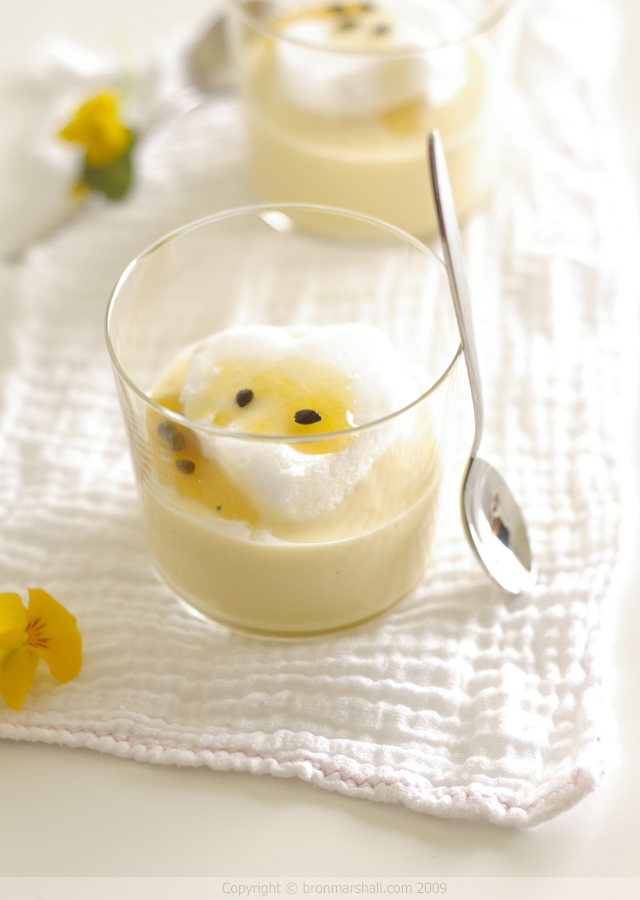 Yes, it was true my "Oeufs à la neige" well they would soon, almost, perhaps morph into "Îles Flottantes"

Béa had shared with me these subtle differences some time ago.
"Floating Islands" are when the egg whites are often poached in a water bath and finished with spun caramel, whereas "Snow Eggs" are poached in the milk before it is utilised in the custard and are sans the spun caramel garnish.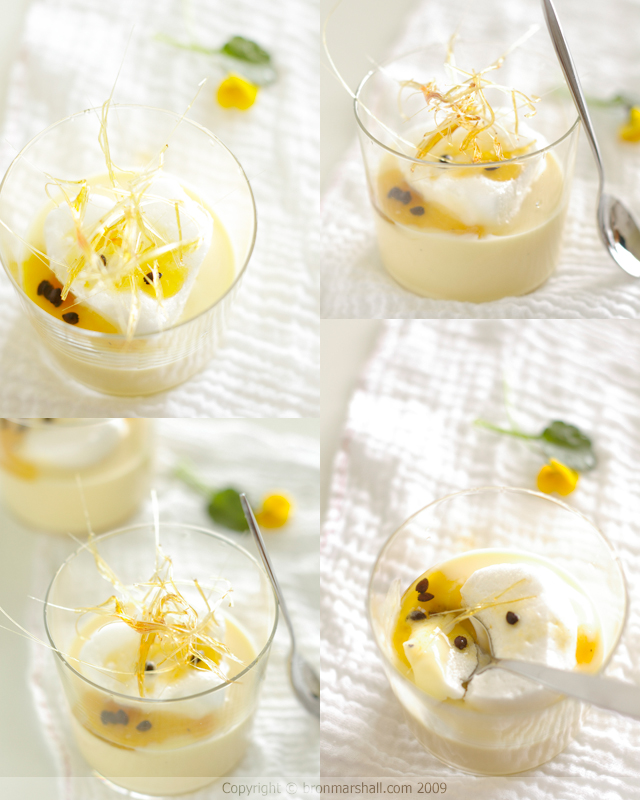 However I don't think either of my fairies cared what you or I call them. Together they simply call them "Yummy" - quite truthfully so does their Mummy. Naturally like most food created around here these days, they were gone quicker than the time it took me to make and photograph them.

This is my entry for "A Taste of Yellow" an annual event facilitated by Barbara at Winosandfoodies in conjunction with LiveSTRONG Day, supporting those who live with and are affected by cancer.

I hope these, with their happy yellows of passionfruit and crème anglaise; made from the fresh eggs of our own free range chickens, bring a little sunshine into your day too, as they did ours.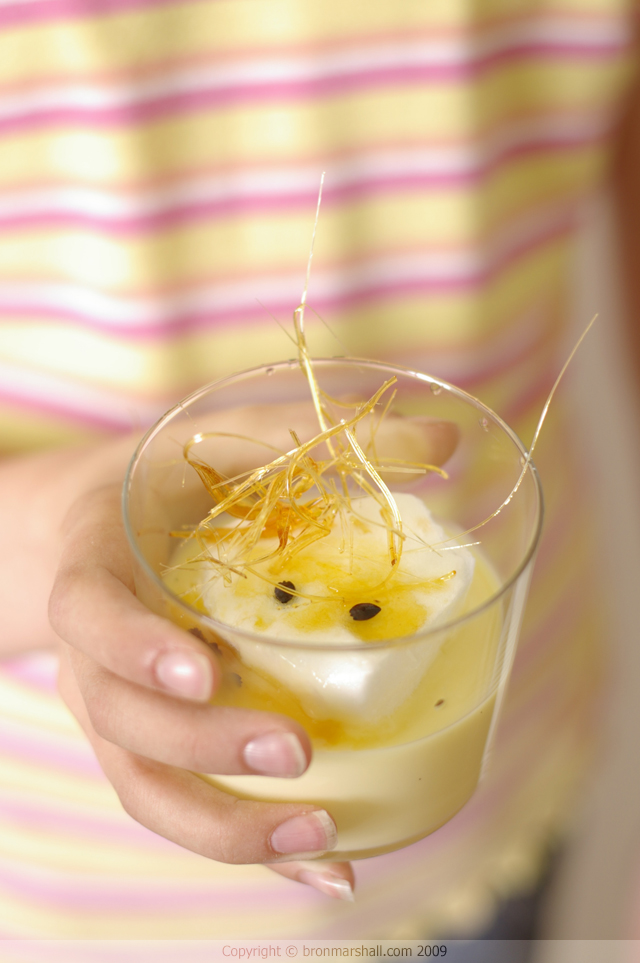 Snow Eggs with Vanilla and Passionfruit
4 large free range organic eggs
600ml / 1 pint of full cream milk
pinch of salt
2 tablespoons of caster sugar
1 vanilla bean, split and seeds scraped
½ cup of caster sugar
For the Passionfruit:
2 to 3 fresh passionfruits2 tablespoons of caster sugar or to taste (optional, you may prefer it a little tart)
For the spun caramel: (optional!)
½ cup of caster sugar
2 tablespoons of water
vegetable oil
For the Meringue - Islands or Snow Eggs:
First separate the eggs into two large bowls, whites and yolks.
In a large shallow saucepan, bring the milk to a simmer
Beat the eggs whites and salt with electric mixer, beaters or a strong arm and whisk - (as I prefer, and much cheaper than a gym membership!) to firm peaks.
Slowly add 2 tablespoons of caster sugar and continue beating for another minute.
With a large serving spoon take spoonfuls of the meringue and gently drop them in the milk to poach.
Simmer for approximately 1 minute, turn and continue cooking for another minute.
Remove the poached meringues with a slotted spoon and drain on absorbent paper towels or clean tea towel.
Continue with the remaining egg whites and set aside.
For a neater presentation; you can use a cookie cutter to trim the poached meringues, simply dip the cutter in hot water and create your shapes; I made love hearts in the photos above.
For the Crème Anglaise - Custard:
Strain the remaining warm poaching milk into a clean saucepan, add the split vanilla pod and the scraped seeds.
In the separate bowl with the egg yolks, whisk in a ½ cup castor sugar until thick.
Remove the vanilla bean from the milk and almost bring the milk to the boil.
Slowly pour the hot milk into the egg mixture whisking quickly and continuously to prevent the egg scrambling.
Strain the custard back into the saucepan and gently heat the custard stirring with a wooden spoon until it thickens to coat the back of the spoon.
Pour the custard into a pouring jug, cover and set aside to cool.
For the Passionfruit:
Into a small bowl spoon out the flesh of 2 to 3 ripe juicy passionfruit.
Add tablespoons of caster sugar and mix well until dissolved.
Spun Caramel:
Please note! When making caramel or toffee it always pays to take extra care as the sugar reaches extremely high temperatures. As a precaution, fill the kitchen sink with cold iced water, wear long sleeves and make sure you have an oven or heat resistant cloth handy.
Line your floor with newspaper or an old towel, tape and secure two wooden spoons with the handles extending out from your kitchen bench.
Grease the handles with a little vegetable oil, olive or what have you.
Place the sugar and water in a small saucepan and over a medium heat dissolve the sugar and bring to a boil.
Using a pastry brush, brush the sides of the pan with water to avoid any crystallization.
Cook the sugar until light golden and 155°C (310°F) or hard-crack stage (when you drop a little into cold water it makes a cracking sound and sets hard.
Immediately, shock the bottom of the saucepan in the ice bath of water and wait until it stops boiling and the bubbles have gone.
Dip two forks in the caramel and swish them back and forth quickly over the spoons, the caramel will start to form threads and fall towards the floor.
Stop when you have a fair amount and gather it together to form small bundles or nests and set aside.
Continue working quickly until you've used all the caramel or it has begun to set too hard for any more.
Store the spun sugar bundles in an airtight container until ready to use, although it is better if they're served immediately especially if the humidity is high.
Place the saucepan in the sink of cold water. When the saucepan is cold pour boiling water into the saucepan to make it easier to clean.
To assemble:
Evenly portion the crème anglaise into 4 to 6 serving glasses, top with a neatly shaped poached meringue, nappe (spoon over) a little of the passionfruit syrup and finish with a bundle of the spun caramel.
Makes 4 to 6 servings
Enjoy!


Blog Recipes · Desserts Recipes · Eggs Recipes · Food Blog Events Recipes · Fruit Recipes · Fruit & Veges Recipes
Home · About Bron · Portfolio · Recipe Index · Unit Converter
RSS Feed · Atom Feed · Twitter · Facebook · Flickr · Bron's Amazon Store