Tuesday 7th April 2009
Blackberries Artichokes Bulgar Salmon
What do you get when four unlikely ingredients collide into a recipe?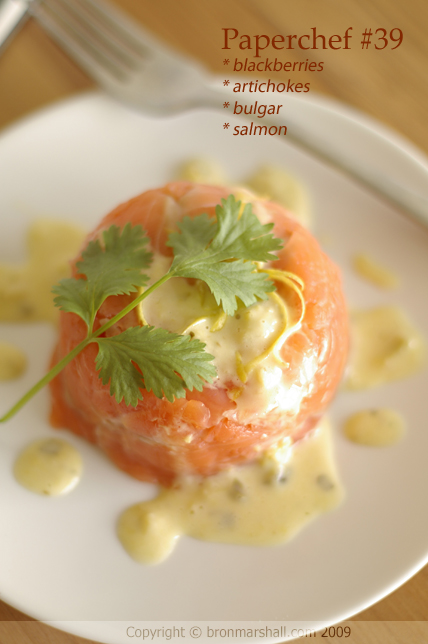 One of my favourite food blogging events, yet sadly it's been a while since I've participated. I'll often buy the ingredients in the hope of producing something on time, only to fail at the last curtain call.

The previous list of ingredients pulled from the hat were; anchovy, polenta, mint and figs; which had me dreaming up a dish of "Sticky Figgy Lamb Ribs with Grilled Polenta Chips." I only got to the planning stage, the recipe never made it to the plate, let alone this little blog.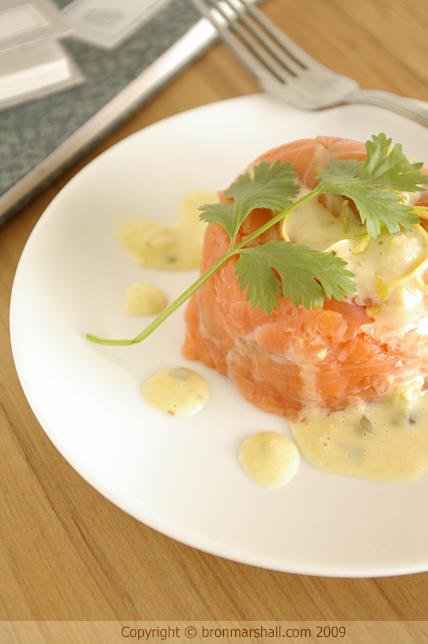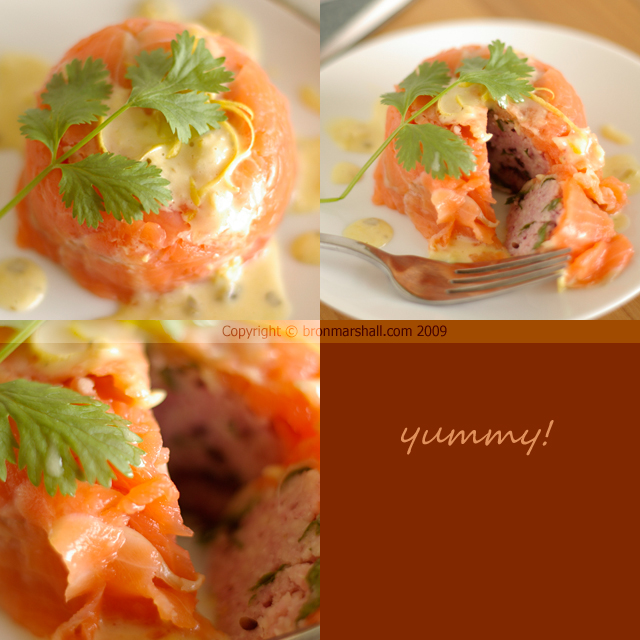 Now, as you may have guessed this time the quartet of ingredients are...


Blackberries
Artichokes
Bulgar (a type of wheat)
Salmon
Unfortunately I didn't get my hands on some Bulgar.
My excuses? Firstly I thought I had some in the back of the cupboard - I thought wrong! After which I discovered my local (rural) shops don't stock it and as such with all my fussing left it too late to try my luck in the city's wholefood stores. To cut my long story short... I've substituted Couscous. The blackberries were picked wild and fresh from our property's boundary, I've used marinated Artichokes from Delmaine, as fresh are rarely found and are not in season Downunder. My Salmon is beautiful sliced smoked Akaroa salmon which as you know, just happens to be one of my most favourite foods evah!

In the back of my mind I know there may be some sceptics out there to this flavour combination, often there are with Paperchef entries. However, we positively fought over these for lunch yesterday and in hindsight wished I had doubled the recipe to make 4!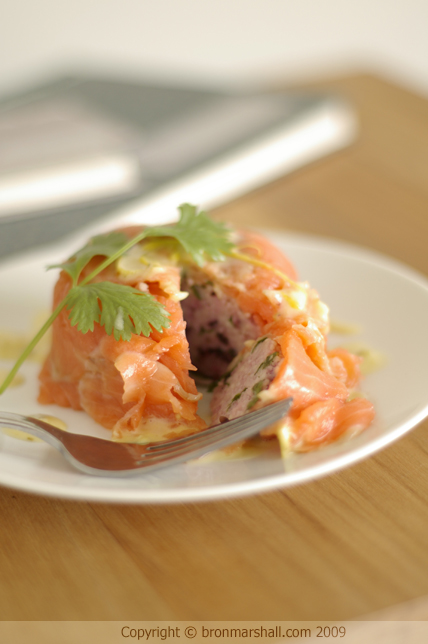 Salmon Terrine with Couscous Blackberries and Artichoke Mayonnaise
100 grams of cold smoked Salmon, thinly sliced
½ cup of dry Couscous
½ cup of boiling water
1 tablespoon of butter
the zest and juice of ½ a lemon, or thereabouts
small stalk of celery leaves, finely chopped
small strip of green spring onion, thinly sliced
2 tablespoons of blackberries, fresh or frozen
sea salt, to taste
For the Mayonnaise:
1 large free range egg yolk
a dash of Dijon Mustard
1 teaspoon of lemon juice
¼ cup of Olive oil
2 marinated artichoke hearts, very finely chopped
2 to 3 salted capers, rinsed and finely chopped
Firstly line 2 ramekins with plastic wrap, place the slices of salmon neatly covering to again line each ramekin and chill.
Meanwhile mix the dry couscous with the boiling water and butter, fluff with a fork until the couscous tastes tender.
Mix lemon zest, juice, celery, spring onion, blackberries and salt through the couscous to taste.
Leave the mixture to cool while you make the mayonnaise.
Place the egg yolk, mustard and lemon juice in a blender or large bowl and whisk well for 1 minute.
Very slowly pour in the oil, whisking continuously until the mixture has a thick consistency.
The addition of a few drops of hot water at this stage will help stabilize the mayonnaise and give it a lighter colour.
Flavour with the chopped marinated artichoke and capers.
Season to taste and chill before use.
Evenly share the cooled couscous mixture between each of the salmon lined ramekins, press the mixture down with the back of a spoon to ensure it is tightly packed.
Cover and chill again for at least 1 hour, before unmoulding each terrine onto a serving plate.
Drizzle over the artichoke mayonnaise and a little extra lemon zest, herbs to serve.
Makes 2

Appetizer Recipes · Autumn 09 Recipes · Blog Recipes · Fish Recipes · Food Blog Events Recipes
Home · About Bron · Portfolio · Recipe Index · Unit Converter
RSS Feed · Atom Feed · Twitter · Facebook · Flickr · Bron's Amazon Store