Wednesday 22nd April 2009
A Black Pearler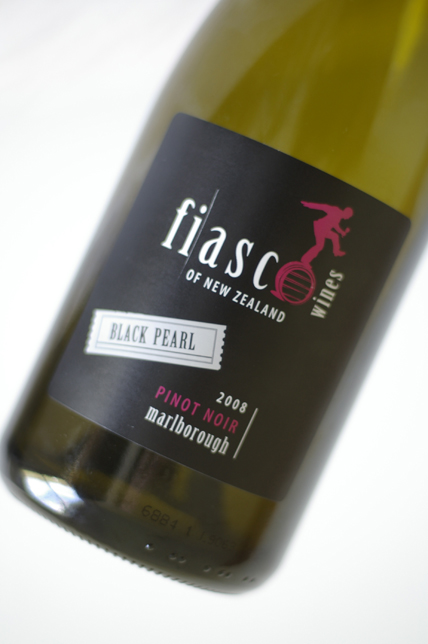 We have a saying in New Zealand, (forgive me, I'm not sure if it's used elsewhere or not?)
"She's a purler!"
Meaning; she is a keeper, she looks, sounds, behaves well, she is good!
Last Sunday I had the privilege of being invited to join New Zealand's first "#TweetbunchNZ"
What on earth is "#TweetbunchNZ" you ask?! Let me explain as simply as possible;

#TweetbunchNZ was coined by a few wine bloggers that I follow on Twitter - the latest microblogging/social networking site taking the internet by storm. When 3 guys (@fiascowines) (@TheWineVault) (@winewanker) in the know offer to send a girl some wine, she doesn't refuse!
Aaron from Fiasco Wines was launching his first Pinot Noir and as he freely admits himself "we're a little different here at Fiasco"..."we're not into stuffy tradition"..."not too hung up on rules either"...
How different is launching your wine through a social network of first tastings online via Twitter?!
"Forcing participants who range from experts to enthusiastic amateurs to write about a single wine in 140 characters."


It's different!
Is it fun?
It's fun!

Being the only media release for Fiasco Wines, Black Pearl – Pinot Noir, I hope Aaron and family also consider it a success!

The Black Pearl is a delightful wine. I personally found it quite surprising. Firstly for a very young Pinot Noir wine, (only just bottled) it had superb length and complexity, an intense floral cherry bouquet, deliciously spicy with wild plums. I really enjoyed it, as did J. We finished the bottle in the one night, which is very rare for us. After the first glass, it was then enjoyed with Roast Pork Loin and Apple Blackberry Sauce.

Here's a little from what the other #TweetbunchNZ tasters had to say...


@TheWineVault a hint of bramble on the nose, blackberry, new car plastic , and red and black fruit
@TheWineVault rich textural wine with hint of mint and nettle, with good fruit and restrained use of oak (am liking this)
@winewanker 08 Fiasco Black Pearl PN, Southern Valleys Marlb - Dark silky plums, florals and spice, Italian licorice. Beautifully young: lithe & supple!
@sisutcliffe Well there's a turn up for the books, a Pinot Noir I actually like. Dark fruit and a little spice. Long lasting
@winegeeknz Nose: floral, cherry , spicy quite complex Taste: Red and dark fruit, cherry's and plums has good length powerful up front
@corinh Ceder on the nose, and raspberry. On taste pepper, blackberry and plum. Some plastic. Nice length. Lovely wine. Ruby pink
@johubris @fiascowines's Black Opal Pinot Noir has a gorgeous label, is soft & silky, really smooth & rich and deliciously easy to drink
@bookemdanno #tweetbunchnz Fiasco 'Black Pearl' Pinot: rich & spiced nose, plum fruit. Dark fruits on the palate, flowery overtones, balanced acidity.]]
So to cut a long story short I think we could conclude Fiasco's Black Pearl is indeed definitely a Purler!
I'm looking to get my hands on another to try again in 6 months - a year.
It will normally retail for around NZ$35

I'm also looking forward to the next #TweetbunchNZ If you're interested too, first, if you haven't already; create yourself a Twitter account, come follow me and the guys above to get involved.

Cheers!


Home · About Bron · Portfolio · Recipe Index · Unit Converter
RSS Feed · Atom Feed · Twitter · Facebook · Flickr · Bron's Amazon Store