Wednesday 29th April 2009
Birthday Nutella Crepe Cakes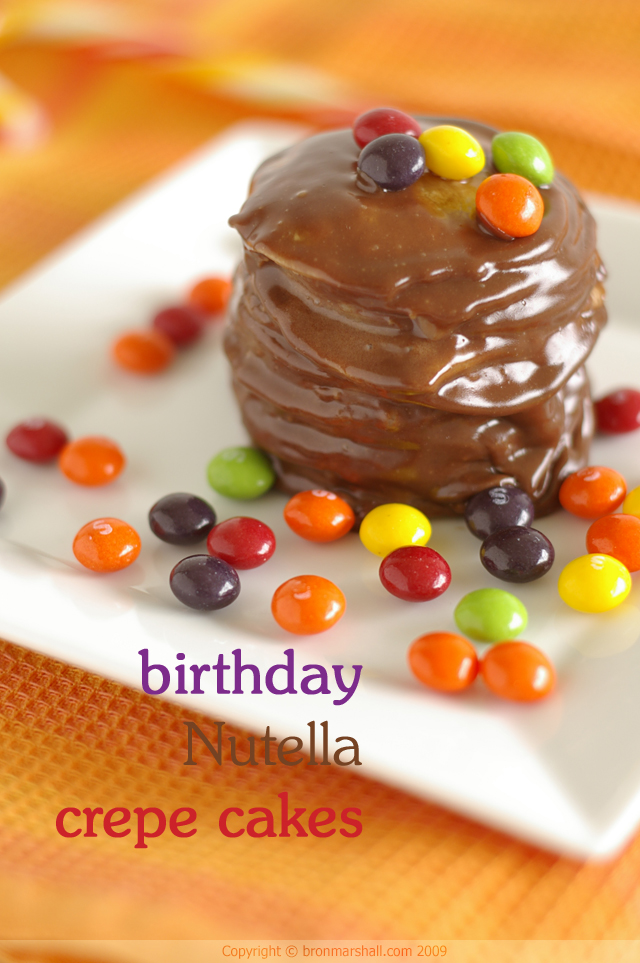 I was hoping to share something savoury and almost healthy with you today, but how much fun would that be?! Besides which I haven't had the time to write it all up yet. Instead here are a couple of images of something at the far opposite end of the spectrum, an incredibly sweet and unhealthy plate of pigging out fun... sure to give you a great dose of Swine flu!

Yesterday was my eldest daughter's 9th birthday, (argh! How that happen so fast?!) and after perusing food blogs last week for birthday cake ideas; together we came across the [link:http://thedaringkitchen.com/|Daring Bakers]] challenge of - Martha Stewart's "Darkest Chocolate Crepe Cake"

We actually looked at Tartelette's version first and set our sights on individual cakes, having viewed Tanna's amazing mountainous stack a while later our goal of individual cakes was well confirmed! Plus "Dad" isn't too keen for chocolate desserts, making individual ones meant we could be more adventurous with different flavours and make him his very own special Lemon curd variety.

I didn't follow Martha's or anyone else's recipe in fact, after getting the basic idea of the crêpe layer cake - we cheated! I used my normal crêpe batter and we made a mixture of Nutella and mascarpone for the filling layers. Adding the mascarpone was my idea to soften the Nutella for spreading and therefore making it easier not to rip at the crêpes, you could use whipped cream, sour cream or any similar soft cream medium.
Making the crêpes was easy enough, after we had turned out two lots of batter, we had 30 crêpes, minus 2 (taste test!). We cut smaller circular shapes from them using a cookie cutter.

It was rather warm inside, as it has been unseasonally warm all week in the mid to high 20°C (70°F) the rain only arriving today. Anyway I digress...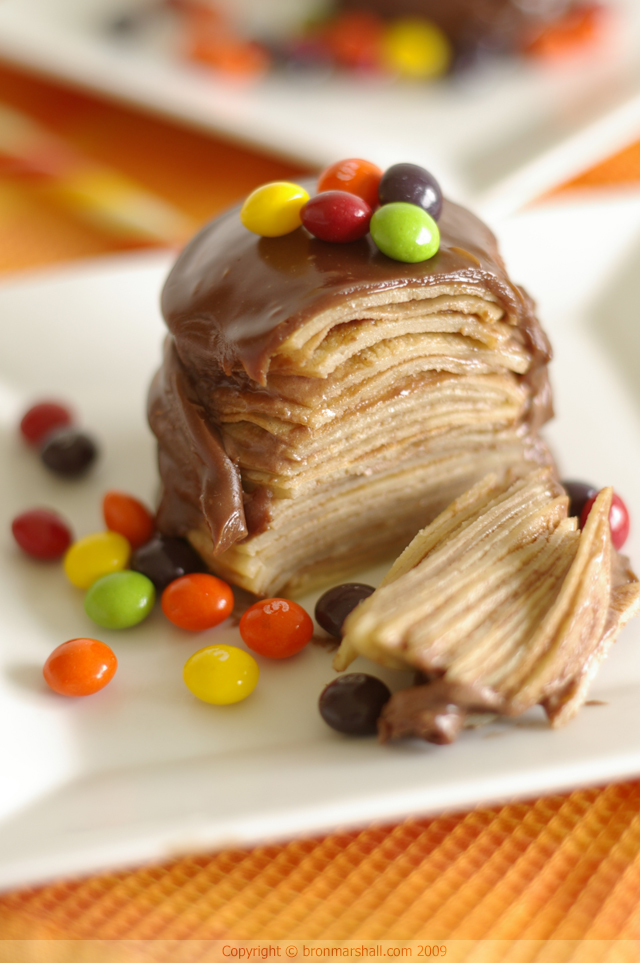 In the heat of the kitchen staking the crêpe discs with the Nutella mixture proved difficult with them slip sliding all over the place. If there is a next time, I will make room in the freezer to help cool and set the stack between the different stages.
We drowned each stack in plenty of chocolate ganache, which in hindsight was possibly a little on the thick and heavy side for the crêpes - it made them stacks lean! And although I had envisaged making the toffee caramel hazelnuts to decorate the cakes. Hannah wasn't so sure and preferred the idea of colourful Skittles. At this stage time was getting away on me and I possibly wasn't in the best of moods to be tackling a pot of caramel anyway.

All in all we had much fun, if a very messy time in the kitchen together and my now BIG 9 year old Nutella loving, little girl was very very happy with the outcome and that's all that counts really on your birthday, isn't it?!



Home · About Bron · Portfolio · Recipe Index · Unit Converter
RSS Feed · Atom Feed · Twitter · Facebook · Flickr · Bron's Amazon Store