Friday 15th June 2007
WILDFOOD #2 - Wild Weeds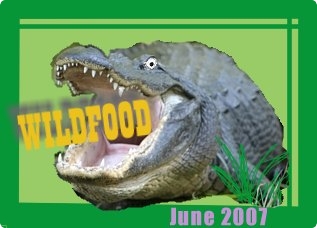 Once again I am inviting and encouraging food bloggers to join with me and take a walk on the WILD side

The theme for this second WILDFOOD event is...
Wild Weeds!

You can choose to create something new or share a past experience cooking or eating any legal Wild Weed, anything that grows Wild in your backyard, home town, or country. I am also extending the theme to include any native plant, fungi, seaweed, fresh Wild herbs, dried Wild herbs or spices, Wild greens or any weed grown or sold as food i.e dandelions, nettles, watercress, Wild thyme, Wild mint, Wattle seeds, Wild pepper, Samphire (sea asparagus), piko-piko, fern fronds etc. I realise many of us don't have access to such products, so if that is the case any meal, dish, dessert or treat that has been given the Wild Weed treatment, theme, shape, name etc. is totally accepted!

This is a fun event aimed at using ones' imagination, I know you won't be silly enough to go out hunting endangered plant life, or serving up unknown, unidentified or illegal weeds!!

So to get you started on some ideas...


Samphire and Scallop Salad
Wilted Dandelion Greens
Chocolate Wild After Dinner Mints
Cream of Nettle Soup
Piko-Piko Pesto
- these are all acceptable entries
Send your entries with the heading Wild Weeds! to me by midnight on June the 30th

Please remember to include...
your name
your approximate location
your blogs name
your Wild Weed's name
your Wild Weed's url / permalink
Thanks heaps, I'm looking forward to some fun, weird and wonderful WILD WEEDY FOOD!


Home · About Bron · Portfolio · Recipe Index · Unit Converter
RSS Feed · Atom Feed · Twitter · Facebook · Flickr · Bron's Amazon Store