Sunday 22nd April 2007
Walnut Bread with Beetroot and Ginger Pickles
We have had a real Autumnal feel this week, misty days and cool breezes gently blowing the leaf litter about. There is a definite smell about Autumn / Fall don't you think? It's a sort of comforting musty mossy smell, damp with dew.

Autumn fungi are popping their heads up from under the trees and naturally collections of fruit and nuts, chestnuts and walnuts in particular litter the ground too.

So what better bread to make for Andrew's round of Waiter there's something in my... with his chosen theme being "BREAD in all it's yeasty, aroma producing glory"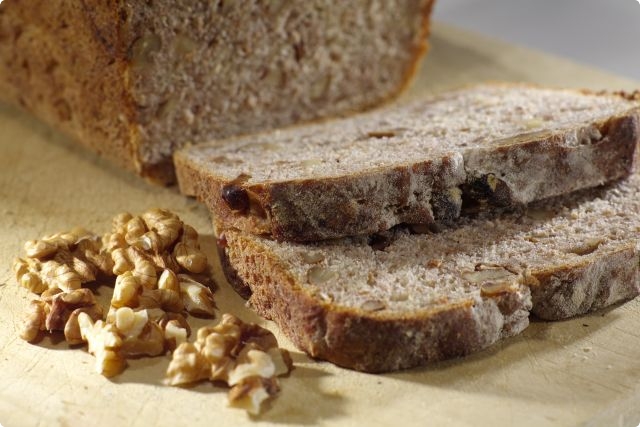 We have a beautiful old Walnut tree, well to be honest we don't quite! It lives in the council reserve next to us and leans over into our front paddock. We therefore collect a fair few Walnuts without too much competition other than the odd wretched possum.
Our girls love squirreling and hunting around underneath collecting them up to bring back up to the house to dry and crack open, having competitions to see who can crack the most intact whole or half nuts.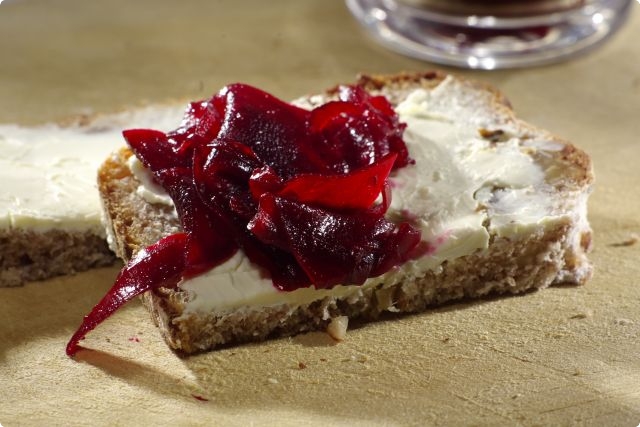 We enjoyed our Walnut bread lightly toasted and smeared with cream cheese and topped with some slightly crunchy homemade Beetroot and Ginger pickle slices. You could easily replace the cream cheese with a soft blue cheese or goats cheese instead. Surely a most enjoyable treat for a cool Autumn late afternoon with a drop of Port perhaps?!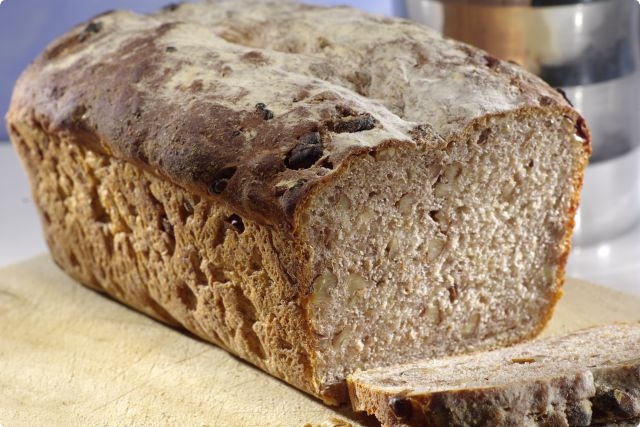 Walnut Bread
100 mls / 3½ fl oz of tepid water
2 teaspoons of malt extract
2 teaspoons of dry active yeast
250 grams / 8 oz of strong white flour
125 grams / 4 oz of wholemeal flour
125 grams / 4 oz of rye meal flour
2 teaspoons of salt
255 ml / 8 fl oz of extra tepid water, approximately
150 grams roughly chopped walnuts
Firstly mix the malt extract with the first measure, 100mls of tepid warm water in a small bowl
Sprinkle the yeast over and leave to froth for 5 minutes.
Measure the 3 flours and salt in to a large bowl
Mix to combine and make a well in the centre.
Stir the yeast mixture to dissolve and pour into the flour well.
Stir a little of the flour into the yeast water to make a wet paste (sponge) and cover with a clean plastic bag / wrap or wet tea towel.
Leave the sponge to rise for 30 minutes.
After that time mix in the rest of the flour with enough of the remaining measure of warm water to form a soft dough.
Knead the dough for 8 minutes with the palm of your hands, until it's beautifully smooth and elastic.
Return to the bowl, cover and leave to rise for 1 hour or until it has at least doubled in size.
Knock the dough back and let rest for 5 minutes on the board.
After 5 minutes gently press the dough into a flat 1 inch thick disk and sprinkle the walnuts over it.
Roll the dough with the walnuts up like a Swiss/jam roll and gently knead the dough again to evenly distribute the nuts.
This will take 2 to 3 minutes as the dough will separate and appear crumbly before finally coming together again to form a smooth ball.
Return the dough to the bowl again, cover and leave it to rise for a further hour or until it's doubled in size.
knock the dough back once more and let rest for 10 minutes.
Shape the dough into a long loaf about 25cm (10 in).
Place in a lightly floured loaf tin or on baking tray and cover to prove for 45 minutes or until it again doubles in size.
Preheat your oven to 200°C (390°F)
Bake for 40 to 50 minutes or until a crispy crust has formed and it is hollow sounding when tapped on the bottom.
Slide onto a cookie rack to cool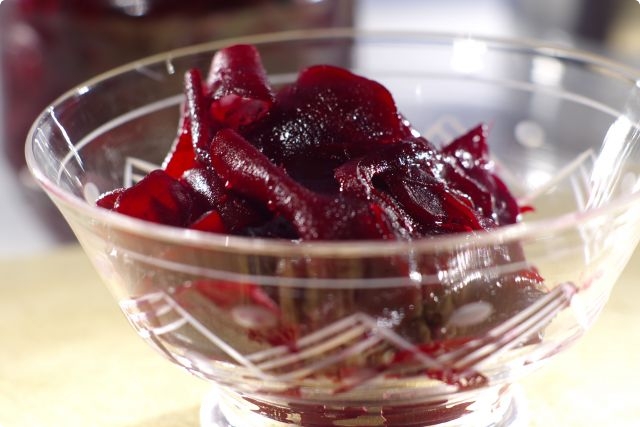 Beetroot and Ginger Pickles
4 beetroot (tennis ball size)
1 small onion
2 inch piece of fresh ginger root, minced
2 teaspoons of cumin seeds
3/4 cup of white sugar
2 tablespoons of golden syrup (or honey)
1/2 cup of cider vinegar
Peel and slice the beetroots thinly, a mandoline or Japanese slicer makes this a lot more straight forward.
Place the beetroot into a non-metallic bowl.
Finely slice the onion into thin wedges, grate in the fresh ginger root and mix through the beetroot slices.
Toast the cumin seeds in a pan over a medium flame until fragrant and transfer to a mortar and pestle and give them a rough grind.
Toss the cumin, sugar and golden syrup through the beetroot and let stand for several hours or overnight.
Transfer the mixture to a large saucepan and pour over the cider vinegar.
Cook over a medium heat until thick, shiny and soft, approximately 40 minutes.
Add a little water if it seems to be becoming dry or too thick.
Pour the hot preserves into clean and sterilized hot jars.
Makes 2 x 300ml jars.
Once cool store in the refrigerator.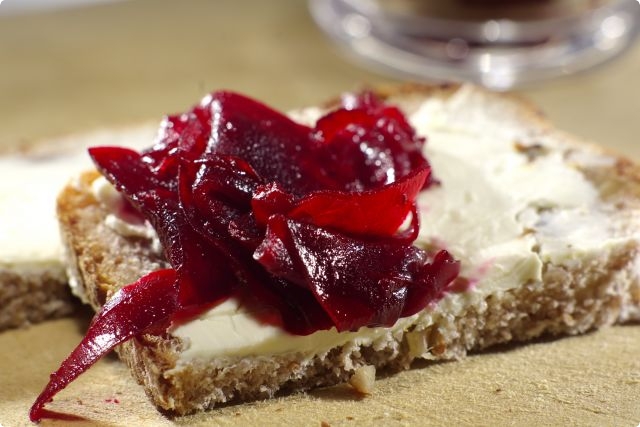 Enjoy!


Autumn Recipes · Blog Recipes · Bread Recipes · Breakfast Recipes · Food Blog Events Recipes · Fruit & Veges Recipes · Grains Recipes · Pantry Recipes · Preserves Recipes
Home · About Bron · Portfolio · Recipe Index · Unit Converter
RSS Feed · Atom Feed · Twitter · Facebook · Flickr · Bron's Amazon Store