Friday 16th February 2007
Rhubarb and Raspberry Fool with Scorched Ladies Fingers
Raspberries seem to feature a lot on my blog, naturally more so recently as they have been in season. Growing just outside my kitchen window to be picked, inspected for worms and enjoyed fresh, rather than being foraged for from my freezer.

I guess there are many reasons for their popularity with me and my loved ones, the first and most important being they taste GREAT!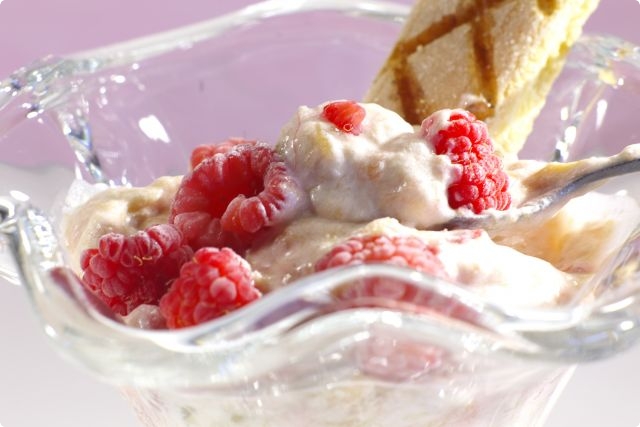 I also find raspberries are much easier to grow compared to say strawberries, which in my limited gardening experience tend to pick up every known disease in the garden and often return very low yields. Raspberries are also much more versatile because they freeze well, whereas strawberries thaw into a mushy mess. Frozen raspberries can easily be cooked and baked into all sorts of yummy desserts and it's always a blessing to enjoy a little taste of summer in the depth of winter.

I simply adore them in all their forms - fresh as jam, or when they're baked in muffins, tarts and so on; whereas I'm not fond of any 'cooked' strawberries - I really prefer them fresh and in season. I know not everyone would agree, but personally raspberries would have to be my favourite berry fruit.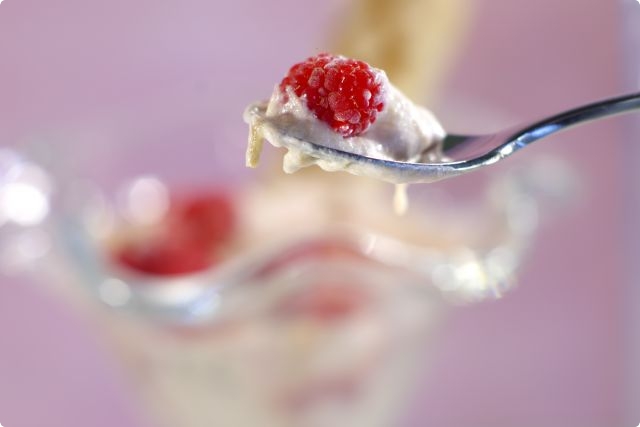 Next to my raspberry canes I have a happy crown of rhubarb. I love rhubarb too and can't remember a time when I didn't. Thankfully, again, my loved ones feel the same way. Rhubarb crumble and Edmonds custard was a staple dessert while I was growing up. Mum always had plenty of rhubarb in the garden, but it was always the less exciting green/red variety, not the brilliant red I've seen featured on Keiko's gorgeous blog.

Yet, it was Catherine from Albion Cooks who inspired me to make the creamy glass of sweet goodness you see here. Catherine recently made a gooseberry fool, but my pathetic gooseberry yield of 5 berries wouldn't make much of a fool, so I opted for this, a Rhubarb and Raspberry Fool instead.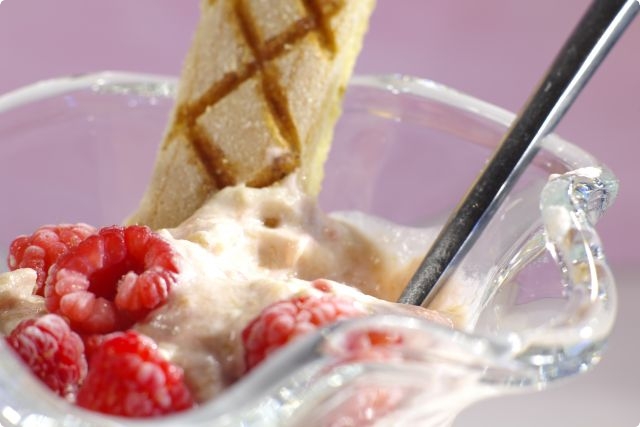 My recipe is in approximate ratios, so I recommend you make and fold to taste as some rhubarb is more tart than others, likewise raspberries. I preferred to indulge and use pure cream here, however you could replace this with yoghurt, or half cream / half yoghurt to cut the calories a little.

I served my fool with Scorched Ladies Fingers, (aka Sponge Finger Biscuits, Savoiardi, Boudoir biscuits.) To get the scorched or branding marks, I simply criss-crossed the tops with a metal skewer which had been heated over a flame until it was very hot. However, I'm sure you would agree that after this treatment they look more like a lady's leg in fishnet stockings than a lady's finger!

With the Rhubarb and Raspberry Fool's pink hue, I thought it made the perfect St. Valentine's Day dessert. The way the fool smoothly slides and drops from the spoon, when you fold it together just before serving, is in itself rather sensual. It's made even more fun when your lover wraps his (or her) arms around you as you gently fold the mixtures together.

After you pile the gorgeous sweet, fruity cream into the glasses, you could offer your lover a taste from whichever clean finger mopped up the droplets which fell down the side of the glass. Now imagine the sweet smooth and slightly tart cream melting over his tongue... ahhh!
(Or is that an eewww?!)

I ask you, what could be more fun to eat and indulge in on this week of loooove?!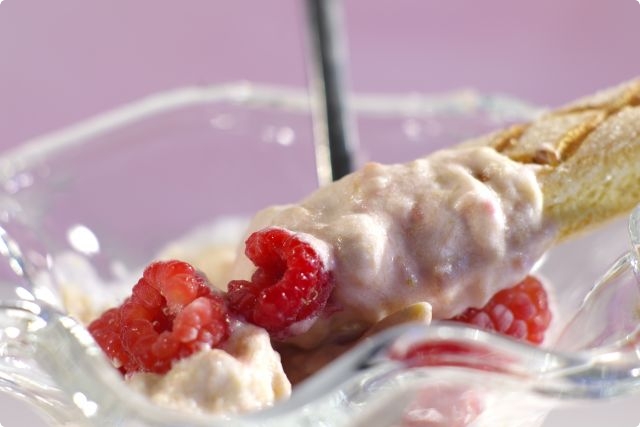 Rhubarb and Raspberry Fool
4 large stalks of rhubarb, approximately 300 grams
1/4 cup of white sugar, or to taste
water, enough to just cover the bottom of your saucepan (2 to 3 tablespoons)
250ml of cream, softly whipped
1 cup of fresh raspberries, plus a few more
4 Lady finger biscuits, scorched (optional!)
Trim the ends off the rhubarb and rinse well, cut into small 2cm / 1 inch dice.
Place into a saucepan with enough water to just cover the bottom.
Add ½ the sugar and cover.
Bring to the boil and simmer gently until the rhubarb is tender and falling apart.
Check the tartness and add the rest of the sugar or as desired.
Stir through to dissolve and remove from the heat to cool and refrigerate.
When you are ready to serve, fold the stewed rhubarb, raspberries and softly whipped cream together gently.
Spoon into parfait, ice-cream sundae glasses or what have you.
Sprinkle a few more raspberries on top and add a scorched lady finger to each.
Serves 4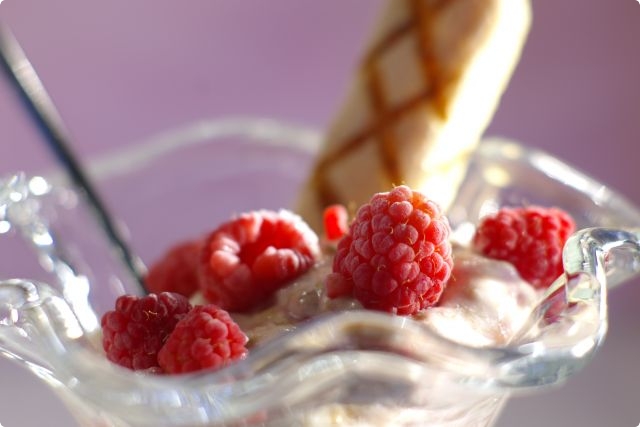 Enjoy!


Blog Recipes · Desserts Recipes · Fruit Recipes · Fruit & Veges Recipes · Summer Recipes
Home · About Bron · Portfolio · Recipe Index · Unit Converter
RSS Feed · Atom Feed · Twitter · Facebook · Flickr · Bron's Amazon Store