Thursday 12th April 2007
Easter Chocolate and Cornflake Nests with Mini Eggs
Yes I know Easter 07 has been and gone, however I had a couple of extra photos in this set and so I thought I may as well put them together with the girls recipe for the chocolate cornflake nests.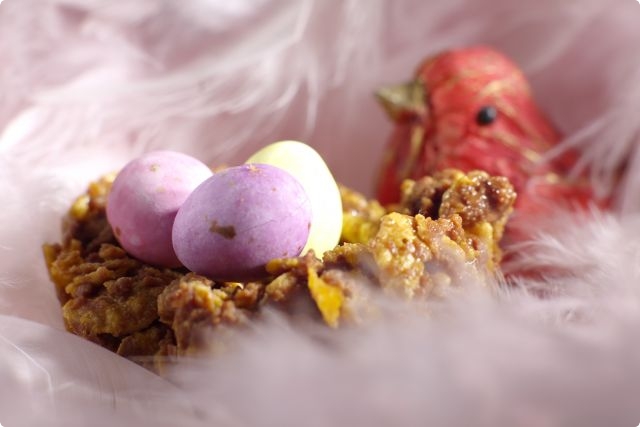 They would make great little baby shower or first birthday treats too, and it does seem like the food blogger population is exploding, hehe!
There are little foodies popping out and being conceived all over the world, however (thankfully!) just so you know, it's not happening at the Marshall residence! hehe
We've been there done that!

Love and enjoy those new baby snuggles, they grow up so fast!!


Chocolate and Cornflake Nests with Mini Eggs
250 grams of chocolate, milk or dark as you desired, chopped
50 grams of butter
2 tablespoons of golden syrup or honey
100 grams of cornflakes, slighty crushed or other crushed cereal, weet-bix etc.
1 pkt of Cadbury's Mini Eggs (or jellybeans etc. to represent little eggs)
In a bain-marie or large bowl over a saucepan of hot water, gently melt the chocolate, butter and golden syrup together.
Remove from the heat and set aside.
In a regular sized 12 piece muffin pan, place 12 paper cupcake cases
Stir the slightly crushed cornflakes into the chocolate mixture and stir to coat.
Spoon the mixture evenly into the paper cases and using the back of a spoon or small ladle press the mixture to make a small hollow and a nest type shape.
Refrigerate the nests for 1/2 an hour or so until set.
Place 2 or 3 Mini Eggs or Jellybeans in each nest and serve!
Makes 12 Nests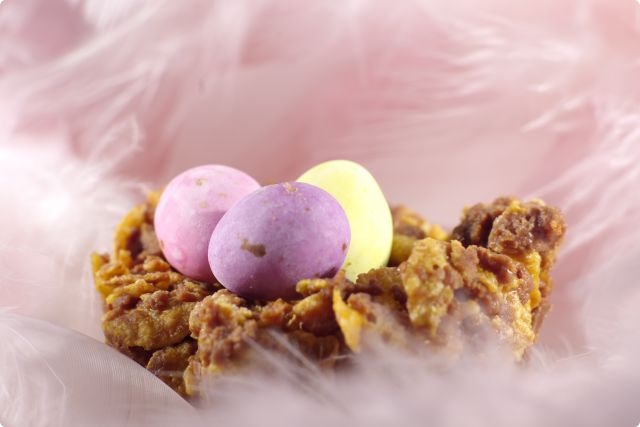 Enjoy!

Autumn Recipes · Blog Recipes · Cakes Recipes · Chocolate Recipes · Cookies Recipes · Easter Recipes · Sunday Afternoon Teas Recipes · The Baking Tins Recipes
Home · About Bron · Portfolio · Recipe Index · Unit Converter
RSS Feed · Atom Feed · Twitter · Facebook · Flickr · Bron's Amazon Store