Wednesday 21st February 2007
Baked Fillet of Akaroa Salmon with Capers, Chives and Sweet Chili Sauce
I haven't a lot to say tonight...

I can say and no doubt it is probably quite obvious that I am struggling to complete the posts I dream up and want to share. I had hoped to share some pancakes with you yesterday for Shrove Tuesday, and to have seduced you all for Sugar High Friday, but to no avail.
Hopefully I'll be organised sufficiently to show you, Jeanne and the 'waiter' what is in my pies, in the next few days as I have two scrummy contenders...

However all I have to offer and say is this spur of the moment recipe was really rather delicious, but with quality produce like this, it is hard to go wrong! I simply served this, my Baked Fillet of Akaroa Salmon with Capers, Chives and Sweet Chili Sauce with some buttered new potatoes and a garden fresh green salad.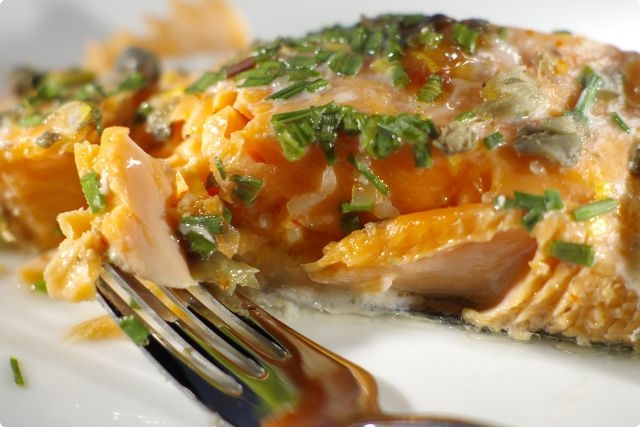 Mmmm yummy!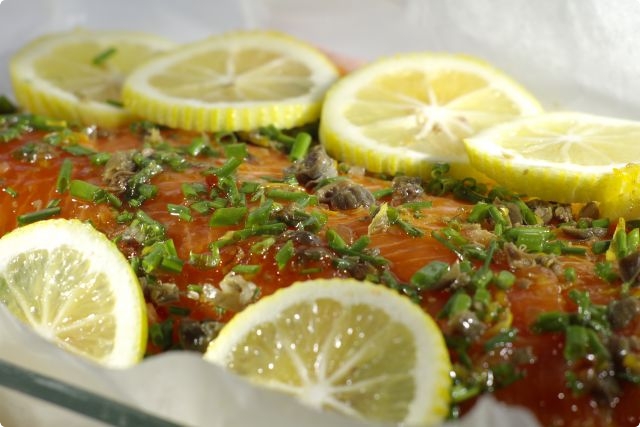 Side of Salmon in his raw state, before hitting the oven.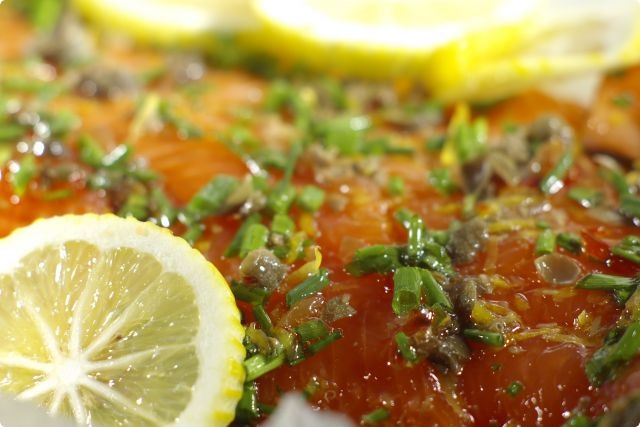 Baked Fillet of Akaroa Salmon with Capers, Chives and Sweet Chili Sauce
1 side of Fresh Akaroa Salmon, fillet (approximately 800 grams) pin bones removed
1 heaped tablespoon of salted capers, rinsed and roughly chopped
A small bunch of fresh chives, chopped
2 tablespoons of sweet Thai chili sauce, or fresh some chili chopped
The grated zest of one lemon, and the lemon sliced
Freshly ground black pepper
Place the salmon in a lined baking dish and score a few slashes into the flesh.
Rub the capers, chives, chili sauce, lemon zest and pepper into the salmon and let stand for 20 minutes.
Top with the sliced lemon and cover the dish with baking paper and foilBake the salmon at 180°C (360°F) for 8 to 20 minutes, around 8 minutes for rare, 20 minutes for well done and cooked through.
NB: Cooking times will vary depending upon the size and thickness of the fillet.
This recipe can also be cooked on your BBQ or grill.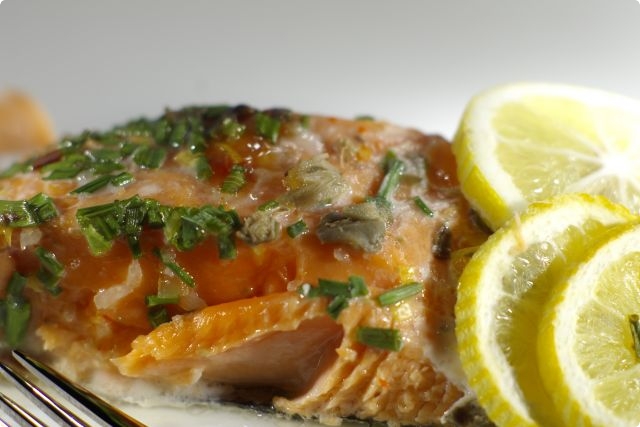 Cooked to perfection!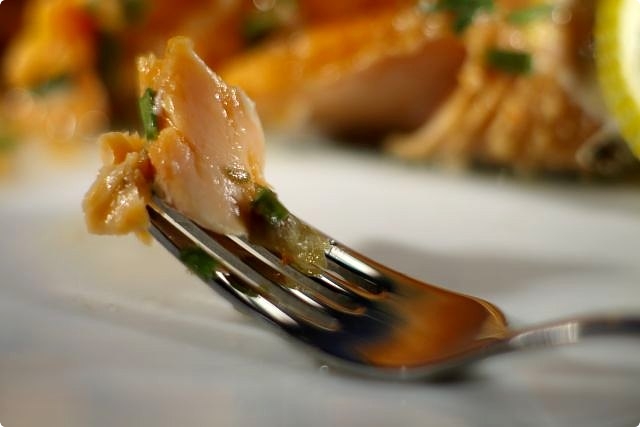 All lined up and ready for my mouth!

Enjoy!


Blog Recipes · Canterbury Recipes · Fish Recipes
Home · About Bron · Portfolio · Recipe Index · Unit Converter
RSS Feed · Atom Feed · Twitter · Facebook · Flickr · Bron's Amazon Store