Monday 16th April 2007
*WILD FOOD* - A new food blog EVENT!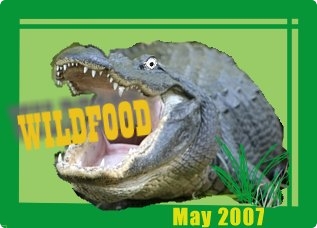 Inspired by our local New Zealand "Hokitika Wild Food Festival," David's recent "Weird Food" post and Rob's "Ear-resistible" post and the subsequent interesting comments...
I'm excited to announce a new WILD FOOD blogging event.

Yes, I'm inviting all food bloggers to take a walk on the WILD side with me and show us your inner WILD self, lets get really WILD, and reach out for that fear!!

My chosen theme for the inaugural 1st round is...
-Edible Reptile!-

You can choose to create something new, share your first or a past experience cooking and / or eating any legal reptile meat sold as food i.e crocodile / alligator meat, rattle snake meat, frog legs etc.
Yes, I do realise many of us don't have access to such products, so if that is the case or for the more shy, any meal, dish, dessert or treat that has been given the Edible Reptile treatment, theme, shape, name etc. is totally accepted! This is a fun event aimed at using ones' imagination, I know you won't be silly enough to go out hunting endangered species, or serving up animals from unknown or illegal sources!!

So to get you started on some ideas...


Think Marinated Crocodile Steak,
A Jelly Snake,
Wilted Dinosaur Kale,
Chocolate Lizard cake,
Fred Flinstone's recipe for Brontosaurus Burgers
or perhaps a little Mock Turtle Soup
- these are all acceptable entries
Find the WILD Reptile within and use your imagination.

I'm hoping WILD FOOD will become an ongoing event, I am keen to host this and the subsequent first few rounds from which point I'll be encouraging other keen and WILD food bloggers to sign up and host a round.

I'm giving you plenty of time to enter, so there's no excuses now! You have from now until the end of May, I'll have the roundup posted soon after and also announce a new WILD FOOD theme for June.

Please send your entries with the heading Edible Reptile to me by midnight on May the 31st

Remember to include...
your name
your approximate location
your blogs name
your Edible Reptile's name
your Edible Reptile's url / permalink

UPDATE:Katherine from Toast Point has quickly jumped to the challenge and sent in her delightfully WILD entry already, she has also alerted me to a US source of Exotic Meats who offer plenty of Reptillian delights... Alligator, Crocodile and Rattlesnake to name a few!
Check them out here at exoticmeats.com!
Thanks Katherine!

Thanks heaps, I'm looking forward to some fun, weird and WILD FOOD!


Home · About Bron · Portfolio · Recipe Index · Unit Converter
RSS Feed · Atom Feed · Twitter · Facebook · Flickr · Bron's Amazon Store