Friday 14th April 2006
Rob and Rachel's Potato Gnocchi with my Simple Bolognese Style Sauce
You know how I said spooky things are happening to me, well Rob, Rachel and Béa spooked me again on Wednesday!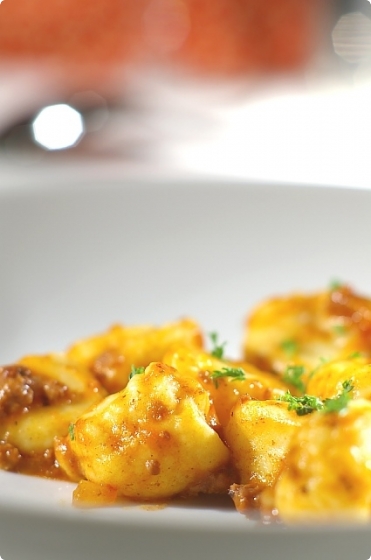 Here I was quietly planning a simple bolognese sauce with some boiled potato gnocchi to feed my family for our evening meal, little did I know Rob and Rachel were blogging gnocchi and Bea was rolling gnocchi, as I planned gnocchi... yes, that's right all on the exact same day!
As Rob (Rachel?) quite rightly says it's "the food blogging equivalent of going to work and finding out you're wearing the same outfit as two other people..."

Anyway since I was planning gnocchi it made total sense to try out Rob and Rachel's recipe.




And it's a fantastic recipe - baking your potatoes makes all the difference. Firstly you get a drier, more airy, less gooey dough to work with. You can feel the difference rolling it. And once cooked the gnocchi are lighter and less dense than they are when you boil your potatoes - like little fluffy pillows for your bolognese to sleep on!
Here's my simple, most probably very non-traditional bolognese sauce, still even if it's not traditional… it's yummy!


Simple Bolognese Sauce
olive oil
600 grams of ground / minced meat, lamb, beef, veal… what have you?!
1 onion, finely chopped
1 carrot, finely chopped
1 stalk of celery, finely chopped
1 to 2 tablespoons of plain flour
2 tablespoons of tomato paste
½ cup of red wine
2 bay leaves
2 teaspoons of dried oregano
6 to 8 roma tomatoes, chopped and minus the seeds, or 1 can of whole peeled tomatoes
2 cups of good beef stock
a pinch or two of sugar
salt and pepper to taste
2 to 3 cloves of garlic, crushed
First brown the mince with a little olive oil in batches, and I really mean BROWN the mince. It's an important step which makes all the difference in a dish such as this. Also try not to have so much meat in the pan that it boils, you want to almost dry fry it in batches to get a nice even caramelisation.
Remove the mince and gently sauté the onions, carrots, and celery until soft, return the mince to the pan and stir through the flour to coat.
Mix through the tomato paste and then deglaze the pan with the red wine.
Throw in a couple of bay leaves, some oregano or other herbs of your choice.
Stir through the chopped tomatoes and beef stock.
Cover and let the sauce simmer gently for several hours, the longer the better, stirring occasionally to prevent it sticking to the bottom.
Season to taste. I prefer to add my crushed garlic towards the end for a sweeter often less bitter result, but by all means, add it earlier if you desire.
Fold a spoonful or two through some of Rob and Rachel's Potato Gnocchi.
Sprinkle with a little fresh herbs and some freshly grated 'farmer john' (I mean Parmesan) cheese if you wish. Grab a little more red vino and you're set to go!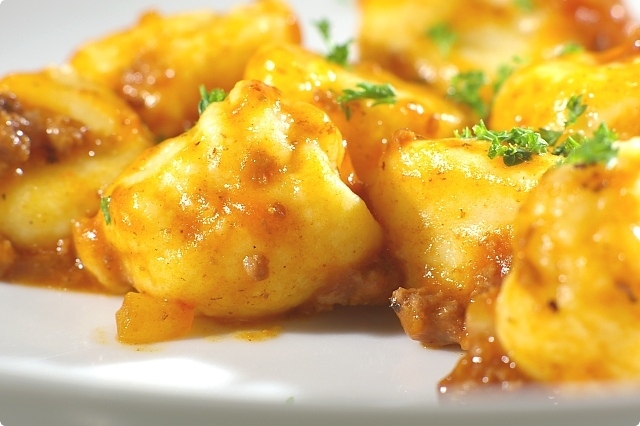 Enjoy!


Blog Recipes · Meat Recipes
Home · About Bron · Portfolio · Recipe Index · Unit Converter
RSS Feed · Atom Feed · Twitter · Facebook · Flickr · Bron's Amazon Store