christmas 2012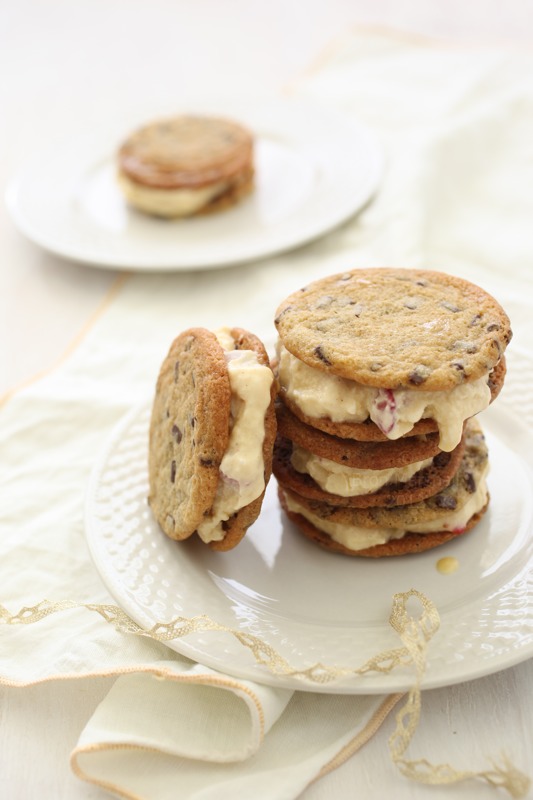 I think the name says it all. These are truly scrumptious ice cream sandwiches with a festive slosh or two, it's up to you.
Strawberry Eggnog Ice Cream Sandwiches
For the Strawberry Eggnog Ice Cream
2 cups of full cream milk
4 egg yolks
150 grams / 5 oz of caster sugar
1 teaspoon vanilla extract
½ teaspoon of cinnamon
¼ teaspoon of freshly grated nutmeg
2 cups of full cream
¾ cup of finely chopped strawberries
2 to 4 tablespoons of brandy or whisky, or both as desired
Chewy Chocolate Chippie Biscuits - see recipe here
In a large saucepan gently heat the milk .
In a bowl whisk together the egg yolks, caster sugar, vanilla, cinnamon and nutmeg.
Pour the warm milk over the egg mixture and stir to combine.
Return the mixture to the cleaned saucepan and gently stir over a medium heat until the mixture thickens very slightly and coats the back of a spoon.
Remove from the heat and allow to cool.
Add the cream to the cooled mixture and stir well.
Chill the mixture for several hours until ready to churn in your ice cream maker according to the manufacturers instructions.
Or alternatively place the mixture in a suitable container and freeze, whisking every few hours until frozen and creamy.
While still soft fold through the chopped strawberries and brandy, and return to the freezer.
To make the sandwiches:
Scoop generous spoonfuls of Strawberry Eggnog Ice Cream between two Chewy Chocolate Chippie biscuits and gently squeeze to secure. Return to the freezer to firm up if desired.
Make approximately 20 depending on the size.
Christmas Recipes · Cookie Recipes · Dessert Recipes · Icecream Recipes · Magazine Recipes · Summer Recipes · Sweet Recipes
Home · About Bron · Portfolio · Recipe Index · Unit Converter
RSS Feed · Atom Feed · Twitter · Facebook · Flickr · Bron's Amazon Store