christmas 2012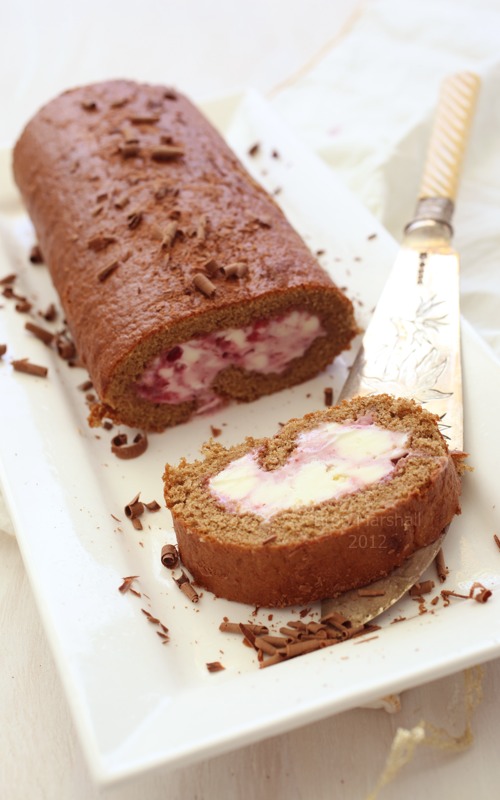 If I had to pick one I think this is my favourite recipe in this, my small collection of ice creams for Christmas.
The gingerbread pairs so perfectly with the plums and vanilla, and what's Christmas without gingerbread?
Gingerbread and Spiced Plum Ice Cream Terrine
For the Gingerbread:
3 eggs
110 grams of soft brown sugar
1 tablespoon of golden syrup or light molasses
75 grams of plain flour
2 tablespoons of ground ginger
1 tablespoon of mixed spice
2 teaspoons of cinnamon
For the Spiced Plum Ice cream
½ litre of vanilla ice cream
½ cup of Black Doris Plum jam
1 teaspoon of cinnamon
1 pinch of ground cloves
1 pinch of ground black pepper
Preheat the oven to 200°C (392°F).
Line a swiss or jelly roll pan with baking paper.
In a large bowl with an electric beater or your stand mixer beat the eggs and soft brown sugar until they are very thick and the mark from a spoon dragged through the mixture doesn't disappear, approximately 8 minutes.
Add the syrup and continue to whisk for a further minute.
Sift in the flour and spices together and very gently fold into the egg mixture with a large metal spoon.
Pour the mixture into the prepared tin and smooth out to the corners with a pallet knife.
Bake for 8 to 10 minutes. Check the gingerbread is cooked by carefully running your hand over the top.
It is cooked if your hand leaves a slight mark, which disappears quickly and springs back.
Turn out immediately onto a cake rack covered with a clean dry tea towel.
Peel off the cooking paper and roll up the gingerbread immediately in the towel (rolling while it is still warm helps prevent the gingerbread from cracking later!) and set aside and allow to cool.
To make the Spiced Plum Ice Cream
Soften the vanilla ice cream for 5 to 10 minutes depending of the temperature of your kitchen.
Mix the plum jam and spices together well and gently fold through the soft ice cream.
Return the ice cream to the freezer for 30 minutes to firm up.
Place generous spoonfuls of the Spiced Plum Ice Cream lengthwise down the middle of the Gingerbread.
Roll the Gingerbread securely in the original baking paper twist the ends and return to the freezer to set.
Slice when ready to serve.
Serves 6 to 8.
Cake Recipes · Christmas Recipes · Dessert Recipes · Icecream Recipes · Magazine Recipes · Summer Recipes · Sweet Recipes
Home · About Bron · Portfolio · Recipe Index · Unit Converter
RSS Feed · Atom Feed · Twitter · Facebook · Flickr · Bron's Amazon Store