christmas 2012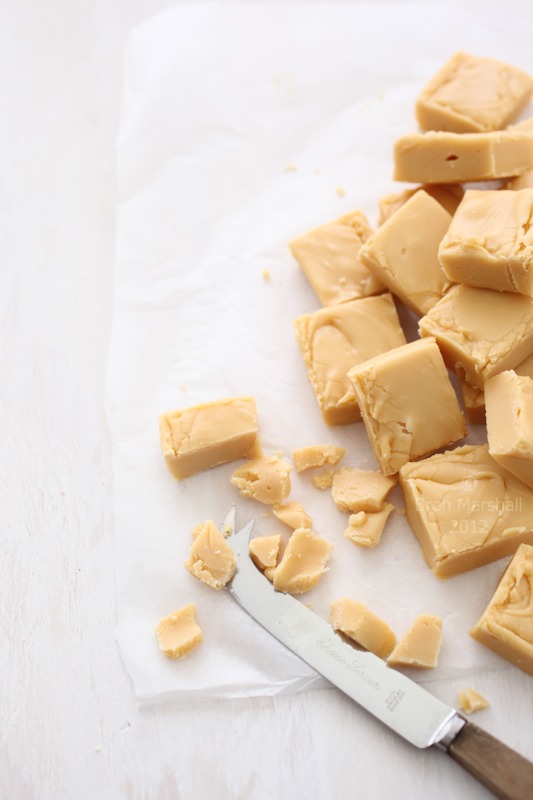 This fudge is a real winner - with or without ice cream!


Russian Fudge
525 grams / 1 lb of white sugar
125 grams / 4¼ oz of butter, cubed
3 tablespoons of golden syrup, or light molasses
½ cup of full cream milk
200 grams / 7 oz of sweetened condensed milk
2 teaspoons of vanilla extract
Grease or line a 20cm square cake pan.
In a large heavy based saucepan mix together the sugar, butter, syrup, milk and sweetened condensed milk.
Gently heat over a low flame for 10 to 12 minutes, stirring continuously to melt the butter and completely dissolve the sugar.
Stop stirring and gently bring to the boil.
Boil for 5 to 8 minutes, watching continuously and lowering the heat as necessary so as not to burn or boil over.
Continue cooking until the fudge reaches 120°C (248°F) on a candy thermometer or the "soft ball" stage.
Immediately remove from the heat and add the vanilla.
Using an electric beater beat the fudge for 4 to 5 minutes or until the fudge is thick and creamy.
Pour into the previously prepared cake pan and smooth out with a spatula.
Score lines into the fudge to make breaking into pieces easier once cool.
Christmas Recipes · Confectionery Recipes · Dessert Recipes · Ice Cream Recipes · Magazine Recipes · Sweet Recipes
Home · About Bron · Portfolio · Recipe Index · Unit Converter
RSS Feed · Atom Feed · Twitter · Facebook · Flickr · Bron's Amazon Store