christmas 2012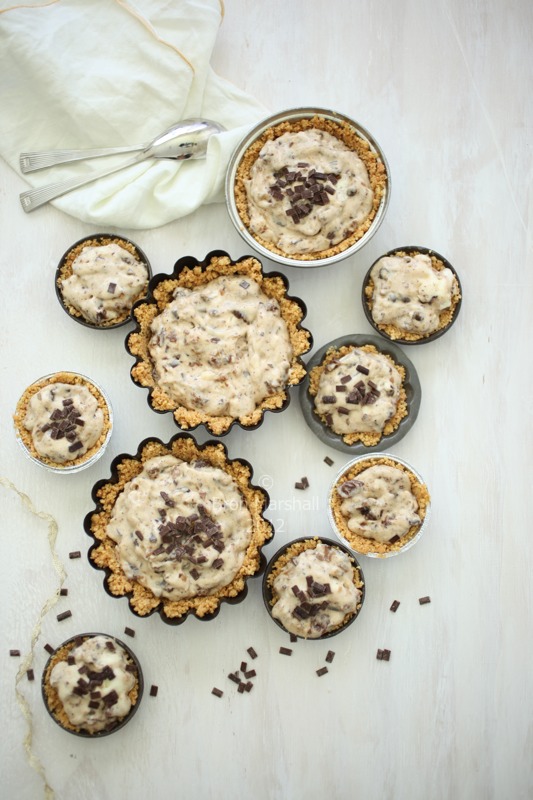 A different take on the traditional Christmas fruit mince pies, yet just as addictive!
What's your pie count?
Christmas Fruit Mince Ice Cream Pies
250 grams / 9 oz of plain vanilla flavoured biscuits, such as super wines or milk arrowroots
125 grams / 4¼ oz of butter
½ litre of vanilla ice cream - see recipe
¾ cups of Christmas fruit mince - without suet! - see recipe here
¼ cup of chocolate chips (optional)
First crush the biscuits. For more even sized crumbs I recommend crushing them in batches of around ten at a time with a rolling pin or in a food processor.
Transfer to a large bowl. Shake the bowl and crush any large pieces that rise to the top.
Melt the butter and mix with the biscuits until all crumbs are coated.
Spoon the crumbs into loose bottomed small tartlet or pie dishes and press against the sides and bottom of the tins with the outer surface of a clean glass.
Freeze until firm.
Soften the vanilla ice cream for 5 to 10 minutes depending of the temperature of your kitchen.
Fold through the Christmas fruit mince and chocolate chips (if using).
Return to the freezer for 30 minutes to firm up.
Place spoonfuls of the Christmas fruit mince ice cream on top the biscuit crumb pie crusts and smooth the top.
Return to the freezer until set and ready to serve.
Makes approximately 12 to 16 pies depending on the size.
Christmas Recipes · Dessert Recipes · Fruit Recipes · Icecream Recipes · Magazine Recipes · Sweet Recipes
Home · About Bron · Portfolio · Recipe Index · Unit Converter
RSS Feed · Atom Feed · Twitter · Facebook · Flickr · Bron's Amazon Store