christmas 2012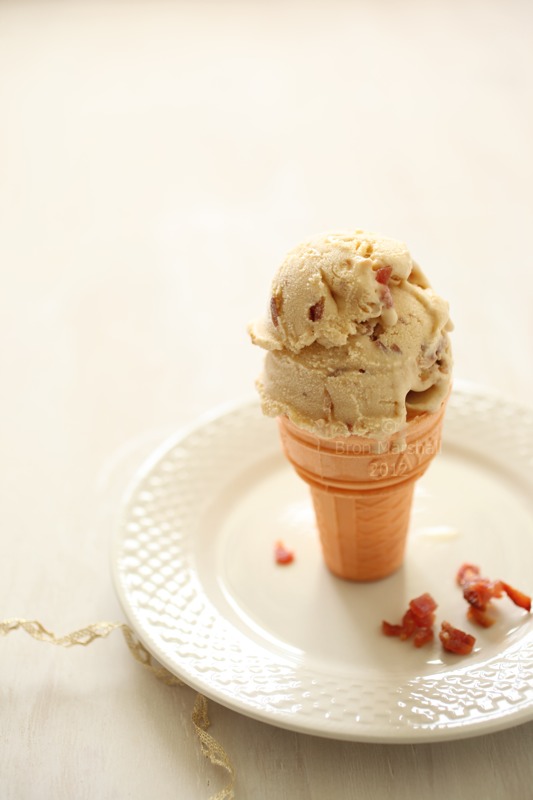 Remember those sophisticated hors d'oeuvres of dates stuffed with cream cheese, wrapped in bacon and grilled. Well this is the dessert version! Don't knock it 'til you try it - it's the right mix of creamy, salty and sweet.
Devils Horseback Ice Cream
For Date and Cream Cheese Ice Cream
2 cups of full cream milk
1 cup of dates, fresh or dried, chopped
3 egg yolks
150 grams / 5 oz of caster sugar
1 teaspoon vanilla extract
125 grams / 4¼ oz of cream cheese, softened
1 cup of full cream
For the Caramelized Bacon Bits:
3 to 4 rashers of lean streaky bacon (preferably from free ranged - Happy pigs)
2 tablespoons of soft brown sugar
To make the Date and Cream Cheese Ice Cream:
In a large saucepan gently heat the milk with the chopped dates, set aside to cool slightly.
In a bowl whisk together the egg yolks, caster sugar and vanilla.
Pour the warm dates and milk over the egg mixture and stir to combine.
Return the mixture to the cleaned saucepan and gently stir over a medium heat until the mixture thickens slightly and coats the back of a spoon.
Remove from the heat and allow to cool completely.
In a large bowl beat together the cream cheese and cream until well combined.
Fold through the date egg mixture.
Chill the mixture for several hours until ready to churn in your ice cream maker according to the manufacturers instructions.
Or alternatively place the mixture in a suitable container and freeze, whisking every few hours until creamy and set.
To make the Caramelized Bacon Bits:
Preheat your oven to 180°C (356°F)
Lay the bacon strips on a lined baking tray and sprinkle the soft brown sugar over evenly.
Bake for 10 to 15 minutes, turning the strips after 5 to 6 minutes to brown and crisp up the second side.
Once evenly caramelized and crispy, remove from the oven and lay the bacon strips over a cake rack to cook and dry.
Once cooled chop finely.
Fold the caramelized Bacon bits through the soft Date and Cream Cheese Ice Cream and return to the freezer to firm until ready to serve.
Makes approximately 1 litre.
Christmas Recipes · Dessert Recipes · Icecream Recipes · Magazine Recipes · Summer Recipes · Sweet Recipes
Home · About Bron · Portfolio · Recipe Index · Unit Converter
RSS Feed · Atom Feed · Twitter · Facebook · Flickr · Bron's Amazon Store