christmas 2012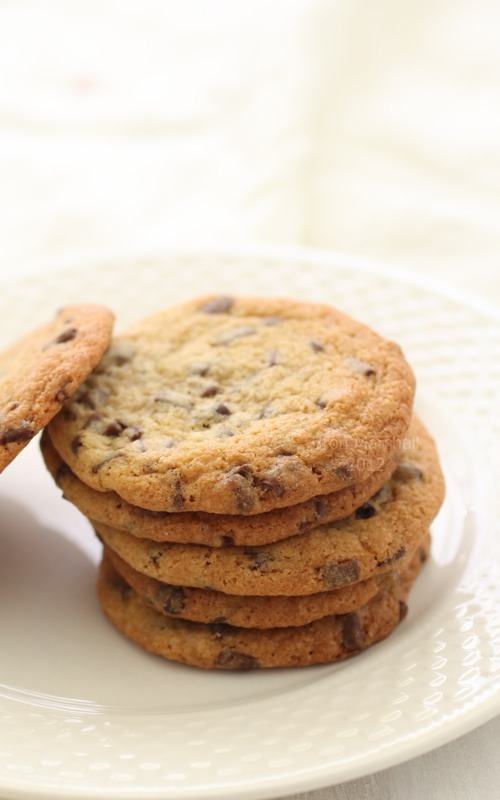 These are my favourite bikkies for ice cream sandwiches. Simple, chewy and they match wonderfully with any flavour of ice cream.
Chewy Chocolate Chippie Biscuits
250 grams / 9 oz of salted butter, softened
1 cup of soft brown sugar
½ of golden caster sugar
1 teaspoon of vanilla extract
2 large eggs
2 cups off plain flour
1 teaspoon of baking soda
2 cups of dark chocolate chips
Preheat your oven to 170°C (338°F)
In a large bowl or your stand mixer beat together the softened butter, sugars and vanilla.
Add the eggs, one at a time and beat well to combine, scrapping down the sides of the bowl to fully incorporate.
On a low speed stir through the sifted flour and baking soda and chocolate chips.
(Don't be alarmed if the dough seems a little soft - it's meant to be! If you find it hard to work with, you can refrigerate the mixture for and hour or so, but if you're anything like me...you'll want to eat the cookies a.s.a.p!)
Place heaped tablespoonfuls of the mixture onto a lined baking tray, spaced well apart.
Bake for 8 to 10 minutes, (rotating the tray at half time) until lightly golden and cool on the hot tray.
Makes approximately 40 - or enough for 20 ice cream sandwiches.
My 'go to' Christmas Fruit Mince recipe;
but I also like to change it up now and then with figs, ginger or cranberries - the possibilities are endless.
Christmas Fruit Mince
2 apples, peeled and cored
1½ cup of sultanas
½ cup of soft brown sugar
½ cup of currants
½ cup of raisins
3 tablespoons of mixed peel
the juice and zest (rind) of 1 lemon
the zest (rind) of ½ an orange
1 teaspoon of mixed spice
1 teaspoon of cinnamon
¼ teaspoon of ground cloves
a good pinch of salt and freshly ground pepper
¼ cup of brandy
In a large bowl grate the apple, or mince the apple in a food processor.
Add the remaining ingredients and mix thoroughly.
If you prefer a finer consistency, process a little more after you add the dried fruit.
You can store the fruit mince in sterilized jars, topped with extra brandy as desired.
The flavour improves greatly when made in advance and will keep for months in the refrigerator.
Makes approximately 4 cups
Christmas Recipes · Cookie Recipes · Dessert Recipes · Ice Cream Recipes · Magazine Recipes · Sweet Recipes
Home · About Bron · Portfolio · Recipe Index · Unit Converter
RSS Feed · Atom Feed · Twitter · Facebook · Flickr · Bron's Amazon Store